Research article

Open Access
Identification and structural elucidation of ozonation transformation products of estrone
Chemistry Central Journal
2013
7:74
Received: 24 January 2013
Accepted: 16 April 2013
Published: 23 April 2013
Abstract
Background
Quantitative methods for the analysis of contaminants of emerging concern (CECs) are abundant in the scientific literature. However, there are few reports on systematic methods of identification and structural identification of transformation products. For this reason, a new method based on high-resolution mass spectrometry and differential analysis was developed in order to facilitate and accelerate the process of identification and structural elucidation of transformation products CECs. This method was applied to the study of ozonation transformation products (OTPs) of the natural hormone estrone (E1).
Results
A control compare trend experiment consisting in the comparison of a control sample to several samples having been exposed to decreasing concentrations of O3(aq) indicated that 593 peaks could be associated with OTPs. After applying various filters to remove background noise, sample contaminants and signal spikes, this data set was reduced to 16 candidate peaks. By inspection of the shape of these peaks, only two compounds OTP-276 (m/z 275.12930) and OTP-318 (m/z 317.14008) were considered as good candidates for further study. Multi-stage tandem mass spectrometry (MSn) experiments of SPE extracts of the ozonated samples of E1 and of a deuterium-labeled analogue (E1-d4) showed that OTP-276 and OTP-318 had carboxylic acid and hydroxyl functional groups, as previously reported for OTPs of other hormones. Structures for these two compounds were proposed based on their MSn spectra.
Conclusion
These results indicate that the method proposed is a systematic and rapid approach to study transformation products of CECs.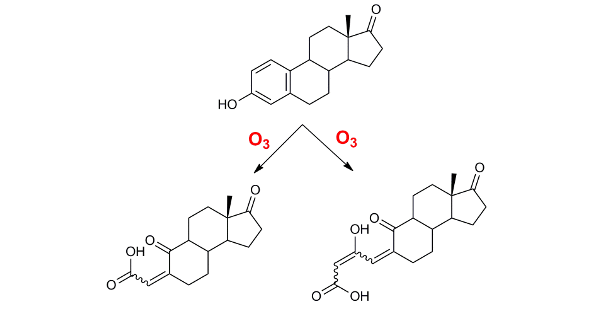 Keywords
Transformation products
Differential analysis
Estrone
High-resolution mass spectrometry
Pharmaceuticals
Ozonation
Background
In the past 15 years, the presence and fate of contaminants of emerging concern (CECs) in the environment has been studied extensively. However, relatively less attention has been given to transformation products (TPs) [1]. TPs of CECs can be found in wastewater treatment plants or in the environment as a result of a multitude of abiotic and biotic factors (such as hydrolysis [2], photolysis [3], oxidation [4] and microbial metabolism [5]) acting on parent compounds. TPs are of environmental concern particularly if they are biologically active or resistant to biodegradation. Conservation of biological activity after transformation is plausible if the pharmacophore of the parent compound is preserved [6] and resistance to biodegradation can result after the formation of new functional groups capable of inhibiting microbial metabolism [7]. Recently, an international expert workshop concluded that the assessment of risks of metabolites and environmental transformation products of pharmaceutical and personal care products is among the top 20 key issues that need to be addressed by the research community [8].
For these reasons, researchers have started to investigate the formation of TPs and have proposed molecular structures based on mass spectrometry [9], especially TPs formed after ozonation [10] which is one of the most studied tertiary water treatments. Different approaches have been used in order to identify and elucidate the structure of ozonation transformation products (OTPs). Huber, et al. [11] used model compounds having the same reactive groups towards O3 as 17α-ethinylestradiol in order to simplify the identification process of the OTPs of this estrogen. Structural elucidation was performed with gas chromatography–mass spectrometry (GC-MS) and liquid chromatography-tandem mass spectrometry (LC-MS/MS) both at low resolution. Bila, et al. [12] compared the retention time and GC-MS spectra of the OTPs of 17β-estradiol with those of commercial pure standards that were predicted as potential OTPs, based on the molecular structure of the hormone and known O3 chemistry. The authors also used spectral libraries to identify potential matches. Radjenović, et al. [13], de Oliveira Pereira, et al. [14] and Larcher, et al. [15] employed LC coupled to a hybrid high-resolution mass spectrometer to separate, identify and assign structures to OTPs. Benner and Ternes [16] based the structural elucidation of the OTPs of propranolol on product ion fragmentation trees generated by LC coupled to multi-stage tandem mass spectrometry (MSn). In spite of these studies, there are still few publications in relation to the development of systematic methods of identification and structural elucidation of TPs. Kern, et al. [17] used a database to screen 1794 possible TPs of 52 organic contaminants in preconcentrated extracts of surface waters analyzed by high-resolution mass spectrometry (HRMS). The list was generated by computer prediction of potential microbial TPs as well as experimentally known TPs of 52 organic contaminants. Applying this method the authors were able to identify 19 TPs in the samples. Helbling, et al. [18] used LC-HRMS and data-dependent MS/MS experiments with target and non-target post acquisition processing and found five new TPs formed after microbial degradation of pharmaceuticals. Gómez-Ramos, et al. [19] also employed an accurate mass database of organic contaminants and their more abundant product ions. Their approach was successful to identify eight TPs of organic contaminants in effluent wastewater samples.
The primary objective of this study was to develop a systematic and faster method for the identification and structural elucidation of OTPs of CECs, using HRMS and differential analysis. This method was designed to automatize the identification process and reduce the time required for data interpretation and manual analysis of the large data files generated by HRMS. Identification of OTPs was based on a control compare trend experiment. This experiment consists in the comparison to a control of several samples in which a variable has been modified, in this case the concentration of O3. A similar approach using differential global profiling was reported previously, however it only compares two sets of samples: a control and a treated group [20]. The advantage of the control compare trend experiment for the identification of OTPs is the possibility of monitoring the signal of the studied CEC and its OTPs as a function of a variable known to affect the formation of OTPs. This approach facilitates the identification of the optimal concentration for the generation of OTPs and, by applying various data filters, the list of OTPs candidates can be narrowed down to a manageable number of peaks. Once the main OTPs of the target compound are identified, their structure can be elucidated by infusing preconcentrated ozonated samples directly into the mass spectrometer in order to perform MSn experiments at high resolution.
To demonstrate the applicability of this approach, the hormone estrone (E1) was chosen as a model compound and its TPs after ozonation were investigated. As a naturally occurring steroid hormone, E1 is commonly excreted from the body in its active form and has been reported in municipal wastewater effluents at concentrations up to 96 ng L-1 in Canada [21]. Since wastewater treatment plants were not designed to remove this hormone and other CECs, E1 is continuously released via wastewater effluent into surface water bodies and levels as high as 112 ng L-1 have been reported in surface water in the USA [22]. These receiving streams may become sources of raw drinking water or indirectly contribute to contamination of other sources of drinking water sources, as suggested by the frequency of detection of E1 (in 79% of samples) in sources of drinking water in the United States [23]. E1 has been observed to be almost completely removed during wastewater disinfection using ozone [24]. However, bench-scale studies investigating the fate and transformation of E1 during ozonation have revealed the formation of OTPs [11, 14].
Conclusions
The present work showed that the identification, structural elucidation and confirmation of OTPs of contaminants of emerging concern can be significantly simplified using a control compare trend experiment followed by differential analysis and MSn experiments. Application of this method to the study of the OTPs of E1 allowed the identification of two compounds of mass 276 u (OTP-276) and 318 u (OTP-318). Structural elucidation of these compounds was performed by MSn (n=2-4) experiments via direct infusion into the mass spectrometer of SPE extracts of ozonated solutions of E1 and E1-d4. Observation of a neutral loss corresponding to CO2 in the MS2 product ion scan indicated the presence of a carboxylic acid group in the molecular structure of both OTPs. Also a loss of H2O observed in the MS3 product ion scan of OTP-318 suggested the presence of a hydroxyl group. The presence of these functional groups is consistent with known reaction mechanisms of O3[14, 35] and previously suggested OTPs of hormones [11, 12, 15, 27]. A study by de Oliveira Pereira, et al. [14] also identified OTP-276 as a main by-product of the ozonation of E1. However de Oliveira Pereira, et al. [14] and Huber, et al. [11] also found other OTPs that were not identified in the samples using the method presented in this paper. This might be a consequence of the different ozonation setups and experimental conditions used during the ozonation process.
While the method proposed here might oversight minor OTPs, it proved to be successful to eliminate most of the background noise, sample contaminants and signal spikes that are present in the acquisition files and to streamline the identification of the main OTPs. Removal of all the irrelevant data reduced to a great extent the amount of information that had to be processed manually (from 593 to 16 frames). Future work will focus on the optimization of software parameters to limit the number of candidate frames and reduce false positives. This method can now be more widely applied to the identification and elucidation of OTPs of other contaminants of emerging concern such as illicit drugs and antibiotics.
Abbreviations
CECs:

Contaminants of emerging concern
CID:

Collision-induced dissociation
E1:

Estrone
E1-d4:

Deuterium-labeled estrone
GC-MS:

Gas chromatography–mass spectrometry
HRMS:

High-resolution mass spectrometry
LC-MS/MS:

Liquid chromatography-tandem mass spectrometry
MSn:

Multi-stage tandem mass spectrometry
NCE:

Normalized collision energy
OTPs:

Ozonation transformation products
RDBE:

Ring and double bonds equivalents
TPs:

Transformation products
tR:

Retention time.
Declarations
Acknowledgments
This study was supported by the Natural Sciences and Engineering Research Council of Canada (NSERC) through a Discovery Grant. We thank NSERC for postdoctoral fellowship awarded to PAS as well as Fulbright Canada and the RBC foundation for scholarship awarded to PK.
Authors' Affiliations
(1)
Department of Chemical Engineering, McGill University, Montreal, Canada
Copyright
© Segura et al.; licensee Chemistry Central Ltd. 2013
This article is published under license to BioMed Central Ltd. This is an Open Access article distributed under the terms of the Creative Commons Attribution License (http://creativecommons.org/licenses/by/2.0), which permits unrestricted use, distribution, and reproduction in any medium, provided the original work is properly cited.