Triterpenoid resinous metabolites from the genus Boswellia: pharmacological activities and potential species-identifying properties
Chemistry Central Journal
2013
7:153
Received: 27 June 2013
Accepted: 9 September 2013
Published: 12 September 2013
Abstract
The resinous metabolites commonly known as frankincense or olibanum are produced by trees of the genus Boswellia and have attracted increasing popularity in Western countries in the last decade for their various pharmacological activities. This review described the pharmacological specific details mainly on anti-inflammatory, anti-carcinogenic, anti-bacterial and apoptosis-regulating activities of individual triterpenoid together with the relevant mechanism. In addition, species-characterizing triterpenic markers with the methods for their detection, bioavailability, safety and other significant properties were reviewed for further research.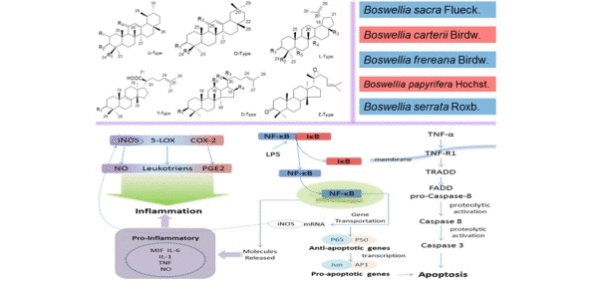 Keywords
Boswellia TriterpenoidsAnti-inflammationAnti-carcinogenicPharmacological activitiesBioavailability
Introduction
The resins commonly known as frankincense or olibanum, which are obtained from trees of the genus Boswellia, are the best-known of the aromatic gum resins used throughout the world as incense in religious ceremonies [1]. Moreover, frankincense has enormous socio-economic importance. Historically, it has been used as incense in religious and cultural ceremonies and as an ingredient in traditional medicines since time immemorial, whereas currently, it is widely used as an adhesives agent, as an ingredient in cosmetic preparations, as a fragrance used in daily rituals, and as a coating for materials. The medicinal properties of frankincense have also been studied to shed light on its potential use in treating or curing diseases [2, 3]. The medicinal use of frankincense may be among mankind's oldest therapies [4], and in the contemporary era, it is still used extensively in regions ranging from North Africa to China. Frankincense has been demonstrated to have curative activity when used within the system of traditional medicine called Ayurveda, which is practiced in India; however, it has fallen into obscurity during the present era of synthetic drugs [5].
Much attention has been focused on the beneficial effects of frankincense as a medicinal component of therapies targeting allergic asthma, inflammatory bowel diseases, rheumatoid arthritis and osteoarthritis, brain tumors and edema [6]. Meanwhile, it is also used in the treatment of amenorrhea, menorrhagia, polyuria, scrofula, syphilis, asthma, bronchitis, sores, and diseases of the nervous system [7]. Generally speaking, frankincense is widely used as an anti-inflammatory drug and numerous reports suggest that triterpenoids may be the bioactive ingredients responsible for these properties [6, 8]. In addition, pure compounds isolated from frankincense have anti-neoplastic activity. Many studies have demonstrated the potent anti-neoplastic activities of triterpenoids acids obtained from frankincense, and especially boswellic acids (BAs) and their derivatives. These compounds have been shown to possess potential chemoprevention effects in prostate cancer [8, 9], cervical cancer [10], breast cancer [11], colorectal cancer [12], pancreatic cancer [13] and bladder cancer [14]. In light of what is known of the medicinal properties of these metabolites, the present review places special emphasis on the pharmacological activities of the characteristic components of frankincense, such as acetyl- 11-keto-β-boswellic acid (AK-β-BA) (4). Aside from the natural resinous metabolites, we also review resin-derived compounds that have been shown to possess conspicuous pharmacological activities following modification of their structures (48–53) as these may provide new leads for future pharmaceutical research aimed at developing and synthesizing novel analogs with desired characteristics.
Given the diverse pharmacological activities of the compounds present in frankincense, it is important to characterize the pharmacological activities of frankincense harvested from different species and to identify species-specific differences in activity and therapeutic potential. On the basis of published studies, we review the triterpenoid resinous metabolites that are present in frankincense obtained from several different Boswellia species with respect to their medicinal properties. In our review of triterpenoid activities, structures and species-specific profiles, we have attempted to include all of the triterpenoids from frankincense that have been studied to date. To draw distinctions between the resins from various species of Boswellia in terms of their medicinal potential, the pharmacological activities and the primary mechanisms of action of the characteristic triterpenoids are discussed as far as possible.
Identification of Boswelliaspecies
Review and conclusions
This review summarized a total of 53 compounds and 47 components that have been reported to be among the triterpenoid resinous metabolites from the genus Boswellia, and discusses what is known of their physiological activities from more than one hundred published studies. We noted that the triterpenoid resinous metabolites pharmacological activities consisting of anti-inflammatory, anti-carcinogenic, anti-bacterial and apoptosis-regulating activities. Triterpenoid resinous metabolites especially BAs have generated an extensive interest due to the various beneficial pharmacological properties. Besides their potent anti-inflammatory effects, triterpenoids have shown promising activities against multiple malignancies [8–13]. Also, we discussed various mechanisms by which triterpenoids regulate various transcription and growth factors, inflammatory cytokines [127], and intracellular signaling pathways involved in cancer cell apoptosis [53]. They inhibit the production of numerous cytokines [127], inducible enzymes [58, 94], and induce apoptosis in tumor cell lines [13, 95, 104]. Therefore, it has significant potential to serve as a novel agent for cancer prevention and therapy. Among the important chemoprevention and therapeutic target pathways are NF-κB [53], STAT3 [43] and MAP [33]. The extracts of the gum-resin of Boswellia carteri, Boswellia frereana, Boswellia sacra and Boswellia serrata are identified as equally potent, non-selective inhibitors of the major drug metabolising CYP enzymes [94] and as a selective COX-2 inhibitor [119]. In addition, BAs potently suppressed the proteolytic activity of human cathepsin G (IC50 of approximately 600 nM) in a competitive and reversible manner [38].
Several pilot clinical trials suggest promising beneficial therapeutic effects with no serious, long-term, or irreversible adverse effects but some minor adverse effects. This suggested BAs of Boswellia to be well tolerated with fewer adverse effects as compared with NSAIDs. Major active compounds (boswellic acids), however, have poor aqueous solubility, which adversely affect its intestinal absorption. This limitation has been addressed by developing a new formulations composed of extract/phospholipid/pluronic f127 (1:1:1 w/w/w) [114].
As we have seen, the triterpenoid resinous metabolites in Boswellia have extensive distributions and the phytochemical investigations conducted to date mainly focus on 5 Boswellia species, namely B. carterii, B. serrata, B. sacra, B. papyrifera and B. frereana. The characteristic triterpenoids of these species have potential identifying properties that may be used in efforts to accurately identify the species origins of frankincense. In focusing on the nature and utility of these triterpenoid profiles, our suggested approach offers an alternative to the method of identification used in previous studies, which uses diterpenes and volatiles as the main identifying markers.
On the basis of the experimental evidence, which shows the potential of triterpenoid resinous metabolites as agents for the prevention and treatment of cancer in addition to various diseases associated with inflammation, future studies should be focused on conducting detailed, preclinical studies of triterpenoid toxicity, bioavailability, pharmacodynamics and biomarkers and on extensive evaluation of tumor inhibition using adenocarcinoma as an efficacy end point, before undertaking extensive clinical trials [53]. In addition, existing studies support the assertion that structural modifications of triterpenoids is likely to provide greater bioavailability and efficacy in clinical applications. Above all, more research is needed to clearly identify all of the potential applications of the various species of resinous metabolites that can be isolated from the genus Boswellia.
Abbreviations
5-LOX:

5-lipoxygenase
β-BA:

β-Boswellic acid
Aβ-BA:

3-acetyl-β-BA
AKβ-BA:

3-acetyl-11-keto-β-BA
α-BA:

α-Boswellic acid
Aα-BA:

3-acetyl α-BA
BAs:

Boswellic acids
COX:

Cyclooxygenase
CYP:

Cytochrome P450
DR:

Death receptor
EB-VEA:

Epstein–Barr virus early antigen
HKBA:

Hexanoyloxy-11-keto-β-BA
HPLC:

High performanceliquid chromatography
IC50:

Ligand concentration that inhibits enzyme by 50%
IKK:

inhibitor of NF-κB kinase
Kβ-BA:

11-keto-β-BA
LPS:

Lipopolysaccharide
MIC:

Minimal inhibitory concentration
NF-κB:

Nuclear factor-κB
NO:

Nitric oxide
NSAIDs:

Non-steroidal antiinflammatory drugs
PARP:

Poly-ADP-ribose polymerase
TLC:

Thin-layer chromatography
TNF:

Tumor necrosis factor
TPA:

12-O-tetradecanoylphorbol-13-acetate.
Declarations
Acknowledgements
This study was financially supported by the National Science Foundation of China (Project No. 81001623 and No. 3090200).
We show great gratefulness for Scientific Research Project of Undergraduates in BUCM.
Authors' Affiliations
(1)
School of Chinese Materia Medica, Beijing University of Chinese Medicine, Beijing, China
(2)
Institute of Basic Research in Clinical Medicine, China Academy of Chinese Medical Sciences, Beijing, China
(3)
Zhengzhou Hospital of Traditional Chinese Medicine, Zhengzhou, China
Copyright
© Zhang et al.; licensee Chemistry Central Ltd. 2013
This article is published under license to BioMed Central Ltd. This is an Open Access article distributed under the terms of the Creative Commons Attribution License (http://creativecommons.org/licenses/by/2.0), which permits unrestricted use, distribution, and reproduction in any medium, provided the original work is properly cited.