Research article

Open Access
Determining the degradation efficiency and mechanisms of ethyl violet using HPLC-PDA-ESI-MS and GC-MS
Chemistry Central Journal
2012
6:63
Received: 21 February 2012
Accepted: 7 June 2012
Published: 30 June 2012
The Erratum to this article has been published in Chemistry Central Journal 2014 8:24
Abstract
Background
The discharge of wastewater that contains high concentrations of reactive dyes is a well-known problem associated with dyestuff activities. In recent years, semiconductor photocatalysis has become more and more attractive and important since it has a great potential to contribute to such environmental problems. One of the most important aspects of environmental photocatalysis is in the selection of semiconductor materials like ZnO and TiO2, which are close to being two of the ideal photocatalysts in several respects. For example, they are relatively inexpensive, and they provide photo-generated holes with high oxidizing power due to their wide band gap energy. In this work, nanostructural ZnO film on the Zn foil of the Alkaline-Manganese Dioxide-Zinc Cell was fabricated to degrade EV dye. The major innovation of this paper is to obtain the degradation mechanism of ethyl violet dyes resulting from the HPLC-PDA-ESI-MS analyses.
Results
The fabrication of ZnO nanostructures on zinc foils with a simple solution-based corrosion strategy and the synthesis, characterization, application, and implication of Zn would be reported in this study. Other objectives of this research are to identify the reaction intermediates and to understand the detailed degradation mechanism of EV dye, as model compound of triphenylmethane dye, with active Zn metal, by HPLC-ESI-MS and GC-MS.
Conclusions
ZnO nanostructure/Zn-foils had an excellent potential for future applications on the photocatalytic degradation of the organic dye in the environmental remediation. The intermediates of the degradation process were separated and characterized by the HPLC-PDA-ESI-MS and GC-MS, and twenty-six intermediates were characterized in this study. Based on the variation of the amount of intermediates, possible degradation pathways for the decolorization of dyes are also proposed and discussed.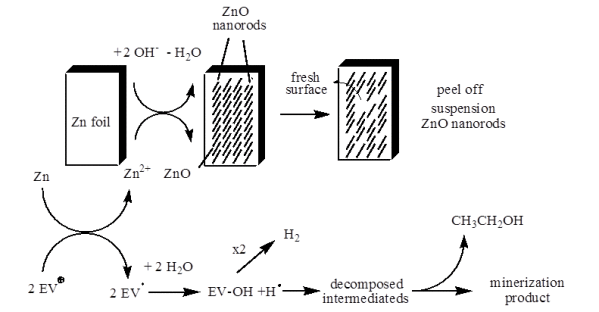 Keywords
HPLC-PDA-ESI-MSGC-MSEV dyeZinc foilDegradation mechanism
Background
It is estimated that over 700,000 tons of dyes and pigments are produced annually worldwide, 20% of which are utilized for textile dyeing and finishing processes [1]. Many of these synthetic dyestuffs cannot be removed using conventional treatments due to their complex polyaromatic structures, resulting in various environmental problems [2]. The textile, paper, food, cosmetic, and leather goods industries are all major consumers of triphenylmethane dyes [1, 2]. Previous reports [3, 4] have demonstrated the photodegradation of triphenylmethane dyes containing N-alkylamine groups via consecutive N-de-alkylation reactions. Other studies have reported that thyroid peroxidase-catalyzed oxidation of triphenylmethane dyes could result in the formation of various N-de-alkylated primary and secondary aromatic amines, with structures similar to those of aromatic amine carcinogens [5]. Previous studies [6, 7] on the photocatalytic degradation of nitrogen-containing aromatic compounds have demonstrated that both electrons and hydroxyl radicals transform amine functional groups.
Zinc oxide is an important solid state material possessing photocatalytic [3] and piezoelectric properties, as well as demonstrating field emission and lasing action with a wide range of potential technological applications [8, 9]. Recently, a variety of methods have been developed for the synthesis of nanostructural ZnO, including hydrothermal, vapor-liquid–solid, vapor solid, and other solution processes [10–21]. A low-temperature chemical-liquid deposition method has been employed to grow oriented ZnO nanorods by continuously supplying Zn ions from a Zn foil to form a ZnO thin film in aqueous formaldehyde solution [22]. Similar reactions have been achieved using Zn2+ salt with ethanol in the presence of amine to produce one-dimensional nanostructures of ZnO [23]. Hydrothermal reactions have also been used in the preparation of the ZnO nanorods, employing zinc acetate dissolved in ethanol with polyvinylpyrolidone and NaOH [24]. Heating zinc nitrate and NaOH in a mixture of ethylenediamine and water at 180°C for 20 h produces ZnO nanorods [25]. In the presence of ethylenediamine, the reaction of Zn foil with water under hydrothermal conditions (150-230°C) has reportedly yielded ZnO nanorods [26–31].
It has recently been discovered that cleaving a C-O single bond of the aliphatic alcohols on zinc metal surfaces produces ZnO nanoparticles [32]. Unfortunately, these techniques often require high temperatures. In addition, the reaction of Zn metal with liquid water may also produce ZnO nanostructures in a reaction associated with the evolution of hydrogen in acidic conditions [33]. The methods described in the literature generally use amines and other additives or zinc compounds at higher temperatures.
This study selected zinc foil obtained from waste Alkaline-manganese Dioxide-zinc cells as the substrate for the generation of ZnO nanostructures because the lattice matching between ZnO and Zn crystals facilitates the generation of ZnO nanostructures, and the zinc foil in these cells is waste material useful in the treatment of organic wastewater through photocatalysis. Zinc foil can serve as both reactant and substrate to support ZnO nanostructures without an additional substrate. The method is simple and practical, requiring only zinc foil, and may be performed at low temperatures. This simple method has not been previously reported in any studies. This makes it a suitable and economical approach to the treatment of organic wastewater. This study reports on the fabrication of ZnO nanostructures on zinc foil using a simple solution-based corrosion strategy, and provides detailed descriptions related to the synthesis, characterization, application, and implications of using Zn in this manner. Other objectives of this research include the identification of reaction intermediates to understand the underlying mechanisms in the degradation of EV dye as a model compound of triphenylmethane dye, with active Zn metal, using HPLC-ESI-MS and GC-MS. It is hoped that the results will provide a foundation for future environmental applications.
Experimental
Materials and reagents
Zn foils with 99.9% purity were 0.15 m in length, 0.15 m in width, and 2.5 × 10
-4
m in thickness. Alkaline-Manganese Dioxide-Zinc cells was obtained from Eveready, Toshiba, and Panasonic. Ethyl violet dye was obtained from Tokyo Kasei Kogyo Co. The chemical structure of EV is shown in Figure
1
. 4-Aminophenol (AP; analytical standard) was purchased from Riedel-deHaen. Reagent-grade ammonium acetate, nitric acid, sodium hydroxide, hydrogen chloride, and HPLC-grade methanol and acetone were purchased from Merck. All of the above agents were used as received without further purification.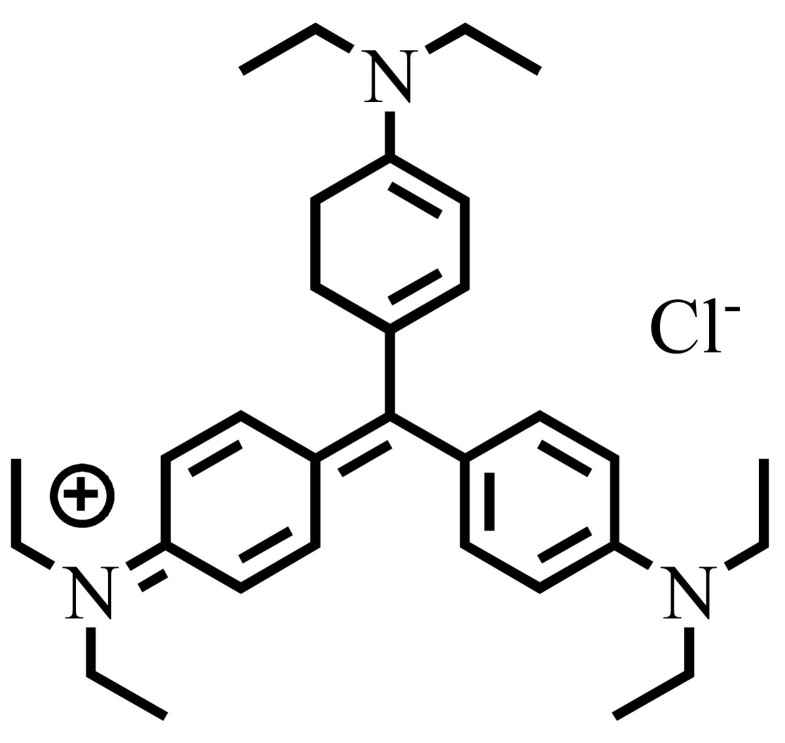 Degradation experiments
The Zn foils were ultrasonically washed in HPLC-grade acetone three times prior to use. A mixture solution was prepared by adding Zn foil (0.05 m × 0.05 m) to a 0.25 L aqueous solution containing EV at appropriate concentrations. The initial pH of the solution was adjusted by adding either NaOH or HNO3 solution to produce reactions of various pH values. At set intervals during the reaction, the solution was sampled. The residual dye and organic intermediates were analyzed using HPLC-PDA-ESI-MS and GC-MS. Dark experiments performed in a beaker with Zn foil also demonstrated the decolorization of the dye solution. Irradiation experiments were carried out for comparison using 15 W lamps to determine the stability of EV dye under UV or visible light irradiation. The 0.01 gL-1 EV solutions did not show significant de-coloration under UV irradiation without Zn foil. Following the reaction, the Zn foil was removed, washed with de-ionized water and ethanol several times, and then dried with nitrogen. These Zn foils were characterized using X-ray diffraction (XRD), field emission scanning electron microscopy (FE-SEM), and high resolution X-ray photoelectron spectrometry (HRXPS).
Instruments and analytical methods
XRD patterns were recorded on a MAC Science, MXP18 X-ray diffractometer with Cu α radiation, operating at 40 kV and 0.08 A. FE-SEM measurement was carried out using a field-emission microscope (JEOL JSM-7401 F) operating at an acceleration voltage of 1.5 × 104 V. HRXPS measurement was carried out with ULVAC-PHI XPS: PHI Quantera SXM to measure changes in the surface structure following reflux treatment. The binding energy values reported in the present work were corrected with a C1s peak at 284.8 eV to take into account charging effects.
A Waters ZQ LC/MS system equipped with Waters 1525 Binary HPLC pumps, a Waters 2998 Photodiode Array Detector, a Waters 717 plus auto sampler, and a Waters micromass-ZQ 2000 detector were used. The analysis of organic intermediates was accomplished using HPLC-PDA-ESI-MS following the readjustment of chromatographic conditions to make the mobile phase compatible with the working conditions of the mass spectrometer. Two types of eluent were employed in this study: solvent A, 0.025 M aqueous ammonium acetate buffer (pH 6.9); and solvent B, methanol. LC was carried out on an Atlantis TM dC18 column (0.25 m × 0.046 m i.d., 5 × 10-6 m film thickness). The flow rate of the mobile phase was set at 0.001 L.min-1. Column effluent was introduced into the ESI source of the mass spectrometer.
Solid-Phase extraction (SPE) was employed for the pre-concentration of irradiated samples prior to GC-MS analysis. GC/MS analysis was performed on a Perkin-Elmer AutoSystem-XL gas chromatograph interfaced with a TurboMass selective mass detector. Separation was carried out in a DB-5 capillary column (5% diphenyl/95% dimethyl-siloxane) with 60 m, 2.5 × 10-4 m i.d., and film thickness of 1.0 × 10-6 m. Electron impact (EI) mass spectra were monitored from 35 to 300 m/z. The ion source and inlet line temperatures were set at 220 and 280°C, respectively.
Conclusions
This paper used HPLC-PDA-ESI-MS analysis to identify the mechanism underlying the degradation of ethyl violet dyes. In this study, a nanostructural ZnO film was produced on the Zn foil from Alkaline-Manganese Dioxide-Zinc cells, providing outstanding potential for future applications in the photocatalytic degradation of organic dye for environmental remediation. This study used HPLC-PDA-ESI-MS and GC-MS to differentiate and characterize twenty-six intermediates of the degradation process. According to variations in the quantity of intermediates, various possible degradation pathways for the decolorization of dyes were also proposed and discussed.
Declarations
Acknowledgements
This research was supported by the National Science Council of the Republic of China (NSC 99-2113-M-142-001-MY2; NSC 100-2622-M-142-001-CC1).
Authors' Affiliations
(1)
Department of Science Application and Dissemination, National Taichung University of Education, Republic of China, Taiwan
(2)
Department of Plant Pathology, National Chung Hsing University, Republic of China, Taiwan
(3)
Department of General Education, National Taichung, University of Science and Technology, Republic of China, Taiwan
Copyright
© Wang et al.; licensee BioMed Central Ltd. 2012
This article is published under license to BioMed Central Ltd. This is an Open Access article distributed under the terms of the Creative Commons Attribution License (http://creativecommons.org/licenses/by/2.0), which permits unrestricted use, distribution, and reproduction in any medium, provided the original work is properly cited.