Research article
Open Access
Biological activities and volatile constituents of Daucus muricatus L. from Algeria
Chemistry Central Journal
2012
6:48
Received: 27 January 2012
Accepted: 26 April 2012
Published: 30 May 2012
Abstract
Background
In order to find new bioactive natural products, the antimicrobial and antioxidant activities of essential oil components extracted from the separated organs of the Algerian medicinal and aromatic plant Daucus muricatus L. were studied.
Results
The chemical composition of essential oils obtained by hydrodistillation (HD) was investigated using Gas Chromatography–Retention Indices (GC-RI) and GC–Mass Spectrometry (GC-MS). Two types of essential oils were produced by D. muricatus: (i) The oil from roots is mainly composed by nonterpenic oxygenated compounds (59.8 g/100 g), and (ii) the aerial part oils (i.e., the leaves, stems, flowers, and umbels) was mainly composed by terpenic hydrocarbon compounds (62.3–72.2 g/100 g). The chemical composition of the volatile fraction isolated from different organs of Daucus muricatus were studied by HS–SPME/GC–RI and GC–MS after optimization of Solid Phase MicroExtraction parameters. For all organs studied, the main volatiles emitted by the plant were hydrocarbon compounds (60.7–82.2 g/100 g). Only quantitative differences between the volatiles of the separated organs studied were observed. In addition, the activity of the oil of D. muricatus against eight bacterial strains and one yeast was investigated. The oil from roots revealed active against S. aureus, while the essential oil obtained from the aerial parts was active against the yeast C. albicans.
Conclusions
Daucus muricatus essential oil seems be a promising source of natural products with potential antimicrobial activity.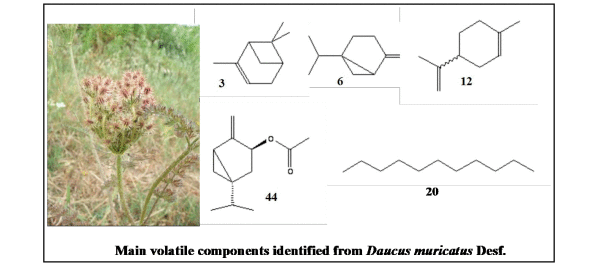 Keywords
Daucus muricatus. LEssential oilsHS-SPMEGC/MSAntimicrobial and antioxidant activities
Background
Daucus is a genus belonging to the Apiaceae family and consists of about 600 species that are widely distributed around the world. In Algeria, the Daucus genus is represented by more than 27 species living in dry and uncultivated areas [1], and they are mostly found from Tlemcen to Mascara [1, 2]. The most prevalent of the species is Daucus carota L. (carrot) reported with eight subspecies throughout Algeria [1]. Daucus muricatus L., synonym of Artedia muricata L., Caucalis muricata L., and Platyspermum muricatum Hoffm., is widely distributed in Algeria, Spain, Portugal, Corsica, Sardinia, Sicily, Italy, the Aegean Islands, and Turkey [2]. Daucus muricatus is an annual plant 30–50 cm high, dark green, bristling at the base, with a stem thickened at the nodes and branches spreading erect. The leaves are soft and lanceolate in their periphery in segments cut into narrow strips with white flowers. The umbels opposite the leaves at the end are contracted, the fruit are large, elliptical and compressed, armed with spines expanded and confluent at the base [1, 2]. Several investigations deal with the chemical composition of essential oils of the Daucus species [3–27]. While no study has investigated D. muricatus essential oils, most of them have reported the chemical composition of essential oils from D. carota and its subspecies [3, 4, 6–16, 20, 22, 23, 25–27]. However, only three studies have reported the chemical composition of essential oils from Daucus species from Algeria. The first reported the chemical composition of the essential oil of D. reboudii Coss. [17], and the other two reported the chemical composition of the oil from D. crinitus Desf. [18, 19]. Previous reports showed that the chemical composition of Daucus species was more dominated by monoterpene hydrocarbon compounds such α-pinene and sabinene [3, 4, 10, 14, 15], and occasionally by phenylpropanoids compounds such as apiol, myristicin, and isochavicol [3, 14–16]. Several studies recently investigated the biological activity of Daucus essential oils [6, 10, 12, 19, 20]. However, there remain many species and subspecies of Daucus that have not yet been examined.
As part of our ongoing chemical investigation of the essential oils from the Algerian Daucus genus [18] and our search for active natural products to fight nosocomial infections, we investigated for the first time the chemical composition and biological activities of Daucus muricatus L. through the study of: (i) the volatile components of D. muricatus roots, leaves, stems, flowers, and umbels extracted by hydrodistillation and by solid phase microextraction (SPME) using gas chromatography (GC) and gas chromatography–mass spectrometry (GC–MS), (ii) the antibacterial activity of D. muricatus essential oil against nine species of microorganisms involved in nosocomial infections using paper disc diffusion and agar dilution methods.
Conclusion
Volatiles isolated from separated organs of D. muricatus by HS–SPME and hydrodistillation were investigated using GC–RI and GC–MS. Concerning the essential oils, oil from D. muricatus roots was mainly composed of oxygenated compounds, while oil from aerial parts (i.e., the leaves, stems, flowers, and umbels) was dominated by hydrocarbon compounds. Moreover, the study of the volatiles sampled by HS–SPME showed that the chemical composition of the HS fractions obtained from different organs was qualitatively similar but differed by the relative concentrations of the main components. It is interesting to note that the sample preparation method impacted quantitatively on the GC profile of D. muricatus volatiles. The antimicrobial properties of D. muricatus essential oils tested on nine microorganisms species showed that oil from roots was active against S. aureus, while essential oil obtained from aerial parts was active against the yeast C. albicans.
Experimental
Plant material and oil isolation
Separated organs (stems, leaves, flowers, umbels and roots) from D. muricatus were collected in Bensekrane forest area (North West of Tlemcen, Algeria) [287 m, 35 °07′N 1 °22′O] on September 2009. Voucher specimens were deposited in the herbarium of the Tlemcen University Botanical Laboratory (Voucher number: UBL 128.09). A portion of each organ was stored at 4°C for eventual further studies. The oils were isolated by hydrodistillation (400–450 g of plant per sample) for 6 h using a Clevenger-type apparatus [32] according to the European Pharmacopoeia and yielded 0.02% for roots and 0.03-0.12% for aerial parts w/w of oil.
HS-SPME conditions
The single organs of D. muricatus (stems, leaves, flowers, umbels and roots separately) were cut roughly with scissors (1–2 cm long) before subjection to HS-SPME. The SPME device (Supelco) coated with divinylbenzene/carboxen/polydimethylsiloxane (DVB/CAR/PDMS, 30 μm) was used for extraction of the plant volatiles. Optimization of conditions was carried out using fresh organs of the plant (1 g in a 20 mL vial) and based on the number and the sum of total peak areas measured on GC-FID. Temperature, equilibration time and extraction time were selected after nine experiments combining four temperatures (30, 50, 70 and 90°C), four equilibration times (20, 40, 60 and 80 min) and three extraction times (15, 30 and 45 min). After sampling, SPME fibre was inserted into the GC and GC-MS injection ports for desorption of volatile components (5 min), both using the splitless injection mode. Before sampling, each fibre was reconditioned for 5 min in the GC injection port at 260°C. HS-SPME and subsequent analyses were performed in triplicate. The coefficient of variation (1.6% < CV < 17.8%) calculated on the basis of total area obtained from the FID-signal for the samples indicated that the HS-SPME method produced reliable results.
Gas chromatography
GC analyses were carried out using a Perkin–Elmer (Waltham, MA, USA) Autosystem XL GC apparatus equipped with a dual flame ionization detection system and a fused-silica capillary columns (60 m x 0.22 mm I.D., film thickness 0.25 μm), Rtx-1 (polydimethylsiloxane). The oven temperature was programmed from 60°C to 230°C at 2°C/min and then held isothermally at 230°C for 35 min. Injector and detector temperatures were maintained at 280°C. Samples were injected in the split mode (1/50), using helium as the carrier gas (1 mL/min); the injection volume was 0.2 μL. Retention indices (RI) of the compounds were determined from a software from Perkin-Elmer. Component relative concentrations were calculated based on GC peak areas without using correction factors.
Gas chromatography–mass spectrometry
Samples were analyzed with a Perkin–Elmer Turbo mass detector (quadrupole), coupled to a Perkin–Elmer Autosystem XL, equipped with the fused-silica capillary columns Rtx-1 and Rtx-Wax (ion source temperature 150°C; energy ionization 70 eV). EI mass spectra were acquired over the mass range 35–350 Da (scan time: 1 s). Other GC conditions were the same as described under GC except split 1/80.
Component identification
Identification of the components was based (i) on the comparison of their GC retention indices (RI) on non polar and polar columns, determined relative to the retention time of a series of n-alkanes with linear interpolation, with those of authentic compounds or literature data [33, 34]; and (ii) on computer matching with commercial mass spectral libraries [33–35] and comparison of spectra with those of our personal library.
Component quantification
Quantification of essential oil components was expressed using relative concentration in g/100 g of essential oil. The procedure included the calcul of FID response factors (RFs) relative to an internal standard. We carried out a methodology reported in the literature [36] and improved in our laboratory [37]. The application of this analytical procedure allowed the determination of the oil component relative concentrations expressed in g/100 g of essential oil. Relative amounts of individual components obtained during HS-SPME experiments, were calculated on the basis of their GC peak areas on the Rtx-1 capillary column, without FID response factor correction.
Bacterial and yeast strains and media
The bacterial strains used in this study, i.e. Staphylococcus aureus, Bacillus subtilis, Pseudomonas aeruginosa, Enterococcus faecalis, Listeria monocytogenes, Bacillus cereus (Gram positive), Escherichia coli and Klebsiella pneumoniae (gram negative) were isolated at the Medical Reanimation Department of the Hospital University Center of Tlemcen in Algeria. The yeast Candida albicans was isolated at the Dermatology Department of the same hospital. Bacterial strains preserved in nutrient agar at 4°C, were revivified in nutrient solution and incubated at 37 ± 1°C during 18 to 24 h. 0.1 mL of each culture was added to 10 mL BHIB (Brain Heart Infusion Broth, pronadisa Hispanalab). C. albicans preserved at 4°C in the Sabouraud agar supplemented with chloramphenicol was revivified in nutrient solution and incubated at 30 ± 1°C during 24 to 48 h. 0.1 mL of each culture was added to 10 mL sterile physiological water. For antimicrobial assay, bacterial strains were grown on Mueller-Hinton Agar (MHA, Pronadisa Hispanalab) while C. albicans was grown on Sabouraud Dextrose Agar + chloramphenicol (SDA, Merck). Bacterial and yeast inoculate reached microbial densities in the range 106 to 107 cfu/mL.
Antimicrobial activity
Paper-disc diffusion method
Antibacterial activities of essential oil from root and all aerial parts of the plant were assessed using the paper disk agar diffusion method according to Rios [38]. Absorbent disks (Whatman disk 6-mm diameter) were impregnated with 20 μl of oil, to concentration of 5 mg mL-1, and then placed on the surface of inoculated plates (90 mm) and incubated at 37°C for 24 h. Negative controls were prepared using a disk impregnated with the same solvent as that used to dissolve the plant oils. Antimicrobial activity was assessed by measuring the inhibition zone. All the tests were performed in triplicate.
Dilution-agar method
A dilution agar method was used to determine the Minimum Inhibitory Concentrations (MIC). Stock solutions were obtained by dissolving extracts in dimethylsulfoxide (DMSO 1%). Serial dilutions were made to obtain concentrations ranging from 0 to 100 μg mL-1 of the essential oil. Each mixture was added to Mueller–Hinton agar for bacteria [39, 40]. The Petri dishes contained a sterile solution of DMSO and the culture medium, respectively. After incubation at 37°C for 24 h for bacteria and at 30°C for 48 h for the yeast. The experiments were performed in triplicate.
Declarations
Acknowledgments
The authors are grateful to Prof. M. Bouazza (Botanical Laboratory, Biology Department, Aboubekr Belkaïd University) for the identification of the vegetable matter, and are indebted to the Agence Universitaire de la Francophonie (AUF) for providing a research grand of N.D., and the Ministère des Affaires Etrangères et Européennes throughout the research program "Partenariat Hubert Curien Tassili".
Authors' Affiliations
(1)
Laboratoire des Substances Naturelles et Bioactives, Université de Tlemcen, Algeria
(2)
UMR CNRS 6134, Laboratoire Chimie des Produits Naturels, Campus Grimaldi, Université de Corse, Corte, France
Copyright
© Bendiabdellah et al.; licensee Chemistry Central Ltd. 2012
This article is published under license to BioMed Central Ltd. This is an Open Access article distributed under the terms of the Creative Commons Attribution License (http://creativecommons.org/licenses/by/2.0), which permits unrestricted use, distribution, and reproduction in any medium, provided the original work is properly cited.