Research article
Open Access
Evaluation of water quality and human risk assessment due to heavy metals in groundwater around Muledane area of Vhembe District, Limpopo Province, South Africa
Chemistry Central Journal
2018
12:2
Received: 8 November 2017
Accepted: 20 December 2017
Published: 12 January 2018
Abstract
Groundwater is considered as good alternative to potable water because of its low turbidity and perceived low contamination. The study assessed the physio-chemical and heavy metals concentrations in eight randomly selected boreholes water at Muledane village in Limpopo Province of South Africa and the results were compared with South African National standard permissible limit. The impacts of heavy metals on human health was further determined by performing quantitative risk assessment through ingestion and dermal adsorption of heavy metals separately for adults and children in order to estimate the magnitude of heavy metals in the borehole samples. Parameters such as turbidity, nitrate, iron, manganese and chromium in some investigated boreholes did not comply with standard limits sets for domestic water use. Multivariate analyses using principal component analysis and hierarchical cluster analysis revealed natural and anthropogenic activities as sources of heavy metal contamination in the borehole water samples. The calculated non-carcinogenic effects using hazard quotient toxicity potential, cumulative hazard index and chronic daily intake of groundwater through ingestion and dermal adsorption pathways were less than a unity, which showed that consumption of the water could pose little or no significant health risk. However, maximum estimated values for an individual exceeded the risk limit of 10
−6
and 10
−4
with the highest estimated carcinogenic exposure risk (CR
ing
) for Cr and Pb in the groundwater. This could pose potential health risk to both adults and children in the investigated area. Therefore, precaution needs to be taken to avoid potential CR
ing
of people in Muledane area especially, children using the borehole water.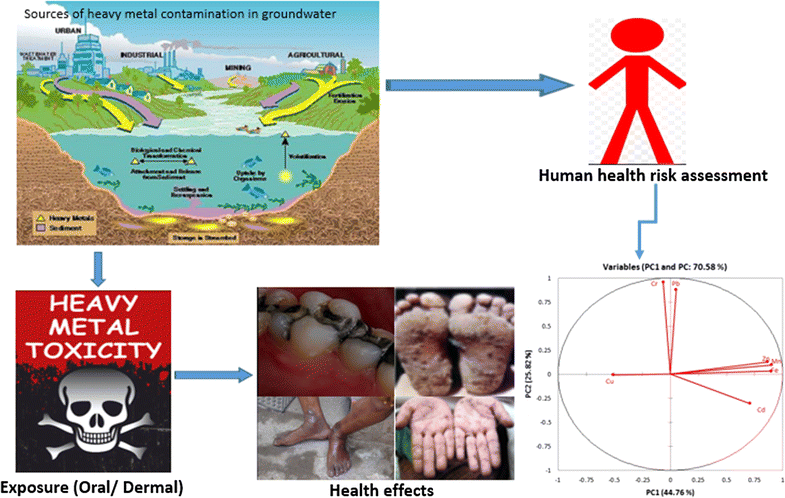 Keywords
ContaminationGroundwaterHealth riskMultivariate analysisSouth Africa
Introduction
Sustainable access to potable water have been achieved in different developed countries of the world, but this is not true for many developing countries. In Africa, access to potable water has been achieved in a few cities but not in the entire region. This problem is more pronounced in rural areas, some of which does not have water supply infrastructure [1]. Residents of such rural communities often resort to different sources of water. The most commonly used sources include: Rivers, streams, boreholes, lakes, etc. Most of these various alternative sources are susceptible to water pollution. Some of the major sources of pollution include the discharge of domestic, industrial and agricultural wastewater into freshwater bodies.
Groundwater is often considered as the best of these alternatives, owing to natural protection from pollution when compared to surface and perceived natural filtration as water flows down during rainy period. Groundwater as one of the natural resources is of fundamental importance to human life, because of its perceived good microbiological quality in the natural state and as a result, it is often the preferred source of drinking water supply as treatment is limited to disinfection. Aesthetically, it looks clean and acceptable to various people as it is often free from odour and sometimes do have a pleasant taste. Despite the perceived safety associated with groundwater consumption, several researches have shown that groundwater can also be susceptible to contamination [2–4]. Some factors that influence the quality of groundwater include the geology of the aquifer, climate and anthropogenic activities [5–8].
The use of groundwater sources has increased rapidly in many countries of the world due to population growth, increased industrialization and scarcity of water related to climate change. Although surface water has been extensively used in various water infrastructure, increased utilization coupled with other aforementioned factors has led to an increase in the use of groundwater sources. Groundwater are often used for drinking, irrigation and several industrial processes. The global use of groundwater is often underestimated and climatic factor has also been extensively debated to influence the available water volume in the aquifer [9]. Several countries of the world are experiencing acute water scarcity, but this problem is exacerbated in arid and semi-arid countries of the world. The use of shallow, such as hand dug wells and deep groundwater sources (boreholes) are common in South Africa. Most of the communities that depends on groundwater sources do not know the quality of water they drink as they often presume that groundwater has a good water quality. Groundwater can be contaminated by the ingress of human and animal waste into the aquifer [10]. This could be through the grazing of animals, discharge of domestic and industrial wastewater, use of pesticides and fertilizers in agriculture [11].
In some part of South Africa, groundwater is a key component of the water resources, and one of the sources of water supply. Report have shown that about two-thirds of South African population depend on groundwater for drinking [12, 13] with about 65% of the total supply in the rural areas [14]. As such, it provides some basic water requirement, since the country's surface water resources are unevenly distributed and cannot meet the growing demand for water [15]. In rural areas, boreholes are located either close to a pit toilet or downstream of soak away pits or adjoining landfills or dumpsites [16]. Some groundwater is poorly managed due to its invisible nature and it usually takes a long time to notice when it has become polluted and once it is contaminated, its quality cannot be restored by just stopping the pollutants from source, because contamination may continue after the source has been stopped or removed [17, 18]. In the rural and peri-urban areas, most of the groundwater supplies are usually untreated and it has been reported that it is difficult for groundwater to purify itself, often impossible and very expensive to treat, thereafter [14]. The use of groundwater sources of unknown quality puts the consumers at risk to possible waterborne diseases. Bessong et al. [19] reported high levels of fecal contamination in groundwater sources around Tshikuwi Community in Vhembe District of South Africa. High fluoride levels have been reported by Odiyo and Makungo [20] in groundwater sources around Siloam village. Arsenic contamination of groundwater sources has been reported in the world [2, 21].
Thohoyandou, Vhembe District of Limpopo, South Africa is experiencing a rapid population growth and this has led to an increase in the generation of waste. Muledane village in Thohoyandou consist of households that rely on groundwater while, some areas are reserved for municipal landfill site, farming, wastewater treatment plant and cemeteries. Landfills have been identified as one of the major threats to groundwater resources in this area [22]. There is currently no published data on the status of groundwater quality in Muledane village and possible health risks that these water sources may have on humans, unlike other reports of groundwater quality in South Africa that reported the impact of heavy metals, physical and chemical properties on human health [23, 24]. Hence, there is an urgent need to assess water quality of groundwater in Muledane village because contaminated water by faeces, leachate and other non-point sources could have economic and social development implications and human health risks due to activities around this area. It is assumed that water quality impairment might be severe in Muledane village of Thohoyandou. To this end, the aim of this study was to assess the status of water quality from boreholes situated at Muledane area near Thohoyandou by quantifying heavy metal concentration and determine possible health risk due to exposure of human to heavy metals.
Results and discussion
Table
1
shows the turbidity, temperature, pH, conductivity and TDS of groundwater samples collected from Muledane village. The pH varied from slightly acidic to neutral (6.04–7.41) throughout the sampling period. These values were within the recommended guideline of DWAF (6.0–9.0) for domestic water use [
38
]. The pH values for all borehole except for B2 was higher in the months of January as compared to other months. This is not expected because the pH of rainwater is low and could influence groundwater's pH due to high infiltration of aquifer during heavy rainfall. The acidity or alkalinity of water can affect plant growth, benthic organisms, soil and crops when used for irrigation. This could also indicate possible corrosion problems and potential heavy metals contamination. Copper, Zn and Cd are associated with low values of pH, e.g., a pH of 2 will cause water to be acidic and unsuitable for human consumption [
41
].
Table 1
Mean value of physico-chemical parameters in groundwater samples collected from eight boreholes in Muledane village
Settlement

Range of sample stations

Month of sampling

Turbidity (NTU)

pH

EC (mS/cm)

TDS

F−

Cl−

NO3−

SO4

B1

30°28′24.1″E

23°00′16.7″S

January

0.65

7.17

61.90

414.73

0.17

30.07

121.64

15.25

April

0.99

6.51

63.70

426.79

0.06

23.93

53.13

12.55

June

1.16

6.96

64.00

428.8

0.12

32.42

51.55

13.90

B2

30°28′13.5″E

23°00′09.4″S

January

1.12

6.75

40.90

274.07

0.09

41.89

14.23

1.76

April

0.54

6.22

42.90

287.43

0.01

35.85

5.81

1.63

June

0.94

6.79

43.70

292.79

0.05

46.47

57.38

1.70

B3

30°27′19.0″E

22°59′43.1″S

January

4.10

6.82

32.90

220.43

0.09

28.87

30.49

2.03

April

14.9

6.22

18.68

125.16

0.09

14.22

11.97

1.61

June

1.28

6.39

20.18

135.21

0.09

16.80

11.84

1.82

B4

30°27′17.8″E

22°59′43.1″S

January

1.22

7.19

4.48

29.49

0.04

4.30

0.70

0.97

April

3.50

6.17

31.90

213.73

0.04

46.91

0.60

0.80

June

1.11

7.20

16.28

109.08

0.04

42.61

0.65

0.97

B5

30°27′15.5″E

22°59′43.0″S

January

1.00

6.95

11.30

75.71

0.04

10.14

16.08

0.65

April

5.76

6.13

16.29

109.14

0.017

11.29

2.2

0.61

June

1.04

6.71

19.47

130.45

0.02

14.92

9.16

0.63

B6

30°27′14.8″E

22°59′42.2″S

January

1.38

6.76

12.70

85.09

0.05

11.10

16.37

1.22

April

1.62

6.22

8.99

60.23

0.07

2.67

0.85

0.81

June

1.16

6.28

9.78

64.99

0.087

8.45

72.71

1.01

B7

30°27′13.9″E

22°59′44.2″S

January

2.26

6.62

28.20

188.94

0.047

19.92

47.86

4.87

April

0.94

6.04

15.11

101.24

0.047

2.53

5.03

0.76

June

1.66

6.57

9.81

65.73

0.047

12.60

2.25

2.81

B8

30°27′12.0″E

22°59′47.8″S

January

0.33

6.98

61.30

410.71

0.16

30.70

125.18

16.14

April

0.79

6.49

40.90

274.03

0.16

34.18

63.73

14.56

June

1.01

6.59

51.10

342.37

0.16

3.48

2.27

16.14

Standard limit for WHO for drinking water quality

1.0

6.0–9.0

≤ 70

≤ 450

1.0

100

50

< 200

Standard limit for DWAF for drinking water quality

< 5

–

–

< 1000

< 1.5

–

< 22

–
The EC average level for each sampling point during the monitoring period were 63.2, 42.5, 23.92, 17.56, 15.69, 10.52, 17.71 and 51.1 mS/cm for samples B1–B8, respectively. The mean values recorded for conductivity were within the recommended guideline of < 70 mS/cm for domestic water use [38]. However, measured values for B1 throughout the investigation were very close to the recommended guideline value of DWAF (Table 1). Hence, frequent monitoring of hotels such as the investigated B1 borehole is required, because this parameter might accumulate overtime and exceeds the recommended level. EC plays an important role in water quality as it gives an indication of salinity and TDS present in water [41]. The total dissolved solids (TDS) that measures the dissolution mechanism of organic and inorganic materials in groundwater were low and below the WHO value of 1000 mg/L. Turbidity recorded (0.33–14.9 NTU) were within the acceptable limit set by DWAF (< 1 NTU) and WHO (< 5 NTU) for domestic water except in April where B3, B4, B5, B6, and B7 exceeded the DWAF limit but fell within the guideline value of WHO for domestic water (Table 1), while B3 (14.9 NTU) and B5 (5.76 NTU) samples during April exceeded both standard limits. Turbidity is caused by colloidal or suspended particles that may originate from organic or inorganic matter or combination of both in water, thus prevents transmission of light through the water. Its affect the appearance and the aesthetic property of water which shows that there is a slight risk of potential secondary health effects turbidity between 1 and 20 NTU and minor risk if used for food preparation [41].
Conclusions
Only 12.5% boreholes have ideal water quality in terms of NO3− and Mn concentration with 25% found to be in the marginal water quality class, while 75% percent fell in the unacceptable water quality class. In terms of chemical properties, it is unsafe for resident around Muledane within the investigated area to use the boreholes water for domestic purposes without treatment. This study reveals that 87.5% borehole water have high concentration of NO3; Fe and Mn among the selected anions and heavy metals. The measured concentration of Cr, Fe and Mn for some of the investigated boreholes were observed to be higher than the recommended standard limits by WHO and DWAF. The HQ and the overall non-carcinogenic health hazard indices (HI) through the ingestion and dermal adsorption of the groundwater were less than one. However, the results showed the potential risk of some of the selected metals on human, especially children. The main contributors to non-carcinogenic risk were Mn, Zn, Pb, Cr and Cd for both pathways. The results of this study further revealed that ingestion of the investigated boreholes poses carcinogenic risk (CRing) regarding the estimated Mn, Fe and Cu for adults and children. In addition to the aforementioned metals, estimated CRing for Zn among children were high throughout the study. It is therefore recommended that water quality studies should be given a priority by adding it into the integrated development plans (IDPs) and be conducted on a regular basis to assess risks of contamination. Health and hygiene education is highly needed for people in rural areas because of lack of proper sanitation and proper water handling practices. In addition, further studies are recommended to investigate the point sources of contamination and possible causes of high concentration of nitrate level in the boreholes around Muledane village.
Declarations
Authors' contributions
JNE, NM and JOO designed, collect the data and laboratory experimentation, AME and JNE handled data analyses, Interpretation of results and preparation of the manuscript. All authors read and approved the final manuscript.
Acknowledgements
The authors are grateful to Directorate of Research and Innovation, University of Venda, South Africa for the financial assistance in covering the costs of publishing this article in an open access journal.
Competing interests
The authors declare that they have no competing interests.
Availability of data and materials
Not applicable.
Consent for publication
Not applicable.
Ethics approval and consent to participate
Not applicable.
Publisher's Note
Springer Nature remains neutral with regard to jurisdictional claims in published maps and institutional affiliations.
Open AccessThis article is distributed under the terms of the Creative Commons Attribution 4.0 International License (http://creativecommons.org/licenses/by/4.0/), which permits unrestricted use, distribution, and reproduction in any medium, provided you give appropriate credit to the original author(s) and the source, provide a link to the Creative Commons license, and indicate if changes were made. The Creative Commons Public Domain Dedication waiver (http://creativecommons.org/publicdomain/zero/1.0/) applies to the data made available in this article, unless otherwise stated.
Authors' Affiliations
(1)
Department of Hydrology and Water Resources, University of Venda, Thohoyandou, South Africa