Biological potential of thiazolidinedione derivatives of synthetic origin
Chemistry Central Journal
2017
11:130
Received: 13 October 2017
Accepted: 23 November 2017
Published: 8 December 2017
Abstract
Thiazolidinediones are sulfur containing pentacyclic compounds that are widely found throughout nature in various forms. Thiazolidinedione nucleus is present in numerous biological compounds, e.g., anti-malarial, antimicrobial, anti-mycobacterium, anticonvulsant, antiviral, anticancer, anti-inflammatory, antioxidant, anti-HIV (human immunodeficiency virus) and antitubercular agent. However, owing to the swift development of new molecules containing this nucleus, many research reports have been generated in a brief span of time. Therefore seems to be a requirement to collect recent information in order to understand the current status of the thiazolidinedione nucleus in medicinal chemistry research, focusing in particular on the numerous attempts to synthesize and investigate new structural prototypes with more effective antidiabetic, antimicrobial, antioxidant, anti-inflammatory, anticancer and antitubercular activity.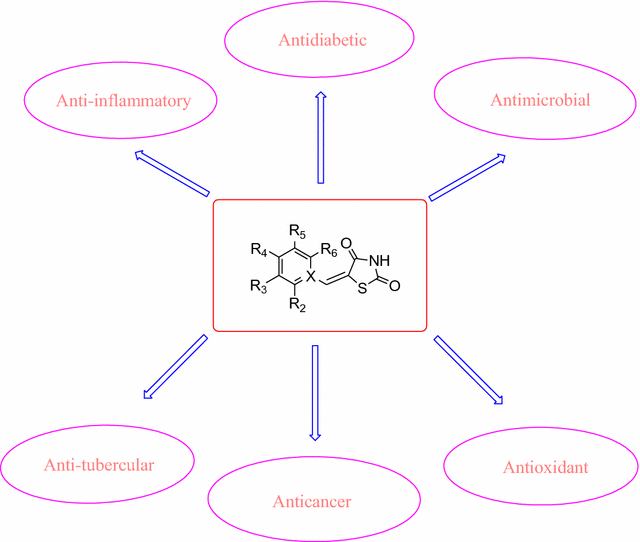 Keywords
Thiazolidinedione derivativesAntidiabeticAntimicrobialAnti-inflammatory
Introduction
The number of antimicrobial drugs available in the market is vast, but there is a need to discover novel antimicrobial agents with better pharmacodynamic and pharmacokinetic properties with lesser or no side effects. Most of thiazolidinediones exhibit good bactericidal activity against various Gram-positive and Gram-negative bacteria. The bactericidal activity of thiazolidinediones derivatives depends on the substitution on the heterocyclic thiazolidine ring rather than the aromatic moiety.
Thiazolidinedione (Scheme
1
) along with their derivatives draw attention as they have diverse biological as well as clinical use. Researchers focus on this moiety because it is involved in the control of various physiological activities. Heterocyclic moieties having Nitrogen and Sulfur are involved in a broad range of pharmacological processes. This created interest among researchers who have synthesized variety of thiazolidinediones derivatives and screened them for their various biological activities. In the present study, we have made an attempt to collect biological properties of thiazolidinediones and its derivatives of synthetic origin.

Biological activities of thiazolidinediones derivatives in the new millennium
Conclusion
Appraisal of literature reports reveals that thiazolidinediones and its derivatives represent an important class of compound in the medicinal field with various therapeutic potentials, i.e., antidiabetic, antimicrobial, anti-inflammatory, anticancer, antioxidant and antitubercular, antiviral, anti-malarial, anti-HIV and anti-convulsant activities etc. which created immense interest among researchers to synthesized variety of thiazolidinediones. This review focuses especially on synthesized active compounds of thiazolidinediones having different pharmacological activities playing an important role in the medicinal field. These most active thiazolidinediones derivatives may be taken as leads to discover novel agents with therapeutic potential in the future.
Declarations
Authors' contributions
PKV designed and finalized the scheme; SA performed review work and ST wrote the paper. All authors read and approved the final manuscript.
Acknowledgements
Thanks to Head, Department of Pharmaceutical Sciences, M. D. University, Rohtak for kind support for providing internet facilities etc.
Competing interests
The authors declare that they have no competing interests.
Ethics approval and consent to participate
Not applicable.
Publisher's Note
Springer Nature remains neutral with regard to jurisdictional claims in published maps and institutional affiliations.
Open AccessThis article is distributed under the terms of the Creative Commons Attribution 4.0 International License (http://creativecommons.org/licenses/by/4.0/), which permits unrestricted use, distribution, and reproduction in any medium, provided you give appropriate credit to the original author(s) and the source, provide a link to the Creative Commons license, and indicate if changes were made. The Creative Commons Public Domain Dedication waiver (http://creativecommons.org/publicdomain/zero/1.0/) applies to the data made available in this article, unless otherwise stated.
Authors' Affiliations
(1)
Department of Pharmaceutical Sciences, Faculty of Pharmaceutical Sciences, Maharshi Dayanand University, Rohtak, India