Research article

Open Access
Preparation and characterization of novel double-decker rare-earth phthalocyanines substituted with 5-bromo-2-thienyl groups
Chemistry Central Journal
2017
11:31
Received: 20 October 2016
Accepted: 28 March 2017
Published: 5 April 2017
Abstract
Background
A series of rare-earth bisphthalocyanines of praseodymium, samarium and gadolinium bearing 5-bromo-2-thienyl substituents were prepared for the first time.
Results
Three bis[octakis(5-bromo-2-thienyl)] rare-earth metal(III) bisphthalocyanine complexes (Pr, Sm, Gd) were synthesized for the first time. The new compounds were characterized by UV–vis, NIR, FT-IR, mass spectroscopy and thermogravimetry as well as elementary analysis and electrochemistry. Production of singlet oxygen was also estimated using 9,10-dimethylanthracene method.
Conclusions
The bromine substituent causes significant changes in molecule paramagnetism, singlet oxygen production, HOMO position and spectral characteristics. The compounds in solutions exist in two forms (neutral and/or reduced) depending on the solvent and rare-earth metal. Moreover, the compounds exhibit much increased stability under acid conditions compared with non-brominated derivatives.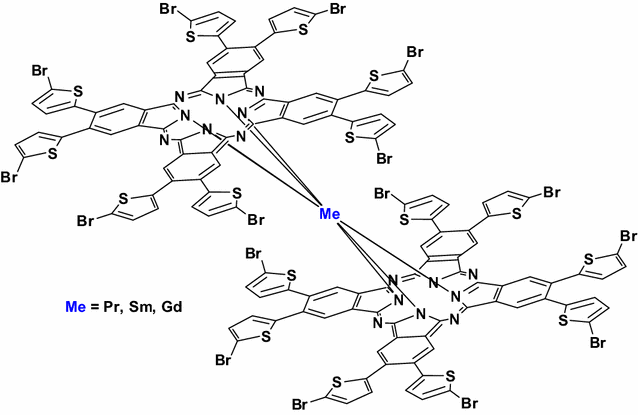 Keywords
Rare-earth bisphthalocyanines
UV–vis spectroscopy
NIR spectroscopy
Singlet oxygen production
Reduction
Cyclic voltammetry
Acid stability
Thermogravimetry
Background
Double-decker rare-earth phthalocyanines were firstly reported by Kirin [1] in 1965. Since then, they found a lot of applications. Among them are colour and electrochromic displays [2], gas sensors [3], field-effect transistors [4] and nonlinear optical materials [5]. Widely studied are also their magnetic [6] and conducting properties [7]. For these applications, many unsubstituted and substituted derivatives were prepared and evaluated to date. Thiophene moieties as strong donors are very often adopted for tailoring electronic properties of many classes of compound studied for applications in organic electronics [8]. Recently, a series of three thiophene-substituted rare-earth bisphthalocyanines of gadolinium, praseodymium and samarium were studied by our group [9]. It was found that the compounds were very sensitive to the presence of an acid yielding metal-free phthalocyanines irreversibly. This unexpected instability can limit their use for organic electronics. Our working hypothesis was that the acid stability should be increased if suitable group is attached to the 2-position on the thiophene cycle. For this purpose, a bromo substituent was introduced to the phthalocyanine scaffold. The aim of this study was to evaluate the effect of this modification on their physical, photo-physical and electrochemical properties.
Experimental
General
All starting materials were obtained from Aldrich and Penta, and were used without further purification. Unsubstituted phthalocyanines were prepared according to the literature procedure [1].
The ultraviolet–visible (UV–vis) spectra were measured within the range of 300–900 nm on a UNICAM UV/VISIBLE Spectrophotometer, Helios Beta. The near infra-red (NIR) spectra were measured within 800–2100 nm on a PerkinElmer Lambda 1050 UV/VIS/NIR spectrometer. FT-IR spectra were recorded on a Nicolet 6700 FT-IR spectrometer. Thermogravimetric analyses were performed using a Mettler Toledo TGA/DSC 1 STARe System in a 70 ll alumina crucible. A small amount of the test compound (6–7 mg) was weighed into the measuring crucible and heated using a controlled temperature program between 25 and 700 °C using a gradient of 10 °C min−1. A flow of nitrogen (about 20 ml min−1) was used as a protective gas. During the heating process weight-curves were recorded over the complete temperature range. Elemental analyses were obtained using a FISONS EA 1108 automatic analyser. Matrix-assisted laser desorption/ionization time-of-flight mass spectra (MALDI-TOF) were measured on a MALDI mass spectrometer LTQ Orbitrap XL equipped with nitrogen laser. Positive-ion and linear mode of the compounds were obtained in trans-2-[3-(4-tert-butylphenyl)-2-methyl-2-propenylidene]malononitrile matrix for 2 and 3 and 2,5-dihydroxybenzoic acid matrix for 4 using nitrogen laser accumulating 10 laser shots. Electrochemical measurements were carried out in 1,2-dichloroethane containing 0.1 M Bu4NPF6. Cyclic voltammetry (CV) and rotating disk voltammetry (RDV) were used in a three electrode arrangement. The working electrode was platinum disk (2 mm in diameter) for CV and RDV experiments. As the reference and auxiliary electrodes were used saturated calomel electrode (SCE) separated by a bridge filled with supporting electrolyte and a Pt wire, respectively. All potentials are given vs. SCE. Voltammetric measurements were performed using a potentiostat PGSTAT 128N (Metrohm Autolab B.V., Utrecht, The Netherlands) operated via NOVA 1.11 software.
Preparation of bis[octakis-(5-bromo-2-thienyl)phthalocyaninato] rare-earth metal(III) phthalocyanines (2–4)
The starting 4,5-bis(5-bromo-2-thienyl)phthalonitrile (
1
) was prepared by bromination of 4,5-bis(2-thienyl)phthalonitrile using
N
-bromosuccinimide in good yield. All the investigated bisphthalocyanines were synthesized from
1
by a two-step, one-pot reaction (Scheme
1
). In the first step, the starting nitrile
1
was refluxed in
n
-pentanol with metal lithium under nitrogen. The resulting dilithium phthalocyanine was without isolation reacted with anhydrous rare-earth metal acetate dissolved in anhydrous DMF under reflux. The products were purified by flash chromatography using cellulose as the adsorbent and eluted first with ethyl-acetate and then with THF. The yields of pure
2
–
4
were 16–34%. Synthetic procedures including basic characterizations are given in Additional files
1
and
2
.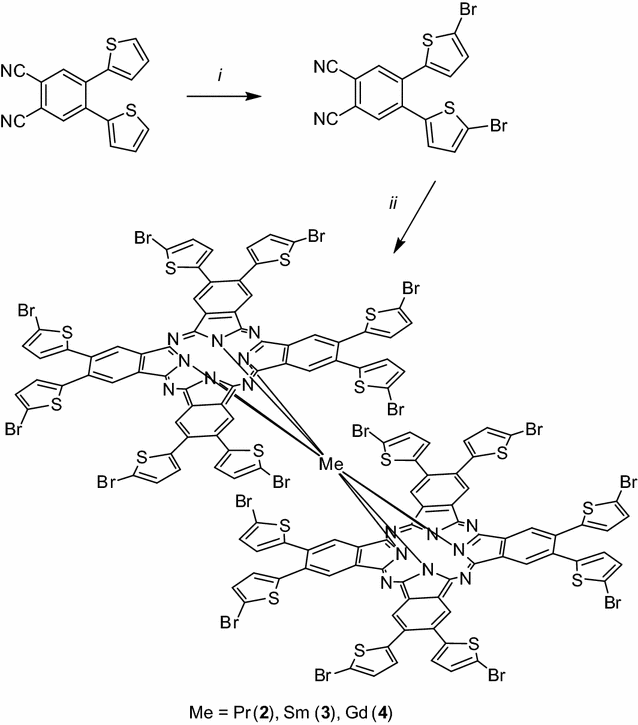 Conclusions
Three rare-earth metal bisphthalocyanines bearing 5-bromo-2-thienyl groups were synthesized for the first time. Their purification was achieved by flash chromatography using cellulose as an adsorbent. The prepared complexes exhibit good solubility in many organic solvents such as DMF, THF, chloroform, dichloromethane and acetone. The compounds were characterized by UV–vis, NIR, MALDI, FT-IR, thermogravimetry and elemental analysis.
Two forms of studied compounds were identified in solutions. The first form is a reduced Pc which has two maxima at 660 and 720 nm. This form has no signal in NIR area. The second form is a neutral form with one maximum located at ~700 nm. There are several characteristic peaks in NIR area. The distribution of the forms is dependent on the solvent (polarity and basicity) and the central metal. The compounds were found in reduced forms in most solvents. Transformation of the reduced form to a neutral can be achieved either by addition of small amount of acid (AcOH) or an oxidant like Br2. With increased concentration of Br2, the compounds are further oxidized to Pc+ and the spectra are red shifted to about 750 nm. Our hypothesis that the attachment of Br atom on the thiophene cycle should increase the acid stability was successfully confirmed. No degradation in diluted acids was found in contrary to non-brominated analogues.
Compared to thiophene-substituted rare-earth phthalocyanines a significant decrease in quantum yield of singlet oxygen Φ was found. This is in good agreement with high degree of paramagnetism found during NMR experiments. The electrochemical investigation of studied compounds has shown that the variation of central metal does not bring significant changes in the first oxidation (reduction) and HOMO (LUMO) respectively. Anyway, in comparison to previously published electrochemical data [9, 18], the substitution influences more oxidation than reduction (more HOMO than LUMO).
Abbreviations
UV–vis:

ultraviolet–visible spectroscopy
NIR:

near infra-red spectroscopy
FT-IR:

Fourier transformed infra-red spectroscopy
HOMO:

highest occupied molecular orbital
LUMO:

lowest unoccupied molecular orbital
SOMO:

single occupied molecular orbital
NMR:

nuclear magnetic resonance
MALDI-TOF:

matrix-assisted laser desorption/ionization time of flight mass spectrum
CV:

cyclic voltammetry
RDV:

rotating disk voltammetry
SCE:

saturated calomel electrode
DMF:

N,N-dimethylformamide
THF:

tetrahydrofuran
1O2 :

singlet oxygen
DMA:

9,10-dimethylanthracene
Φ:

quantum yield of singlet oxygen
ε:

molar absorption coefficient
λmax :

maximum wavelength of absorption
Pc:

phthalocyanine
Declarations
Authors' contributions
JČ performed the synthesis and characterization (except NMR, MALDI-TOF and CV) of bisphthalocyanines and wrote the manuscript. LD and PH performed the synthesis of phthalocyanine precursors. AL measured NMR spectra. TM measured and evaluated CV of bisphthalocyanines. FB investigated the MALDI-TOF spectra. All authors read and approved the final manuscript.
Acknowledgements
The authors acknowledge the financial support of the Czech Science Foundation (Grant No. 14-10279S). We also appreciate the help of Michal Novotný from Institute of Physics of the Czech Academy of Sciences for the co-operation with measurement of NIR spectra.
Competing interests
The authors declare that they have no competing interests.
Publisher's Note
Springer Nature remains neutral with regard to jurisdictional claims in published maps and institutional affiliations.
Open AccessThis article is distributed under the terms of the Creative Commons Attribution 4.0 International License (http://creativecommons.org/licenses/by/4.0/), which permits unrestricted use, distribution, and reproduction in any medium, provided you give appropriate credit to the original author(s) and the source, provide a link to the Creative Commons license, and indicate if changes were made. The Creative Commons Public Domain Dedication waiver (http://creativecommons.org/publicdomain/zero/1.0/) applies to the data made available in this article, unless otherwise stated.
Authors' Affiliations
(1)
Centre of Organic Chemistry Ltd., Rybitví, Czech Republic
(2)
Department of Analytical Chemistry, University of Pardubice, Faculty of Chemical Technology, Pardubice, Czech Republic
(3)
Institute of Organic Chemistry and Technology, University of Pardubice, Faculty of Chemical Technology, Pardubice, Czech Republic