Research article

Open Access
Molecular modeling of major tobacco alkaloids in mainstream cigarette smoke
Chemistry Central Journal
2016
10:43
Received: 14 April 2016
Accepted: 4 July 2016
Published: 15 July 2016
Abstract
Background
Consensus of opinion in literature regarding tobacco research has shown that cigarette smoke can cause irreparable damage to the genetic material, cell injury, and general respiratory landscape. The alkaloid family of tobacco has been implicated is a series of ailments including addiction, mental illnesses, psychological disorders, and cancer. Accordingly, this contribution describes the mechanistic degradation of major tobacco alkaloids including the widely studied nicotine and two other alkaloids which have received little attention in literature. The principal focus is to understand their energetics, their environmental fate, and the formation of intermediates considered harmful to tobacco consumers.
Method
The intermediate components believed to originate from tobacco alkaloids in mainstream cigarette smoke were determined using as gas-chromatography hyphenated to a mass spectrometer fitted with a mass selective detector (MSD) while the energetics of intermediates were conducted using the density functional theory framework (DFT/B3LYP) using the 6-31G basis set.
Results
The density functional theory calculations conducted using B3LYP correlation function established that the scission of the phenyl C–C bond in nicotine and β-nicotyrine, and C–N phenyl bond in 3,5-dimethyl-1-phenylpyrazole were respectively 87.40, 118.24 and 121.38 kcal/mol. The major by-products from the thermal degradation of nicotine, β-nicotyrine and 3,5-dimethyl-1-phenylpyrazole during cigarette smoking are predicted theoretically to be pyridine, 3-methylpyridine, toluene, and benzene. This was found to be consistent with experimental data presented in this work.
Conclusion
Clearly, the value of the bond dissociation energy was found to be dependent on the π–π interactions which plays a primary role in stabilizing the phenyl C–C in nicotine and β-nicotyrine and the phenyl C–N linkages in 3,5-dimethyl-1-phenylpyrazole. This investigation has elucidated the energetics for the formation of free radicals and intermediates considered detrimental to human health in cigarette smoking.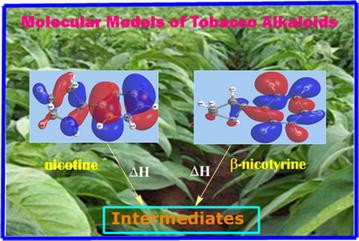 Keywords
Alkaloid
Bond dissociation energy
Toxicology
Density functional theory
Background
Numerous ailments as a consequence of tobacco use continue to decimate the human population. Inevitably, cigarette smoking has claimed so many lives despite intense research in this body of work. For instance, more than 5 million deaths per year have been attributed to tobacco use worldwide, and statistics predict that by 2030 in excess of 8 million deaths per year will be associated with tobacco consumption [
1
]. This study reports for the first time the thermochemistry of some of the tobacco alkaloids never accorded serious attention before in literature; β-nicotyrine and 3,5-dimethyl-1-phenylpyrazole. Additionally, the most studied alkaloid (nicotine) which is widely believed to be the cause of addiction in cigarette smoking has been thoroughly investigated. Pyrrole and pyridine are also investigated in this work. Whereas nicotine is the most abundant alkaloid, accounting for approximately 95 % of alkaloid content, the other alkaloids (β-nicotyrine, 3,5-dimethyl-1-phenylpyrazole, pyridine, and 3-methylpyridine) have been shown to exhibit biological activity resulting to serious cellular damage, heart disease, and respiratory illnesses [
1
]. In the United States alone, one out of every five deaths is initiated by cigarette smoking and this remains the foremost cause of preventable death with approximately 443,000 deaths per year [
1
,
2
]. The major alkaloids investigated in this work are presented in Fig.
1
, and modeled using HyperChem [
3
].

The study gives a detailed mechanistic description of the formation of common alkaloid-based radicals in tobacco smoke which are usually considered injurious to the biological health of smokers. Special interest is given to the thermochemistry of the formation of free radicals and other by-products of tobacco (pyridine, 3-methylpyrdine, toluene, and benzene). The toxicology of molecular reaction products (alkaloids) and their corresponding free radicals is discussed based on our results and literature data. We believe this study is fundamental towards unraveling some of the mechanistic pathways of alkaloids in mainstream cigarette smoking. Consequently, various competing pathways for major alkaloid transformation to various intermediates and molecular products have been investigated. Moreover, the bond dissociation energies for aliphatic linkages of major alkaloids and radical formation have thoroughly been presented. The understanding of the mechanistic destruction of the major alkaloid will widen our knowledge on their energetics, the formation of free radicals, intermediates, and their environmental fate.
Conclusion
This study has presented a thorough mechanistic description on the molecular characteristics of major alkaloids (nicotine, β-nicotyrine, and 3,5-dimethyl-1-phenylpyrazole) never articulated before in literature. The environmental fate of various intermediates from the major tobacco alkaloids have been discussed in detail in this work and this forms and important basis for understanding tobacco pollutants. Moreover, the consistency between experimental formation of pyridine, 3-methylpyridine, toluene, and benzene, and computational predictions is remarkable. It was also established that the strength of the C–C and C–N bonds in phenyl-cyclopenta linkages in the alkaloids investigated in this work were dependent on the π–π interactions which stabilize the bonds. Therefore because of the small bond dissociation energy required to break the phenyl C–C linkage in nicotine (87.40 kcal/mol) compared to 118. 24 kcal/mol required to break the C–C phenyl bond in β-nicotyrine, it is apparent that most of the yields of pyridine and 3-methylpyridine observed from our experiments are proposed to originate from the thermal degradation of nicotine.
Declarations
Authors' contributions
CK prepared tobacco and cigarette samples, and conducted experimental analysis of pyridine, 3-methyl pyridine, benzene, and toluene using GC–MS under the supervision of JK and PK, and wrote the first draft of the manuscript. JK offered technical support during data interpretation, quantum calculations, and edited the manuscript. All authors read and approved the final manuscript.
Acknowledgements
This work was partially funded by the Directorate of Research and Extension (R&E) at Egerton University (Njoro). The Department of Chemistry at Egerton University is appreciated for providing the computational resources used in this work.
Competing interests
The authors declare that they have no competing interests.
Open AccessThis article is distributed under the terms of the Creative Commons Attribution 4.0 International License (http://creativecommons.org/licenses/by/4.0/), which permits unrestricted use, distribution, and reproduction in any medium, provided you give appropriate credit to the original author(s) and the source, provide a link to the Creative Commons license, and indicate if changes were made. The Creative Commons Public Domain Dedication waiver (http://creativecommons.org/publicdomain/zero/1.0/) applies to the data made available in this article, unless otherwise stated.
Authors' Affiliations
(1)
Department of Chemistry, Egerton University, Egerton, Kenya