Research article

Open Access
Molecular docking study and antiviral evaluation of 2-thioxo-benzo[g]quinazolin-4(3H)-one derivatives
Chemistry Central Journal
2016
10:21
Received: 26 November 2015
Accepted: 7 April 2016
Published: 19 April 2016
Abstract
Background
The persistent appearance of viral strains that causes a resistant viral infection has led to continuous trials for the design and development of novel antiviral compounds. Benzoquinazoline compounds have been reported to exhibit an interesting antiviral activity. This work aims to study and evaluate the antiviral activity of a newly prepared 2-thioxo-benzo[g]quinazolin-4(3H)-one series against herpes simplex (HSV-1 & 2) and coxsackievirus (CVB4).
Methods
The antiviral activity was performed using the MTT assay, in which Vero cells (obtained from the American Type Culture Collection, ATCC) were propagated in fresh Dulbecco's Modified Eagle's Medium (DMEM) and challenged with 104 doses of the virus. Thereafter, the cultures were treated simultaneously with two-fold serial dilutions of the tested compound and incubated at 37 °C for 48 h. Molecular docking studies were done on the CVB4 2A proteinase enzyme using Molegro Virtual Docker software.
Results
The cytotoxicity (CC50), effective concentration (EC50) and the selectivity index (SI) values were determined. Based on their EC50 values, a number of the investigated compounds demonstrated weak to moderate activity relative to their parents. Accordingly, compounds 5–9, 11, 15–18, 21, 22, 24, 25, 27 and 28 were active against CVB4, and compounds 5 and 24 were active against HSV-1 and 2 in comparison to ribavirin and acyclovir, which were used as reference drugs.
Conclusion
The obtained results gave us some useful insights about the characteristic requirements for future trials to build up and design more active and selective antiviral 2-thioxo-benzo[
g
]quinazolin-4(3
H
)-one agents.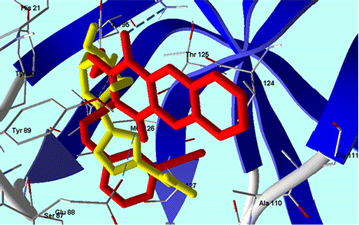 Keywords
2-Thioxo-benzo[g]quinazolinesHSVCoxsackievirusMolecular dockingRibavirin
Background
Herpes simplex (HSV-1 & 2) and Coxsackie B4 (CVB4) viruses belong to the alphaherpesvirinae and picornaviridae families, respectively. In contrast to HSV-1 and 2 which classified as enveloped double-stranded DNA viruses, CVB-4 is non-enveloped RNA viruses. They are common human pathogens and considered a significant worldwide health concern [1–3]. A relatively wide range of diseases, ranging from asymptomatic, mild infections to serious illnesses, are caused by these viruses [4, 5]. In addition, infections by CVB4 have also been known to cause aseptic meningitis, encephalitis, pleurodynia, myocarditis, and pericarditis [5].
Viral infectious diseases pose a major challenge for modern medicaments because the viruses have high mutation rates, which allow them to escape immune systems and become resistant to the traditional antiviral drugs [6–10]. Furthermore, although the antiviral drugs for diseases caused by several types of viruses such as herpes are available clinically, but the high prevalence of viral infections for which there are no specific treatments or the continuous appearance of new resistant viral strains are serious problems. This make the task of the development of new novel antiviral agents is essential [10].
Recently, we have reported the biological activity of some prepared triazoloquinazolines against herpes simplex (HSV-1 & 2) and CVB4. However, a number of these prepared compounds were found to possess remarkable and significant antiviral activity [11–13]. Furthermore, synthetic chemistry has shown that benzoquinazoline is a valuable precursor for elaborating many structurally diverse bioactive molecules, particularly as influenza H5N1 and H1N1 antiviral agents [14–17]. In addition, some 2-aminobenzo[de]-isoquinoline-1,3-diones have been reported as antiherpetic agents [11].
In view of these evidences and an extension of our ongoing research on benzoquinazolines chemistry, we herein report the antiviral evaluation of a new series of 2-thioxo-benzo[g]quinazolin-4(3H)-one derivatives against HSV-1, HSV-2 and CVB4 viruses.
Declarations
Authors' contributions
RA and MM made a significant contribution to acquisition of data, analysis, manuscript preparation. HAA analysed the data and revised the manuscript. HAG designed and performed the molecular docking study. RE revised and approved the final manuscript. All authors read and approved the final manuscript.
Competing interests
The authors declare that they have no competing interests.
Funding
The authors extend their appreciation to the Deanship of Scientific Research at King Saud University for funding this work through research group No RG-1435-068.
Open AccessThis article is distributed under the terms of the Creative Commons Attribution 4.0 International License (http://creativecommons.org/licenses/by/4.0/), which permits unrestricted use, distribution, and reproduction in any medium, provided you give appropriate credit to the original author(s) and the source, provide a link to the Creative Commons license, and indicate if changes were made. The Creative Commons Public Domain Dedication waiver (http://creativecommons.org/publicdomain/zero/1.0/) applies to the data made available in this article, unless otherwise stated.
Authors' Affiliations
(1)
Department of Pharmaceutical Chemistry, College of Pharmacy, King Saud University, Riyadh, Saudi Arabia
(2)
Department of Pharmacognosy, College of Pharmacy, King Saud University, Riyadh, Saudi Arabia
(3)
Department of Pharmacognosy, Faculty of Pharmacy, Helwan University, Cairo, Egypt
(4)
Chemistry of Natural Products Group, Center of Excellence for Advanced Sciences, National Research Center, Cairo, Egypt