Boronic acids for sensing and other applications - a mini-review of papers published in 2013
Chemistry Central Journal
2014
8:60
Received: 18 June 2014
Accepted: 6 October 2014
Published: 18 October 2014
Abstract
Boronic acids are increasingly utilised in diverse areas of research. Including the interactions of boronic acids with diols and strong Lewis bases as fluoride or cyanide anions, which leads to their utility in various sensing applications. The sensing applications can be homogeneous assays or heterogeneous detection. Detection can be at the interface of the sensing material or within the bulk sample. Furthermore, the key interaction of boronic acids with diols allows utilisation in various areas ranging from biological labelling, protein manipulation and modification, separation and the development of therapeutics. All the above uses and applications are covered by this mini-review of papers published during 2013.
Keywords
Boronic acid
Sensing
Detection of glucose
Diol
Catechol
Fluoride
Reactive oxygen species
Introduction
The following article is a mini review on boronic acids for sensing and other applications for papers published in 2013. It is important to note that the review does not cover any synthetic applications of boronic acids for publications on these areas you are directed to some excellent recent reviews [
1
]-[
3
]. This text does however cover the diverse range of uses and applications for boronic acids from therapeutics to separation technologies (Figure
1
).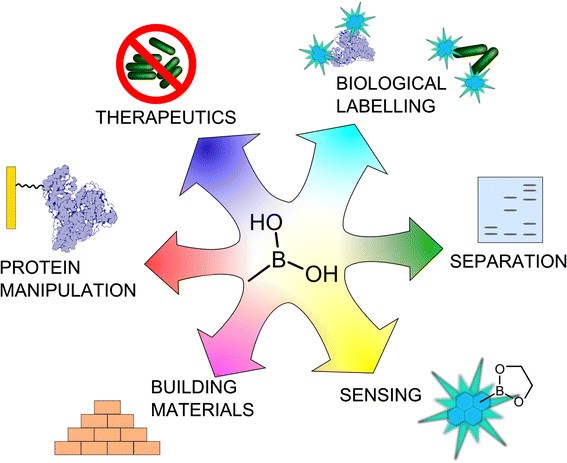 During 2013 the established area of synthetic receptors for low molecular compounds was further developed, in particular some novel detection methodologies were introduced. However, an area of particular growth was the interaction of boronic acids with proteins, their manipulation and cell labelling. Boronic acid were also used for electrophoresis of glycated molecules. They were also employed as building materials for microparticles for analytical methods and in polymers for the controlled release of insulin.
Reviews
Boronic acid molecules as the building block for a diverse range of sensing systems has been the central theme for several review papers during the course of the 2013. A general review on all aspects of boronic acid interactions with cis-diols and sensing applications [4] and a summary of sensing with multivalent boronic acid sensor molecules discussing methods to improve selectivity towards specific analytes [5] were published. Other reviews dealt with the use of boronic acids as biochemical tools for various purposes, including the interference in signalling pathways, enzyme inhibition and cell delivery systems [6]. While an overview of organoborons [7] and boronic acid-functionalised materials [8], demonstrates their crucial role in carbohydrate chemistry and glycobiology, especially the areas of analysis, separation, protection, and activation.
Boronic acid-containing hydrogels are important intelligent materials. The introduction of boronic acid functionality to these hydrogels allows them to exhibit many interesting properties, such as glucose-selectivity/sensitivity, reversible binding and self-healing ability. The application with an emphasis on biomedical areas - i.e. the design of various glucose sensors and self-regulated insulin delivery devices have been described in detail [9].
However, pure sensing applications represent the major impetus of boronic acid research. Reviews summarising fluorescence [10],[11] and electrochemically active derivatives of boronic acid [12] have been compiled. Boronic acid sensors with practical applications were part of a review on subcutaneous in vivo glucose monitoring [13],[14].
Conclusions
The utilisation of boronic acid in many diverse areas of chemistry and biology were reviewed. One of the most common applications of boronic acids (BAs) is the detection of diols and anions. Some interesting examples of specific molecular receptors, using novel sensing methods were reported (optical or electrochemical). In particular, sensing applications were developed from the direct immobilisation of the boronic acid based receptors to a surface or as part of a polymeric matrix. Moreover, suitably modified polymeric matrices were used for functional materials, for example the controlled release of insulin. The properties of BAs can be enhanced or modified by anchoring them to a surface of micro or nanoparticles. There is a growing interest the use of BAs in the sensing and labelling of biologically important molecules such as proteins, and the detection of reactive oxygen species (ROS).
From this review it is hoped that the reader will discover that "Boronic acids" have many uses including synthetic chemistry (not included in this review), biological labelling, therapeutic applications (medicinal treatment), protein manipulation (immobilisation), affinity separation and much more. It is important to note that the area of BA research is still open for the development of new ideas, including the development of new detection methods and novel functional materials, towards the development of systems with impact for real world applications.
Authors' contributions
KL collected and handled the references, designed and drafted the manuscript. PS helped to write the manuscript. TDJ conceived the concept of the review, and helped with its design and coordination and helped write the manuscript. All authors read and approved the final manuscript.
Abbreviations
ARS:

Alizarin Red S
BINOL:

1,1'-bi-2-naphthol
BODIPY:

4,4-difluoro-4-bora-3a,4a-diaza-s-indacene
CV:

Cyclic voltammetry
DMSO:

Dimethyl sulfoxide
DOPA:

3,4-dihydroxyphenylalanine
DOPAC:

3,4-dihydroxyphenylacetic acid
DPV:

Differential voltammetry
ESI-MS:

Electrospray ionisation – mass spectroscopy
FET:

Field effect transistor
FRET:

Förster resonance energy transfer
MEMS:

Microelectromechanical system
MIP:

Molecular imprinted polymers
MRI:

Magnetic resonance imaging
NIR:

Near-infrared
NMR:

Nuclear magnetic resonance
PVC:

Polyvinylchloride
ROS:

Reactive oxygen species
SERS:

Surface enhanced Raman spectroscopy
SPR:

Surface plasmon resonance
SWNT:

Single-walled carbon nanotubes
QCM:

Quartz crystal microbalance
QD:

Quantum dots
Declarations
Acknowledgements
TDJ and KL are grateful for financial support from the University of Bath, from CEITEC facility (CZ.1.05/1.1.00/02.0068) and the European Social Fund and the State Budget of the Czech Republic (project No. CZ.1.07/2.3.00/20.0042) are also acknowledged.
Authors' Affiliations
(1)
CEITEC, Masaryk University, Brno, Czech Republic
(2)
Department of Chemistry, University of Bath, Bath, UK
(3)
Department of Biochemistry, Faculty of Science, Masaryk University, Brno, Czech Republic
Copyright
© Lacina et al.; licensee Chemistry Central Ltd. 2014
This article is published under license to BioMed Central Ltd. This is an Open Access article distributed under the terms of the Creative Commons Attribution License (http://creativecommons.org/licenses/by/4.0), which permits unrestricted use, distribution, and reproduction in any medium, provided the original work is properly credited.