Research article

Open Access
Uptake and sorption of aluminium and fluoride by four green algal species
Chemistry Central Journal
2014
8:8
Received: 9 September 2013
Accepted: 27 January 2014
Published: 1 February 2014
Abstract
Background
We examined the uptake and sorption of aluminium (Al) and fluoride (F) by green algae under conditions similar to those found in the effluents of the aluminium industry. We took into account the speciation of Al in the medium since Al can form stable complexes with F and these complexes may play a role in the uptake and sorption of Al. We compared the capacity of four species of green algae (i.e. Chlamydomonas reinhardtii, Pseudokirchneriella subcapitata, Chlorella vulgaris, and Scenedesmus obliquus) to accumulate and adsorb Al and F. The selected algae were exposed during 4 days, covering all growth phases of algae, to a synthetic medium containing Al and F at pH 7.0. During this period, dissolved Al as well as cellular growth were followed closely. At the end of the exposure period, the solutions were filtered in order to harvest the algal cells. The cells were then rinsed with enough ethylene diaminetetraacetic acid to remove loosely bound ions from the algal surface, determined from the filtrates. Finally, the filters were digested in order to quantify cellular uptake.
Results
Little difference in Al removal was observed between species. Aluminium sorption (15%) and uptake (26%) were highest in P. subcapitata, followed by C. reinhardtii (7% and 17% respectively), S. obliquus (13% and 5%), and C. vulgaris (7% and 2%). However, none of these species showed significant uptake or sorption of F. We also studied the influence of pH on the uptake and sorption of Al and F by P. subcapitata. We measured a combined uptake and sorption of Al of 50% at pH 7.5, of 41% at pH 7.0, and of 4% at pH 5.5. Thus, accumulation was reduced with acidification of the medium as expected by the increased competition with protons and possibly by a reduced bioavailability of the Al-F complexes which dominated the solution at low pH.
Conclusion
Out of the four tested species, P. subcapitata showed the highest sorption of aluminium and fluoride under our test conditions. These results provide key information on the development of an environmental biotechnology which can be applied to industrial effluents.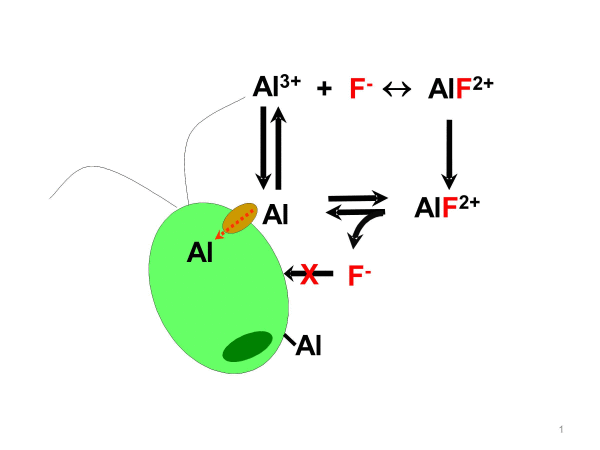 Keywords
Aluminium
Fluoride
Biosorption
Phytoremediation
Algae
Background
Canada is the third largest world producer of aluminium with over two million tons per year [1]. Aluminium production thus represents a significant source of Al and F inputs to aquatic environments. In order to reduce aluminium concentrations in effluents, conventional methods such as ion exchange resins or chemical precipitation can be used, but these are costly and may be inefficient when metal concentrations are low [2]. Biological techniques can thus be considered as a complement to proactively reduce the concentrations of several elements of environmental concern.
Cellular membranes contain structures, such as proteins, which allow the entry of ions. Moreover, these structures as well as cell walls have functional groups that may bind ions [2–5]. Algae may bind metals through a sorption process which is rapid and reversible [6, 7]. This process is coupled with uptake which is a slow, irreversible process where the metal is internalized by the cell [8–10].
Based on several previous studies that have shown that algae can efficiently remove metals from industrial effluents [2, 11, 12], we decided to investigate if this was applicable to Al and F. Precisely, we examined sorption and uptake of Al and F by four species of green algae. Since Al can form complexes with different ligands such as F, we took into account the chemical speciation of the metal in solution and investigated the influence of Al-F complexes on the sorption and uptake of Al and F. The formation of such metallic complexes depends on the availability of the metal in solution, the pH, the ionic strength of the medium, and the concentration of complexing ligands [13]. Finally, we studied the influence of pH on the sorption and uptake of F and Al by one selected species of algae.
This study provides essential data that will contribute to determine the feasibility of using green algae to improve the wastewater treatment for Al and F removal from the effluents of aluminium smelters.
Conclusions
Biological methods show potential as a complement to conventional techniques to remove contaminants when concentrations are low. With this study, we can conclude that, using any of the conditions tested, F removal was not very promising. On the other hand, the removal of Al was quantified and was shown to be species-dependant. Chlorella vulgaris is not a good species for this type of treatment at pH 7.0 while P. subcapitata gave the best results with 41% of total removal and S. obliquus showed a sorption capacity of 13% similar to P. subcapitata (15%). In conclusion, P. subcapitata and/or S. obliquus could be considered depending on the expected effluent treatment time frame. The pH clearly played a role in Al accumulation. We observed better removal at neutral pH, especially at pH 7.5 where total Al removal reached 50%. Given our observation of particulate aluminium, a biotreatment in conjunction with a filtration step could result in very significant decreases in dissolved Al.
In this study, an artificial medium was used and all the conditions were controlled. It would be relevant to conduct such experiments with real effluent samples. Along with other factors, a different composition of anions and cations as well as the presence of organic matter would certainly influence the bioavailability of Al and its accumulation by algae. Since uptake mechanisms remain somewhat unknown for Al, more studies need to be undertaken. Ultimately, many more species could be tested for their potential in Al removal and especially for the removal of fluoride ions.
Abbreviations
Al:

Aluminium
CPCC:

Canadian Phycological Culture Center
EDTA:

Ethylene diaminetetraacetic acid
F:

Fluoride
ICP-AES:

Ion-coupled plasma atomic emission spectrometry
MHSM:

Modified High Salt Medium
TISAB:

Total ionic strength adjustment buffer.
Declarations
Acknowledgements
Financial support was provided by Rio Tinto Alcan. CF is supported by the Canada Research Chair programme.
Authors' Affiliations
(1)
Institut national de la recherche scientifique, Centre Eau Terre Environnement (INRS-ETE), Université du Québec, Québec, Canada
(2)
Rio Tinto, Legacy Management, Voreppe, France
Copyright
© Pitre et al.; licensee Chemistry Central Ltd. 2014
This article is published under license to BioMed Central Ltd. This is an Open Access article distributed under the terms of the Creative Commons Attribution License (http://creativecommons.org/licenses/by/2.0), which permits unrestricted use, distribution, and reproduction in any medium, provided the original work is properly credited. The Creative Commons Public Domain Dedication waiver (http://creativecommons.org/publicdomain/zero/1.0/) applies to the data made available in this article, unless otherwise stated.