Research article

Open Access
Environmentally evaluated HPLC-ELSD method to monitor enzymatic synthesis of a non-ionic surfactant
Chemistry Central Journal
2014
8:33
Received: 4 March 2014
Accepted: 15 May 2014
Published: 20 May 2014
Abstract
Background
N-Lauroyl-N-methylglucamide is a biodegradable surfactant derived from renewable resources. In an earlier study, we presented an enzymatic solvent-free method for synthesis of this compound. In the present report, the HPLC method developed to follow the reaction between lauric acid/methyl laurate and N-methyl glucamine (MEG) and its environmental assessment are described.
Results
Use of ultraviolet (UV) absorption or refractive index (RI) detectors did not allow the detection of N-methyl glucamine (MEG). With Evaporative light scattering detector ELSD, it was possible to apply a gradient elution, and detect MEG with a limit of detection, LOD = 0.12 μg. A good separation of the peaks: MEG, lauric acid, product (amide) and by-product (amide-ester) was achieved with the gradient program with a run time of 40 min. The setting of ELSD detector was optimized using methyl laurate as the analyte. LC-MS/MS was used to confirm the amide and amide-ester peaks. We evaluated the greenness of the developed method using the freely available software HPLC-Environmental Assessment Tool (HPLC-EAT) and the method got a scoring of 73 HPLC-EAT units, implying that the analytical procedure was more environmentally benign compared to some other methods reported in literature whose HPLC-EAT values scored up to 182.
Conclusion
Use of ELSD detector allowed the detection and quantification of the substrates and the reaction products of enzymatic synthesis of the surfactant, N-lauroyl-N-methylglucamide. The developed HPLC method has acceptable environmental profile based on HPLC-EAT evaluation.

Keywords
Green analytical chemistryChromatographic separationEvaporative light scattering detectorNon-ionic surfactantMass spectrometryHPLC-EAT
Background
N-Acyl-N-methyl glucamides, also referred to as fatty acid glucamides or alkyl glucamides (AGs), are non-ionic surfactants derived from glucose and fatty acids. They are regarded as green chemicals due to their renewable origin, biodegradability, and low environmental impact. The chemical structure of the AGs contains an amide bond between the hydrophobic and the hydrophilic moieties (Scheme
1
), which renders the molecule resistant to the alkaline conditions, a desirable property in surfactants intended for detergent applications. In addition to stability, safety, compatibility and synergism with other surfactants, AGs were used in the formulations of detergent, personal care, and pharmaceutical products [
1
,
2
].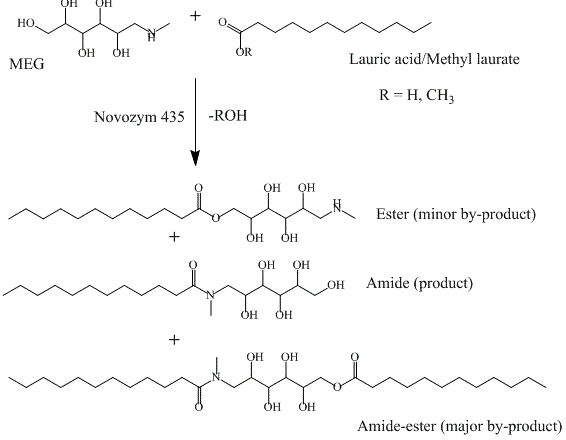 Industrial synthesis of fatty acid glucamides involves a two-step reaction: glucose reacts with methylamine in the first step catalysed by Raney nickel to give N-methyl glucamine (MEG), which then reacts with a fatty acid methyl ester to give the fatty acid N-methyl glucamide (amide). Fatty acid glucamides can also be synthesised enzymatically using lipases as catalysts [3, 4]. The enzymatic synthesis of AGs using MEG and fatty acid or fatty acid methyl ester yields a mixture of amide (surfactant) and amide-ester as a by-product (see Scheme 1) [5]. The unreacted MEG is an undesirable component in the final product, as it can be a precursor for nitrosamine, a potential carcinogen [6].
A sensitive, simple, and validated analytical method is thus required to monitor the reaction and its components, especially the MEG content. GC analysis is not suitable since MEG has high melting temperature and boiling point (130˚C and 490˚C, respectively). LC-MS-based analytical method has been used for monitoring the AGs in environmental and biodegradation studies [7, 8]. A rapid HPLC method with UV detection or refractive index (RI) detection has also been reported [9], however in our experiments, we could not detect MEG using either UV and/or RI detectors.
In the present paper, we describe the development of an HPLC method to monitor the enzymatic synthesis of N-lauroyl-N-methyl glucamide, and we show that ELSD was a superior alternative to UV and RI detection. The method has been validated and the safety, health and environmental impacts of the chromatographic method were assessed using the HPLC-EAT tool, the environmental-assessment software developed earlier by us for evaluating the greenness of the HPLC methods [10].
Materials and methods
Reagents and chemicals
Novozym®435 (immobilised lipase from Candida antarctica of 10,000 Propyl Laurate Units (PLU) per gram), was a gift from Novozymes (Bagsvaerd, Denmark). N-methyl-glucamine (MEG) was purchased from Sigma. HPLC-grade methanol, lauric acid and trifluoroacetic acid for spectroscopy were purchased from Merck. Methyl laurate was procured from Fluka. Milli-Q (Millipore, Milford, MA, USA) quality water was used. N-Lauroyl-N-methyl glucamide (amide) and O-lauroyl-N-lauroyl methyl glucamide (amide-ester) were produced in-house enzymatically and purified using flash chromatography according to Maugard et al. [15]. Structure confirmation was done using infrared and mass spectroscopy.
HPLC apparatus and chromatographic conditions
HPLC from PerkinElmer Series 200 system equipped with a binary pump, autosampler, oven, interface (NCI 900), and three detectors: UV from PerkinElmer 785A, RI from Hitachi L-2490 and ELSD from Alltech (3300, Alltech Associates, USA), was used. ELSD was operated in a temperature range of 25°C to 45°C and a gas flow of 1.3 L/min and gain of 1. N-Methyl glucamide, fatty acid and their products were separated on an LiChrospher® 100 RP-18 HPLC column, with a guard cartridge RP-18 from Merck, Darmstadt, Germany. Aqueous solution of methanol was used as mobile phase and the injection volume was 5 μl.
Enzymatic synthesis of N-methyl-N-lauroyl glucamine
N-Methyl glucamine (3.5 mmol) was mixed with lauric acid (3.5 mmol) and methyl laurate (3.5 mmol total) in a round bottom flask, and the reaction was run in solvent-free medium under stirring at 90°C. Novozym®435 at 4% w/w of total substrates weight was added as catalyst in all reactions. The details of the reaction were reported elsewhere [4].
Mass spectrometry
Mass spectrometry of O-lauroyl-N-lauroyl methyl glucamide (amide-ester) was conducted on a hybrid QS-STAR Pulsar quadrupole TOF mass spectrometer (PE Sciex Instruments, Toronto, Canada). The spectrometer was connected with a similar LC-HPLC system. The electrospray ionization (ESI) source was set to positive ion mode. The quadrupole system was adjusted to scan between m/z 100–2000 in TOF-MS mode whereas for product ion mode (i.e., MS/MS) a range of m/z 50–2000 was chosen. Data was assessed using the Analyst® QS software (PE Sciex Instruments, Toronto, Canada).
Conclusion
Monitoring the enzymatic synthesis of the surfactant N-lauroyl-N-methylglucamide was achieved by a HPLC method with ELSD. This method is a better alternative to the previously reported HPLC method using UV or RI detectors. It was very sensitive for detecting MEG (LOD = 0.12 μg), which enables the detection of trace amounts of the compound in the final surfactant product. Calibration curves of the different analytes using ELSD as detector were made using double-logarithmic (log-log) relation. The greenness profile of the method was evaluated using HPLC-EAT software and was found to be acceptable. The method was successfully used to monitor solvent-free synthesis of the surfactant, which is free from the substrate MEG.
Abbreviations
AGs:

Alkyl glucamides
MEG:

N-methyl glucamine
Amide:

N-lauroyl-N-methyl glucamide
TFA:

Trifluoroacetic acid
UV:

Ultra-violet
RI:

Refractive index
ELSD:

Evaporative light scattering detector
LOD:

Limit of detection
LOQ:

Limit of quantification
TOF:

Time of flight
S/N:

Signal over noise ratio
HPLC-EAT:

HPLC-environmental assessment tool.
Declarations
Acknowledgment
Egyptian Ministry of Higher Education and Beni-Suef University, Egypt are acknowledged for supporting YG.
Authors' Affiliations
(1)
Department of Microbiology, Faculty of Pharmacy, Beni-Suef University, Beni-Suef, Egypt
(2)
Department of Biotechnology, Center for Chemistry and Chemical Engineering, Lund University, Lund, Sweden
Copyright
© Gaber et al.; licensee Chemistry Central Ltd. 2014
This article is published under license to BioMed Central Ltd. This is an Open Access article distributed under the terms of the Creative Commons Attribution License (http://creativecommons.org/licenses/by/4.0), which permits unrestricted use, distribution, and reproduction in any medium, provided the original work is properly credited. The Creative Commons Public Domain Dedication waiver (http://creativecommons.org/publicdomain/zero/1.0/) applies to the data made available in this article, unless otherwise stated.