Research article
Open Access
Molecular docking simulation studies on potent butyrylcholinesterase inhibitors obtained from microbial transformation of dihydrotestosterone
Chemistry Central Journal
2013
7:164
Received: 6 May 2013
Accepted: 29 August 2013
Published: 8 October 2013
Abstract
Background
Biotransformation is an effective technique for the synthesis of libraries of bioactive compounds. Current study on microbial transformation of dihydrotestosterone (DHT) (1) was carried out to produce various functionalized metabolites.
Results
Microbial transformation of DHT (1) by using two fungal cultures resulted in potent butyrylcholinesterase (BChE) inhibitors. Biotransformation with Macrophomina phaseolina led to the formation of two known products, 5α-androstan-3β,17β-diol (2), and 5β-androstan-3α,17β-diol (3), while biotransformation with Gibberella fujikuroi yielded six known metabolites, 11α,17β-dihydroxyandrost-4-en-3-one (4), androst-1,4-dien-3,17-dione (5), 11α-hydroxyandrost-4-en-3,17-dione (6), 11α-hydroxyandrost-1,4-dien-3,17-dione (7), 12β-hydroxyandrost-1,4-dien-3,17-dione (8), and 16α-hydroxyandrost-1,4-dien-3,17-dione (9). Metabolites 2 and 3 were found to be inactive, while metabolite 4 only weakly inhibited the enzyme. Metabolites 5–7 were identified as significant inhibitors of BChE. Furthermore, predicted results from docking simulation studies were in complete agreement with experimental data. Theoretical results were found to be helpful in explaining the possible mode of action of these newly discovered potent BChE inhibitors. Compounds 8 and 9 were not evaluated for enzyme inhibition activity both in vitro and in silico, due to lack of sufficient quantities.
Conclusion
Biotransformation of DHT (1) with two fungal cultures produced eight known metabolites. Metabolites 5–7 effectively inhibited the BChE activity. Cholinesterase inhibition is among the key strategies in the management of Alzheimer's disease (AD). The experimental findings were further validated by in silico inhibition studies and possible modes of action were deduced.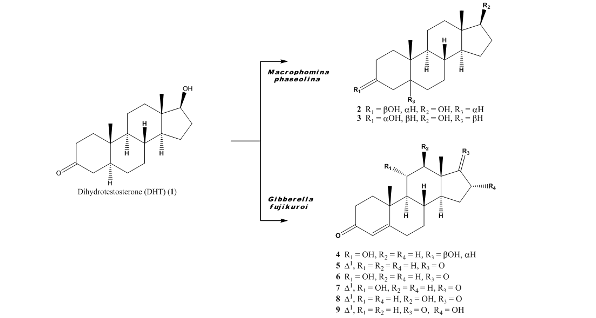 Keywords
Microbial transformationDihydrotestosterone (DHT) Macrophomina phaseolina Gibberella fujikuroi Butyrylcholinesterase (BChE) inhibitionAlzheimer's diseaseMolecular docking simulation
Background
Microbial transformation of steroids is being studied for decades but the need to develop new structural analogues remain strong due to multiple reasons, including quest for medicinally important novel steroids [1]. In continuation of our recent work on the microbial transformation of important steroids [2], we investigated the microbial biotransformation of DHT. The rationale was to produce the DHT analogues for studying the structure-activity-relationship (SAR) and to synthesize medicinally important compounds with novel activities.
DHT (
1
) Figure
1
, plays a vital role in the growth and differentiation of ventral prostate. DHT is selectively retained by an androgen receptor, found in the nuclear chromatin of prostate [
3
]. Due to its weaker interaction with the androgen receptor as compared to testosterone, DHT has a stronger androgenic potency [
4
]. It also plays a vital role in human hair loss [
5
].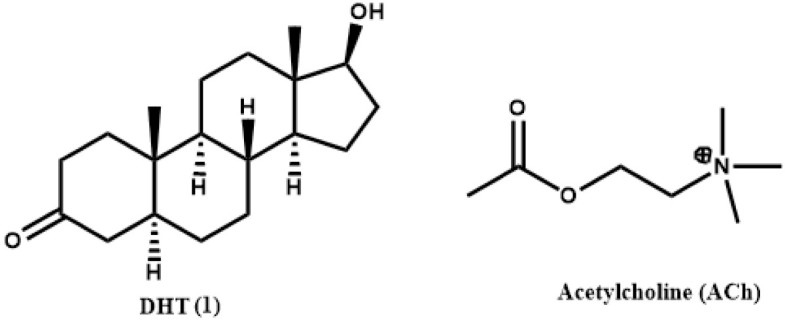 Butyrylcholine (BCh) is an acetylcholine-like compound (Figure 1), hydrolyzed by acetylcholinesterase (AChE) and BChE (pseudocholinesterase), the latter being more efficient. BCh is a synthetic compound, used as a tool to distinguish between acetyl- and BChEs. BChEs is essential for the catalysis of the rapid breakdown of suxamethonium (succinylcholine), a muscle relaxant, frequently used in surgery and electroshock therapy. Prolonged muscle relaxation may follow the administration of drug if pseudocholinesterase activity is defective or markedly decreased [6, 7]. BChE inactivates the neurotransmitter, acetylcholine (ACh). ACh is an important therapeutic target for the treatment of Alzheimer's disease, characterized by a cholinergic deficit [8].
DHT was subjected to microbial transformation with two fungal cultures, Macrophomina phaseolina and Gibberella fujikuroi and eight known metabolites 2–9 were obtained. Substrate 1 and its metabolites 2–7 were subjected to AChE and BChE inhibitory activity evaluation. All compounds were found to be inactive against AChE, while metabolite 5–7 have significantly inhibited the BChE. Compounds 8 and 9 were not subjected to the above mentioned activity due to lack of sufficient quantities.
Protein-ligand docking programs are used for the placement of small molecules within the binding pocket of target proteins (receptors) and to rank them according to their binding affinity [9, 10]. In current study, biotransformed products 2–7 were also evaluated in silico to understand their mode of interaction with the BChE. Resolved crystal structure of BChE was used in molecular docking simulation studies. All biotransformed metabolites were docked within the binding pocket of the crystal structure of human BChE (PDB ID 1P0P: 2.30 Å), revealing structural features, responsible of observed enzyme inhibitory activities [11]. MOE docking software was utilized to perform the molecular docking experiment. The outcome of the docking study helped to understand the binding mechanism of compounds with BChE.
Results and discussion
This is the first report of microbial transformation of DHT (
1
) (Figure
1
), (C
19
H
30
O
2
) with
M. phaseolina
and
G. fujikuroi
. Fermentation of compound
1
with
M. phaseolina
for 6 days led to the formation of two known metabolites
2
and
3
(Figure
2
), while 7 days fermentation of
1
with
G. fujikuroi
yielded six known metabolites
4
–
9
(Figure
3
). Structure elucidation of all metabolites is presented below.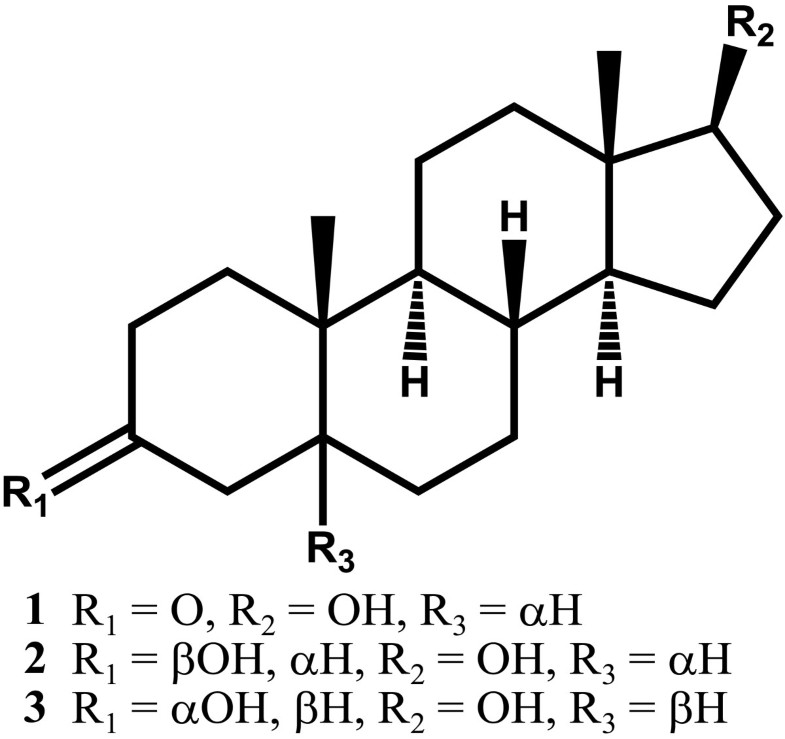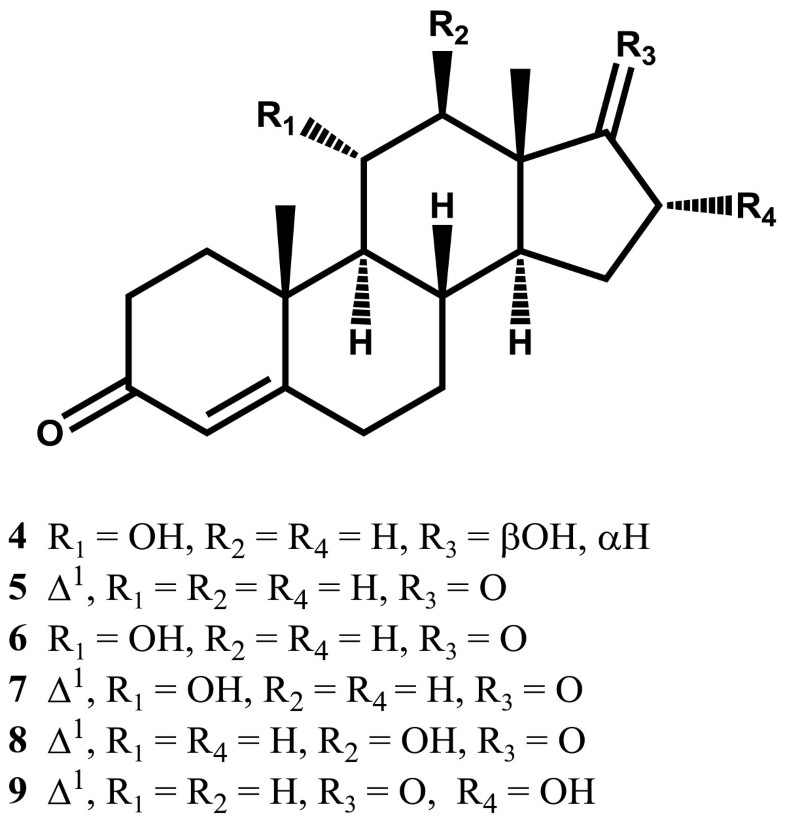 Conclusion
In summary, we report here the microbial transformation of dihydrotestosterone (DHT, 1) for the first time by using suspension cultures of M. phaseolina and G. fujikuroi. Compounds 5–7 were found to be significant and specific inhibitors of the BChE, in comparison to standard drug, galanthamine. Current experimental studies revealed that the DHT derivatives actively participated in the inhibition of BChE. Additionally, experimental studies correlated well with theoretical studies thus indicating the behavior of different metabolites inside the binding pocket of BChE, and supported inhibition activity trend, followed by least active to highly active compounds. From the docking analysis, experimental inhibitory potency relationship of compounds 1–7 exhibited the fundamental role of α,β-unsaturated carbonyl moiety in ring "A". In the bound state of metabolites with BChE, compounds 5–7 exhibited favorable hydrophilic, hydrophobic and hydrogen bond interactions with active site residues of the receptor protein. These compounds also participated in π-π interaction towards the TRP82.
Author's contributions
MIC envisioned the concept of the current study, supervised the practical work, helped in solving spectroscopic data and finalized the manuscript. SZ carried out the microbial transformation experiments, purified all the metabolites, interpreted the spectroscopic data and prepared the preliminary draft of the manuscript. KD conducted the biochemical assays for inhibition of BChE. UM conducted the in silico studies and wrote the simulation part of the manuscript. ZH supervised the computational studies. All authors read and approved the final manuscript.
Declarations
Acknowledgments
One of the authors, S. Zafar, acknowledges the enabling role of the Higher Education Commission (HEC), Pakistan, by awarding HEC indigenous Ph. D. scholarship. Co-authors are thankful to the Pakistan Science Foundation (PSF) for their financial support to purchase the MOE software for computational studies. This research study was supported by the Higher Education Commission's grant for the project entitled, "High resolution x-ray analysis of pharmaceuticals by important enzymes in complex with plant-based inhibitors as a basis for rational drug design" (20-1364/R&D/09) to MIC.
Authors' Affiliations
(1)
H. E. J. Research Institute of Chemistry, International Center for Chemical and Biological Sciences, University of Karachi, Karachi, Pakistan
(2)
Department of Chemistry, Sarhad University of Science and Information Technology, Peshawar, Pakistan
(3)
Dr. Panjwani Center for Molecular Medicine and Drug Research, International Center for Chemical and Biological Sciences, University of Karachi, Karachi, Pakistan
(4)
Department of Biochemistry, Faculty of Science, King Abdulaziz University, Jeddah, Saudi Arabia
Copyright
© Zafar et al.; licensee Chemistry Central Ltd. 2013
This article is published under license to BioMed Central Ltd. This is an open access article distributed under the terms of the Creative Commons Attribution License (http://creativecommons.org/licenses/by/2.0), which permits unrestricted use, distribution, and reproduction in any medium, provided the original work is properly cited.