Research article

Open Access
Dapson in heterocyclic chemistry, part VIII: synthesis, molecular docking and anticancer activity of some novel sulfonylbiscompounds carrying biologically active 1,3-dihydropyridine, chromene and chromenopyridine moieties
Chemistry Central Journal
2012
6:64
Received: 14 April 2012
Accepted: 7 June 2012
Published: 2 July 2012
Abstract
Several new sulfonebiscompounds having a biologically active 1,2-dihydropyridine-2-one 3–19, acrylamide 20, chromene 21, 22 and chromenopyridine 23, 24 moieties were synthesized and evaluated as potential anticancer agents. The structures of the products were confirmed via elemental analyses and spectral data. The screening tests showed that many of the biscompounds obtained exhibited good anticancer activity against human breast cell line (MCF7) comparable to doxorubicin which was used as reference drug. Compounds 11, 17 and 24 showed IC50 values 35.40 μM, 29.86 μM and 30.99 μM, respectively. In order to elucidate the mechanism of action of the synthesized compounds as anticancer agents, docking on the active site of farnesyltransferase and arginine methyltransferase was also performed and good results were obtained.

Keywords
Sulfone
Pyridines
Chromenes
Pyridnochromenes
Anticancer activity
Background
Many naturally occurring and synthetic compounds containing the 2-pyridone scaffold possess interesting pharmacological properties [1]. The pyridine derivative I, for example, has been identified as specific non-nucleuoside reverse transcriptase inhibitor in treatment of HIV-1 [2, 3]. While the pyridine derivatives, Milirinone II and Amrinone III, and their analouges are used as cardiotonic agents in the treatment of heart failure [4–7]. Also, Pirfeidione (PFD) IV, a pyridine derivative which demonstrated antifibrotic activity in several organs in experimental animals, including lung, kidney and uterus has proven beneficial cure for a range of fibrotic conditions through both anti-inflammtory and and antifibrotic mechanisms [8]. A phase II clinical study showed PFD to be promising agent for the treatment of idiopathic pulmonary fibrosis, initiated in mice treated with cyclophosamide [9], amiodarone [10] or belomycin [11–16]. The reported antifbrotic activity of PFD prompted us to synthesize a new series of sulfonebiscompounds carrying biologically active 1,2-dihydropyridine-2-one, chromene and chromenopyridine as analoges to PFD. In addition, some 2-pyridones are also reported to possess antitumor, antibacterial [17] and other biological activities [18–20]. On the otherhand, sulfone derivatives have been found to exhibit a wide variety of pharmacological activities [21–25]. In addition, the bisheterocyclic compounds chromenes and chromenopyridine derivatives are well known as anticancer agents [26–29]. Also, diphenylsulfones and bisheterocyclic compounds are reported to have a broad spectrum of biological activities. Some are endowed with antitumor or antifungal properties [30]. On the other hand, some pyridine and isoquinoline derivatives have various biological properties such as antimicrobial [31], anticancer [32–35] activities.
Recent studies have proved the remarkable effect of Dapson on inhibiting cell growth in glioblastoma by acting as anti-VEGF and anti-angiogenic agent via depriving glioblastoma of neutrophil-mediated growth promoting effects [36]. Allantodapson V, a Dapson derivative showed high activity as anticancer through inhibition of arginine methyltranseferase (PRMT1) an enzyme which plays an important role in hormone dependent cancers. A series of acylated diarylsulfone derivatives were evaluated for the same activity and compound VI exihibited good activity as (PRMT1) inhibitor [37].
In view of these findings, and in continuation to our work in the synthesis of novel anticancer agents [
38
–
42
] we undertook the synthesis of bisheterocyclicsulfone compounds analogues for 2-pyridones incorporating biologically active 1,2-dihydropyridine-2-one, chromene, and chromenopyridone in one molecule to explore the promising anticancer compounds. (Scheme
1
).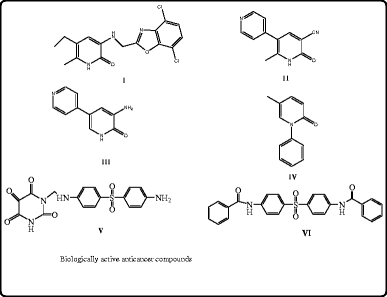 Conclusions
Diarylsulfone derivatives may serve as good candidates in the search for novel anticancer agents as illustrated by the IC50 values of the investigated compounds. These values were better than that of Doxorubicin. The mechanism of action as anticancer of the synthesized compounds was investigated through molecular docking on the active site of farnesyl transferase and arginine methyltransferase. Both enzymes could be the target of action of these compounds based on the good energy scores and amino acid interactions in the active sites of enzymes however, the exact mechanism of action still needs more investigation to be clarified.
Declarations
Acknowledgement
The authors are grateful to the sponsorship of the College of Pharmacy Research Centre and the Deanship of the Scientific Research, King Saud University, Riyadh, Saudi Arabia.
Authors' Affiliations
(1)
Medicinal, Aromatic and Poisonous Plants Research Center (MAPPRC), College of Pharmacy, King Saud University, Saudi Arabia
(2)
Pharmaceutical Chemistry Department, Faculty of Pharmacy, Cairo University, Cairo, Egypt
Copyright
© Al-Said et al; licensee Chemistry Central Ltd. 2012
This article is published under license to BioMed Central Ltd. This is an Open Access article distributed under the terms of the Creative Commons Attribution License (http://creativecommons.org/licenses/by/2.0), which permits unrestricted use, distribution, and reproduction in any medium, provided the original work is properly cited.