Research article
Open Access
Degradation of textile dyes using immobilized lignin peroxidase-like metalloporphines under mild experimental conditions
Chemistry Central Journal
2012
6:161
Received: 22 October 2012
Accepted: 19 December 2012
Published: 20 December 2012
Abstract
Background
Synthetic dyes represent a broad and heterogeneous class of durable pollutants, that are released in large amounts by the textile industry. The ability of two immobilized metalloporphines (structurally emulating the ligninolytic peroxidases) to bleach six chosen dyes (alizarin red S, phenosafranine, xylenol orange, methylene blue, methyl green, and methyl orange) was compared to enzymatic catalysts. To achieve a green and sustainable process, very mild conditions were chosen.
Results
IPS/MnTSPP was the most promising biomimetic catalyst as it was able to effectively and quickly bleach all tested dyes. Biomimetic catalysis was fully characterized: maximum activity was centered at neutral pH, in the absence of any organic solvent, using hydrogen peroxide as the oxidant. The immobilized metalloporphine kept a large part of its activity during multi-cycle use; however, well-known redox mediators were not able to increase its catalytic activity. IPS/MnTSPP was also more promising for use in industrial applications than its enzymatic counterparts (lignin peroxidase, laccase, manganese peroxidase, and horseradish peroxidase).
Conclusions
On the whole, the conditions were very mild (standard pressure, room temperature and neutral pH, using no organic solvents, and the most environmental-friendly oxidant) and a significant bleaching and partial mineralization of the dyes was achieved in approximately 1 h. Therefore, the process was consistent with large-scale applications. The biomimetic catalyst also had more promising features than the enzymatic catalysts.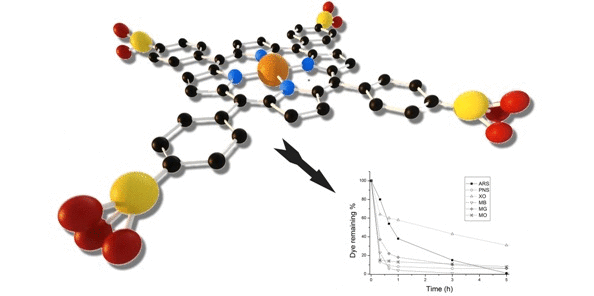 Keywords
BiomimeticDyeLignin-peroxidasePorphinePorphyrin
Background
Textile dyes are a broad and heterogeneous class of molecules used in many technological fields (i.e., textile and paper production, food technology, and hair coloring) [1]. Many chemical classes of synthetic dyes are frequently employed on an industrial scale; azo dyes, triarylmethanes, phenothiazine, and anthraquinones are among the most widespread [2, 3].
Because the goal of the dyeing process is color durability, textile dyes of all chemical classes are commonly highly resistant to both chemical and physical degradation. Accordingly, textile dyes represent a serious environmental concern because of their chemical inertness, high annual production (over 10,000 tons per year [1]), toxicity/carcinogenicity [4, 5], and the large amount of dyes released in industrial wastewaters (up to 50% of total process intake [6]).
The European Directive 2002/61/EC forbids the use of some products (in particular some azo dyes). However, these restrictions only marginally solve the environmental problem because of the large volume of other dyes discharged every year.
Several physical, chemical and enzymatic approaches have been proposed to remove dyes from industrial wastewaters [7–16] that require long reaction times, extreme operational conditions, and high costs [1]. Accordingly, the development of a clean and environmentally friendly process for removing dyes is a challenging issue, far from being solved.
Redox-active metalloporphines are efficient catalysts; in the presence of a proper oxidant [17–21], they are able to oxidize many substrates, including several textile dyes, under very mild conditions. We previously studied the ability of an immobilized manganese porphine to oxidize alizarin red S (ARS), an anthraquinone dye) [22], and phenosafranine (PNS), a phenylphenazinium dye [23], elucidating several aspects of the catalytic mechanism.
In this study, we compare the catalysts IPS/MnTSPP and PP-PVA/FeTFPP (Figure
1
), each containing a metalloporphine (Mn- and Fe-, respectively) immobilized onto a solid support, thus emulating ligninolytic peroxidases [
24
]. We investigated the ability of these two catalysts to oxidize different chemical classes of textile dyes in the presence of hydrogen peroxide under mild conditions. We also report the results of these catalysts on ARS and PNS to allow a comprehensive comparison. All the dyes included in the study are reported in Table
1
.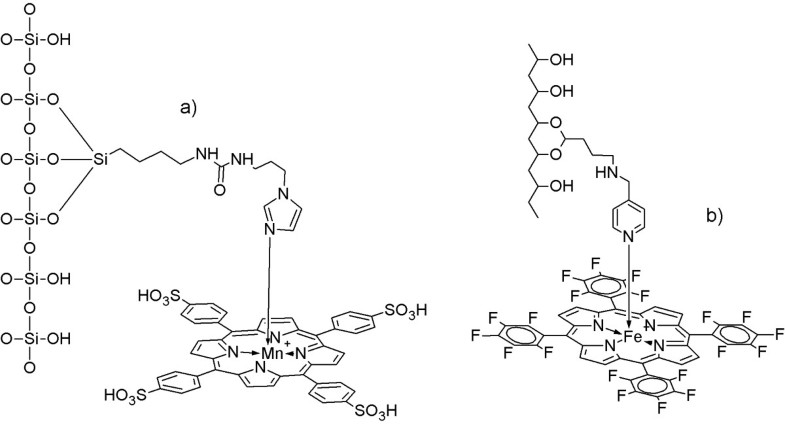 Results and discussion
Comparison of IPS/MnTSPP and PP-PVA/FeTFPP
We previously developed two biomimetic catalysts, IPS/MnTSPP and PP-PVA/FeTFPP, which are able to oxidize several lignin-model compounds. IPS/MnTSPP strictly emulates a lignin peroxidase (LiP) active site, having an imidazole-grafted support that coordinates a Mn(III)-porphine [24]. This catalyst showed a LiP-like activity, whereas, unlike an enzyme such as manganese peroxidase (MnP), it was not able to use the Mn2+ ion as a redox mediator. Conversely, PP-PVA/FeTFPP was only "bioinspired" (i.e., only inspired by but not strictly emulating, a natural enzyme active site) because the metalloporphine was coordinated by a pyridine-grafted support [25] rather than imidazole, as in ligninolytic peroxidases. This catalyst showed both LiP-like and MnP-like catalytic activities.
These two catalysts were tested for their ability to decolorize several textile dyes in the presence and absence of Mn2+ using hydrogen peroxide as the oxidant in accordance with green chemistry principles [26]. The investigation employed very mild conditions (neutral pH and room temperature, using no organic solvents, and the most environmental-friendly oxidant) to serve as the basis for an environmentally sustainable textile wastewater treatment process.
The results of these tests are reported in Table
2
. Both biomimetic catalysts easily degraded all tested dyes, showing wide substrate specificity. As previously reported [
24
], the catalytic behavior of IPS/MnTSPP was not affected by the presence of Mn(II), showing similar bleaching percentages in both the presence and absence of this ion. All six dyes were rapidly bleached under the conditions studied; more than with a removal in all cases higher than 50% of each dye (up to > 90% for PNS, MG, and MO) was removed in 1 h. In contrast, PP-PVA/FeTFPP was almost inactive in the absence of a suitable redox mediator. The conversion of all six dyes increased in the presence of Mn
2+
, leading to values similar on average to those observed for IPS/MnTSPP.
Table 2
Removal of the studied dyes in the presence of hydrogen peroxide and either IPS/MnTSPP or PP-PVA/FeTFPP, in both the presence and absence of Mn(II) as the redox mediator
Mn(II)

Catalyst

Dyes removal % (1 h)

ARS

PNS

XO

MB

MG

MO

No

IPS/MnTSPP

62 ± 1

92 ± 2

42 ± 4

96 ± 4

82 ± 5

87 ± 2

PP-PVA/FeTFPP

n.d.

n.d.

n.d.

n.d.

n.d.

n.d.

Yes

IPS/MnTSPP

55 ± 1

88 ± 2

44 ± 2

91 ± 3

77 ± 4

85 ± 4

PP-PVA/FeTFPP

48 ± 3

58 ± 2

55 ± 5

37 ± 1

48 ± 2

91 ± 2
Considering that textile wastewaters do not usually contain manganous ion and that it would therefore be necessary to add Mn2+, itself a heavy metal pollutant, to the reaction, IPS/MnTSPP was considered the most promising catalyst for future industrial applications Hence, the rest of study focused on IPS/MnTSPP.
The time dependence of dye bleaching by IPS/MnTSPP is shown in Figure
2
. Note that most of the bleaching occurs in the first hour of the reaction, consistent with industrial timing needs.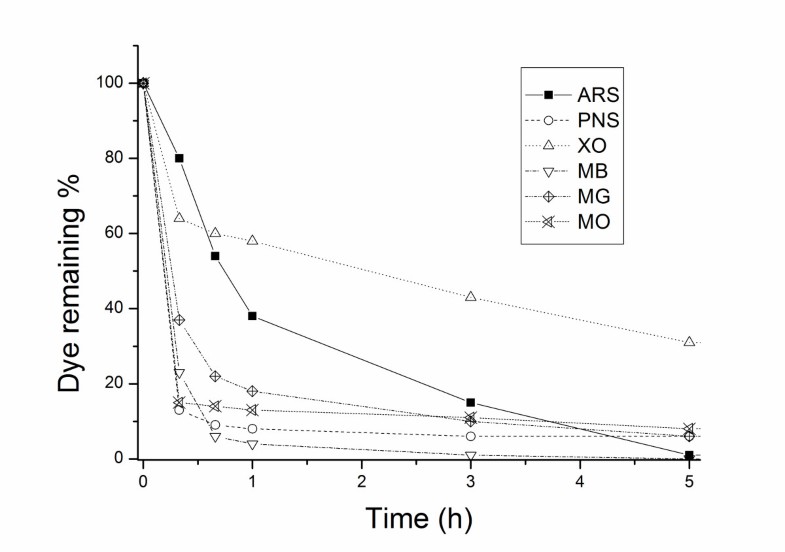 Characterization of bleaching by IPS/MnTSPP and H2O2
IPS/MnTSPP catalysis was strongly pH-dependent; an approximately neutral pH was optimal for all dyes tested except XO and PNS, which had optimal bleaching at pH 6 and 8, respectively (data not shown). However, XO and PNS were sufficiently bleached at pH 7 that IPS/MnTSPP remains a viable catalyst for environmentally friendly wastewater treatment.
Comparison with enzymatic bleaching
A full comparison with the enzymatic bleaching of the dyes was also performed. The ligninolytic enzymes tested were laccase (LC), lignin peroxidase, and the non-ligninolytic enzyme horseradish peroxidase (HRP). In addition, Mn(III) was also used as oxidizing agent, mimicking manganese peroxidase action [
27
]. These biological catalysts suffered from significant substrate inhibition, preventing their use at the dye concentrations used for IPS/MnTSPP. Usually, concentrations of dyes at least of one order of magnitude lower were necessary. These enzymes also suffer from H
2
O
2
inhibition, needing lower concentrations of oxidizing substrate. Accordingly, under the same conditions, it is not surprising that enzymatic bleaching efficiency was significantly lower than IPS/MnTSPP bleaching efficiency (<1% dye removal in all cases). Enzymatic bleaching activity, under the conditions studied, is reported in Table
6
, allowing a qualitative analysis of substrate specificity only.
Table 6
Enzymatic bleaching of the dyes
| Dye | LC | LC + H2O2 | HRP | LiP | Mn3+ |
| --- | --- | --- | --- | --- | --- |
| ARS | + | ++ | +/− | +/− | + |
| PNS | - | - | - | +/− | - |
| XO | + | + | + | - | + |
| MB | - | +/− | +/− | +/− | - |
| MG | + | + | ++ | +/− | ++ |
| MO | + | +/− | + | +/− | + |
None of the examined enzymes were able to bleach all the studied dyes. For instance, PNS is resistant to LC, HRP, and Mn3+, whereas only a partial degradation with concomitant irreversible enzyme inactivation is observed with LiP. MB underwent only partial oxidation with the enzymatic catalysts.
IPS/MnTSPP is able to effectively bleach all the dyes studied, as described above. This feature, combined with its ability to oxidize relatively high concentration of dye (in the millimolar range), and with its partial multi-cycling, may make IPS/MnTSPP catalysis a feasible alternative for industrial treatment of textile wastewaters.
Conclusion
IPS/MnTSPP has proved able to efficiently degrade all tested dyes, regardless of their chemical class, under very mild conditions: standard pressure, room temperature and neutral pH, using no organic solvents, and the most environmental-friendly oxidant. The yields and time requirements of the process were quite promising for a potential industrial application. Furthermore, a multi-cycle capability was described, even if only 30% of catalytic activity is retained for 8–10 cycles.
In comparison to enzymatic systems, the biomimetic catalyst was more efficient and had wider substrate specificity. Therefore, after proper optimization of the process, this catalyst is worth consideration as a possible medium/large scale application in textile wastewater treatment.
Abbreviations
ARS:

Alizarin Red S
FeTFPP:

5,10,15,20-tetrakis(pentafluorophenyl)porphine-iron(III) chloride
IPS:

(3-Imidazolylpropylcarbamoyl)-3'-aminopropylsilica
HRP:

Horseradish peroxidase
LC:

Laccase
LiP:

Lignin peroxidase
MB:

Methylene Blue
MG:

Methyl Green
MnTSPP:

5,10,15,20-tetrakis(4-sulfonato-phenyl)porphine-Mn(III) chloride
MO:

Methyl Orange
MnP:

Manganese peroxidase
PP-PVA:

4'-Pyridylmethyl-3-aminopropyl-functionalized
PNS:

Phenosafranine
PVA:

Crosslinked with glutaraldehyde
TOC:

Total organic carbon
XO:

Xylenol Orange.
Declarations
Acknowledgments
This research was partly funded by Fondazione Banco di Sardegna (Project Code 861/2012) and Regione Autonoma Sardegna (PO Sardegna FSE 2007–2013, L.R.7/2007, Bando Giovani Ricercatori, Project CRP1_27, and PO Sardegna FSE 2007–2013, L.R.7/2007, Ricerca di Base Bando 2008, Project CRP1_408).
Authors' Affiliations
(1)
Dipartimento di Scienze Biomediche, Università di Cagliari, Cittadella Universitaria, Monserrato, Italy
(2)
Consorzio UNO (University of Oristano Consortium), Oristano, Italy
Copyright
© Zucca et al.; licensee Chemistry Central Ltd. 2012
This article is published under license to BioMed Central Ltd. This is an Open Access article distributed under the terms of the Creative Commons Attribution License (http://creativecommons.org/licenses/by/2.0), which permits unrestricted use, distribution, and reproduction in any medium, provided the original work is properly cited.