Research article
Open Access
Selective Iron(III) ion uptake using CuO-TiO2 nanostructure by inductively coupled plasma-optical emission spectrometry
Chemistry Central Journal
2012
6:158
Received: 2 October 2012
Accepted: 11 December 2012
Published: 17 December 2012
Abstract
Background
CuO-TiO2 nanosheets (NSs), a kind of nanomaterials is one of the most attracting class of transition doped semiconductor materials due to its interesting and important optical, electrical, and structural properties and has many technical applications, such as in metal ions detection, photocatalysis, Chemi-sensors, bio-sensors, solar cells and so on. In this paper the synthesis of CuO-TiO2 nanosheets by the wet-chemically technique is reported.
Methods
CuO-TiO2 NSs were prepared by a wet-chemical process using reducing agents in alkaline medium and characterized by UV/vis., FT-IR spectroscopy, X-ray photoelectron spectroscopy (XPS), powder X-ray diffraction (XRD), and field-emission scanning electron microscopy (FE-SEM) etc.
Results
The structural and optical evaluation of synthesized NSs were measured by XRD pattern, Fourier transform infrared (FT-IR) and UV–vis spectroscopy, respectively which confirmed that the obtained NSs are well-crystalline CuO-TiO2 and possessing good optical properties. The morphological analysis of CuO-TiO2 NSs was executed by FE-SEM, which confirmed that the doped products were sheet-shaped and growth in large quantity. Here, the analytical efficiency of the NSs was applied for a selective adsorption of iron(III) ion prior to detection by inductively coupled plasma-optical emission spectrometry (ICP-OES). The selectivity of NSs towards various metal ions, including Au(III), Cd(II), Co(II), Cr(III), Fe(III), Pd(II), and Zn(II) was analyzed.
Conclusions
Based on the selectivity study, it was confirmed that the selectivity of doped NSs phase was the most towards Fe(III) ion. The static adsorption capacity for Fe(III) was calculated to be 110.06 mgg−1. Results from adsorption isotherm also verified that the adsorption process was mainly monolayer-adsorption onto a surface containing a finite number of CuO-TiO2 NSs adsorption sites.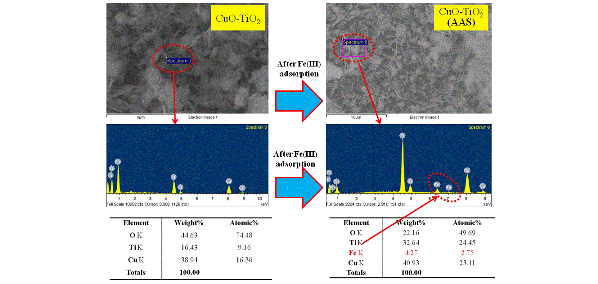 Keywords
CuO-TiO2 nanosheetsWet-chemical processOptical propertyStructural propertyAdsorption isothermIron(III) ion detection
Introduction
Transition-metal doped semiconductor nanomaterial have attracted significant attention due to their potential applications in fabrication of nano-scale electronics, electro-analytical, selective metal-ions detection, opto-electronics, biological devices, electron field-emission sources for emission displays, bio-chemical detections, surface-enhanced Raman properties, and immense-potential applications etc. [1, 2]. It is exhibited a regular morphological nanostructure, which composed a number of regular phases with geometrically-coordinated metals and oxide atoms along the axes. Doped materials have also concerned significant research effort for their exceptional and outstanding properties as well as versatile applications [3, 4]. In last decade, nano-sized transition-metal oxides have been widely studied as promising anodes for Laser-Induced Break-down Spectroscopy's since they were first reported by Tarascon et al. [5, 6]. Among them, undoped copper oxide (CuO) has attracted much interest owing to their high theoretical capacity, highly-stable, non-toxic, economical approach, and facile synthesis. It is a p-type semiconductor material with a band-gap energy [7–9], which is studied for various applications in bio-materials [10], photo-conductive [11] electro-magnetic [12], and super-conductors mico-devices [13] etc. Various efforts have been focused toward the fabrication of nano-structured CuO to improve their performance in currently existing applications, which is considered as one of the promising artificial mediators owing to their properties and functionalities [14–21]. However, it is still a big challenge to attain high-rate capability and crystallinity of copper oxide doped semiconductor nanomaterials. It is well accepted that a smaller size of CuO can lead to higher capacity and higher surface capability. This reduces the over potential and allows faster reaction kinetics to detect the metal ions [22–24]. Therefore, the synthesis of low-dimensional CuO nanostructures is a promising approach to make a significant improvement of large-surface area and high-aspect-ratio in doped nanostructures. Due to the significant properties of semiconductors, the doped nanomaterials were attained a considerable attention in terms of controlled growth of crystalline materials in huge quantity. Various growth mechanism have been employed, including the vapor–liquid–solid growth [25], thin-film growth [26], vapor-solid growth [27], wet-chemical methods [28], and electro-spinning [29] etc. Titanium dioxide is the promising host-material as semiconductor having high photo-chemical stability and large-surface area with low economical-cost. Well-dispersed undoped titania dioxide nanostructure materials with very fine sizes are promising in many significant applications such as pigments, adsorbents and catalytic supports [30–32]. In almost all of these cases, when the dimension of nanomaterials is reduced significantly, especially to several nano-meter scales, some novel optical, morphological, and structural properties are expected, owing to the large surface-to-volume ratio [33]. In addition, the development of simple, rapid and efficient techniques has achieved a huge interest for monitoring metal ions in the environment. Several analytical methods have been applied to analyze metal ions in aqueous solutions, such as atomic absorption spectrometry [34], inductively coupled plasma-optical emission spectrometry (ICP-OES) [35], anodic stripping voltammetry [36], and ion chromatography [37]. However, analytical methods can not directly measures the metal ions, in particular at ultra-trace concentration, in aqueous systems due to the lack of sensitivity and selectivity of these methods. Therefore, an efficient separation procedure is urgently required prior to the determination of noble metals for sensitive, accurate and interference-free determination of noble metals [38].
Several analytical methods are introduced for separation of analytes including liquid-liquid extraction [39], ion-exchange [40], co-precipitation [41], cloud-point extraction [42] and solid-phase extraction (SPE) [43]. SPE is considered to be one of the most powerful methods because it minimized the solvent usage and exposure, disposal costs, and extraction time for sample preparation. Several adsorbents have appeared due to the popularity of SPE for selective extraction of analytes, such as alumina [44], C18 [45], molecular imprinted polymers, cellulose [46], silica-gel [47, 48], activated carbon [49, 50] and carbon nanotubes [51, 52]. This study was also planned to perform the analytical efficiency of CuO-TiO2 NSs phase as adsorbent on the selectivity and adsorption capacity of Fe(III) prior to its determination by ICP-OES. The selectivity of CuO-TiO2 NSs towards different metal ions, including Au(III), Cd(II), Co(II), Cr(III), Fe(III), Pd(II), and Zn(II), was performed in order to study the effectiveness of CuO- TiO2 NSs on the adsorption of selected metal ions. Here the calcined CuO-TiO2 NSs have significant properties such as large-surface area (surface-to-volume ratio) and static adsorption capacity. These offered high adsorbent features that enhanced the direct solid-phase adsorption towards the target metal-ions for the selective detection of Fe(III) ions. Based on the selectivity study, it was found that the selectivity of nanosheet-phase was the most towards Fe(III). The static adsorption capacity for Fe(III) was also executed in this study. Results of adsorption isotherm are confirmed that the adsorption process is mainly monolayer adsorption onto surface-phase containing a finite number of adsorption sites. Adsorption data of Fe(III) are well fit with the Langmuir-classical adsorption isotherm.
Experimental section
Materials and methods
The λmax (364.7 nm) of calcined CuO-TiO2 NSs was evaluated with UV/visible spectroscopy (UVO-2960, LABOMED Inc.). FT-IR spectra were measured with a spectro-photometer (Spectrum-100 FT-IR) in the mid-IR range, which was purchased from Bruker, USA. The powder X-ray diffraction (XRD) prototypes were measured with X-ray diffractometer (Rigaku X-ray difractometer, Mini-Flex 2) equipped with Cu-Kα1 radiation (λ = 1.5406 nm) using a generator voltage (40.0 kV) and a generator current (35.0 mA). Morphology of CuO-TiO2 NSs was investigated on FE-SEM instrument (FESEM; JSM-7600F, Japan). The XPS measurements were executed on a Thermo Scientific K-Alpha KA1066 spectrometer (Germany). Monochromatic AlKα x-ray radiation sources were used as excitation sources, where beam-spot size was kept in 300.0 μm. The spectra was recorded in the fixed analyzer transmission mode, where pass energy was kept at 200 eV. The scanning of the spectra was performed at lower pressures (<10−8 Torr). 1000.0 mgL−1 stock standard solution of each Au(III), Cd(II), Co(II), Cr(III), Fe(III), Pd(II), and Zn(II) were purchased from Sigma-Aldrich (Milwaukee, WI, USA). All reagents were used of analytical and spectral purity grade. Doubly distilled de-ionized water was also used throughout the experimental studies. Analytical grade of copper chloride, titanium dioxide, and sodium hydroxide was used and purchased from Sigma-Aldrich Company. ICP-OES measurements were acquired by use of a Perkin Elmer ICP-OES model Optima 4100 DV, USA. The ICP-OES instrument was optimized daily before measurement and operated as recommended by the manufacturers. The ICP-OES spectrometer was used with following parameters: FR power (1300 kW), frequency (27.12 MHz), demountable quartz torch (Ar/Ar/Ar), plasma gas (Ar) flow (15.0 Lmin−1), auxiliary gas (Ar) flow (0.2 Lmin−1), nebulizer gas (Ar) flow (0.8 Lmin−1), nebulizer pressure (2.4 bar), glass spray chamber according to Scott (Ryton), sample pump flow rate (1.5 mLmin−1), integration time (3.0 s), replicates (3), and wavelength range of monochromator (165–460 nm). Selected metal ions were measured at wavelengths of 267.60 nm for Au(III), 228.80 nm for Cd(II), 238.90 nm for Co(II), 267.72 nm for Cr(III), 259.94 nm for Fe(III), 340.46 nm for Pd(II), and 206.20 nm for Zn(II).
Samples preparation and detection procedure
Stock solutions of Au(III), Cd(II), Co(II), Cr(III), Fe(III), Pd(II) and Zn(II) were prepared in 18.2 MΩ · cm distilled deionized water and stored in the dark at 4°C. For selectivity study, standard solutions (1.0 mgL-1) of each metal ion were prepared and adjusted to pH value of 5.0 with acetate buffer. Then, each standard solution was individually mixed with 25.0 mg CuO-TiO2 NSs. In this study, a fixed pH value of 5.0 was chosen for all metal ions in order to avoid any precipitation of other species, in particular for Fe(III). For example, Fe(III) usually forms a precipitation of Fe(OH)3 with buffer solutions at pH value greater than 5.0. For the investigation of Fe(III) static adsorption capacity, the standard solutions of 0, 5.0, 10.0, 15.0, 20.0, 25.0, 30.0, 50.0, 75.0, 125.0, and 150.0 mgL−1 were prepared and adjusted to the optimum pH value of 5.0 and individually mixed with 25.0 mg CuO-TiO2 NSs. All mixtures were mechanically shaken for 1 hr at room temperature.
Synthesis of CuO-TiO2nanosheets by a wet-chemical process
The liquid-phase precipitation was applied to prepare CuO-TiO2 NSs by a wet-chemical method from CuCl2 (0.1 M, 1.7048 g, 100.0 ml) and titanium dioxide (0.1 M, 0.799 g, 100.0 ml) as the precipitating agent in basic medium (pH ~ 10.5). The starting materials are put in de-ionized water to make 0.1M solution separately in round conical flask at room conditions. After addition of reducing agent (NaOH, adjusting pH at 11.0) into the reactant mixtures (CuCl2 & TiO2), it was stirred gradually for 12 hours and placed on a hot-plate (at 150.0°C, active solution temperature ~92°C). The starting materials (CuCl2, TiO2, and NaOH) were used without further purification for precipitation technique. Then the solution was washed with acetone and water consecutively and kept for drying at room conditions. The as-grown powder powders were calcined at 450.0°C in muffle furnace for 5 hours. Finally, the calcined products were characterized in features of their structural, morphological, and optical properties as well as applied for the detection of metal ions uptake.
Conclusions
The calcined CuO-doped TiO2 NSs are successfully prepared by a wet-chemical technique combined with a heat-treatment and characterized in detail in terms of their morphological, structural, and optical properties. It is displayed that the synthesized microstructures are possessed monoclinic structure having good optical properties. The static-uptake capacity of the NSs phase for selective adsorption and determination of Fe(III) in aqueous solution was investigated. Reasonable static-uptake capacity of 110.06 mgg−1 with NSs adsorbent for Fe(III) in aqueous solution was achieved. Adsorption data of Fe(III) was well-fit with the Langmuir adsorption isotherm model. Thus, the method may show considerable promise for using it as an effective approach for a selective separation and determination of Fe(III) in complex matrices. The obtained nanosheets composed CuO-TiO2 microstructures is a promising candidate for potential application in metal ions uptake.
Declarations
Acknowledgement
This paper was funded by the Deanship of Scientific Research (DSR), King Abdulaziz University, Jeddah, under grant No. (130-025-D1433). The authors, therefore, acknowledge with thanks DSR technical and financial support.
Authors' Affiliations
(1)
Center of Excellence for Advanced Materials Research (CEAMR), King Abdulaziz University, Jeddah
(2)
Chemistry Department, Faculty of Science, King Abdulaziz University, Jeddah
Copyright
© Rahman et al.; licensee Chemistry Central Ltd. 2012
This article is published under license to BioMed Central Ltd. This is an Open Access article distributed under the terms of the Creative Commons Attribution License (http://creativecommons.org/licenses/by/2.0), which permits unrestricted use, distribution, and reproduction in any medium, provided the original work is properly cited.