Research article
Open Access
Adsorptive removal of methylene blue by agar: effects of NaCl and ethanol
Chemistry Central Journal
2012
6:14
Received: 8 October 2011
Accepted: 17 February 2012
Published: 17 February 2012
Abstract
Adsorption of methylene blue (MB) on agar was investigated as a function of temperature (308-328 K), different concentrations of NaCl and HCl and various weight percentages of binary mixtures of ethanol with water. It was observed that the maximum experimental adsorption capacity, qm, exp, in water is up to 50 mg g-1 and decreases with increase in weight percentage of ethanol and NaCl and HCl concentration compared to that of water. Analysis of data using ARIAN model showed that MB adsorbs as monomer and dimer on the surface of agar. Binding constants of MB to agar were calculated using the Temkin isotherm. The process is exothermic in water and other solutions. The mean adsorption energy (E) value indicated binding of MB to agar is chemical adsorption. Kinetics of this interaction obeys from the pseudo-second-order model and diffusion of the MB molecules into the agar is the main rate-controlling step.
Keywords
Adsorption CapacityAdsorption EnergyMalachite GreenAcid OrangeTemkin Isotherm
1. Background
Dyes are important pollutants, causing environmental and health problems to human being and aquatic animals. Wastewater containing dyes presents a serious environmental problem because of its high toxicity and possible accumulation in the environment. Therefore, their removal from industrial effluents before discharging into the environment is extremely important. Conventional methods for the removal of dyes in effluents include physical, chemical, and biological processes. Adsorption methods employing solid adsorbents are widely used to remove certain classes of chemical pollutants from wastewater. Many researchers have investigated the use of cheap and efficient adsorbents to remove dyes from wastewater [1–4]. In this work, we investigated adsorption of MB on agar. Agar is a gelatinous substance derived from a polysaccharide that accumulates in the cell walls of agarophyte red algae [5, 6] and results of this work also show the role of agar in accumulation of dye (a polluant) in agarophyte red algae. Agar can be used as gelling agents for spread foods, soft-texture confectionery, as a fat replacer [7] and widely used in a number of preparations in biomedical, food, cosmetics and pharmaceutical industries [8]. MB is used as a redox indicator, as a stain for bacteriology [9], for treating malaria and a number of diseases [10, 11] and as a treatment for fungal infections of fishes and fish eggs [12]. MB commonly employed in textile industries and contributes to the pollution of water discharges [13]. In this work, we studied effects of temperature, NaCl and ethanol on adsorption of methylene blue on agar. We can use these effects to treat wastewater and also recycle adsorbent and adsorbate.
2. Experimental
2.1. Materials
Methylene blue chloride (C.I. 52015), NaCl, ethanol (99.9%) and agarose were purchased from Merck and agar was obtained from Fluka. They were used without further purification. Agar consists of a mixture of agarose and agaropectin. Agarose is a linear polymer, made up of the repeating monomeric unit of agarobiose and agarobiose is a disaccharide made up of D-galactopyranose and 3,6-anhydro-L-galactopyranose, linked by a glycosidic bonding, Figure
1(a)
. Agaropectin is a heterogeneous mixture of smaller molecules that occur in lesser amounts. Their structures are similar but slightly branched and sulfated (3% to 10% sulfate), and they may have methyl and pyruvic acid ketal substituents [
14
], Figure
1(b)
. Agarose normally represents at least two-thirds of the natural agar.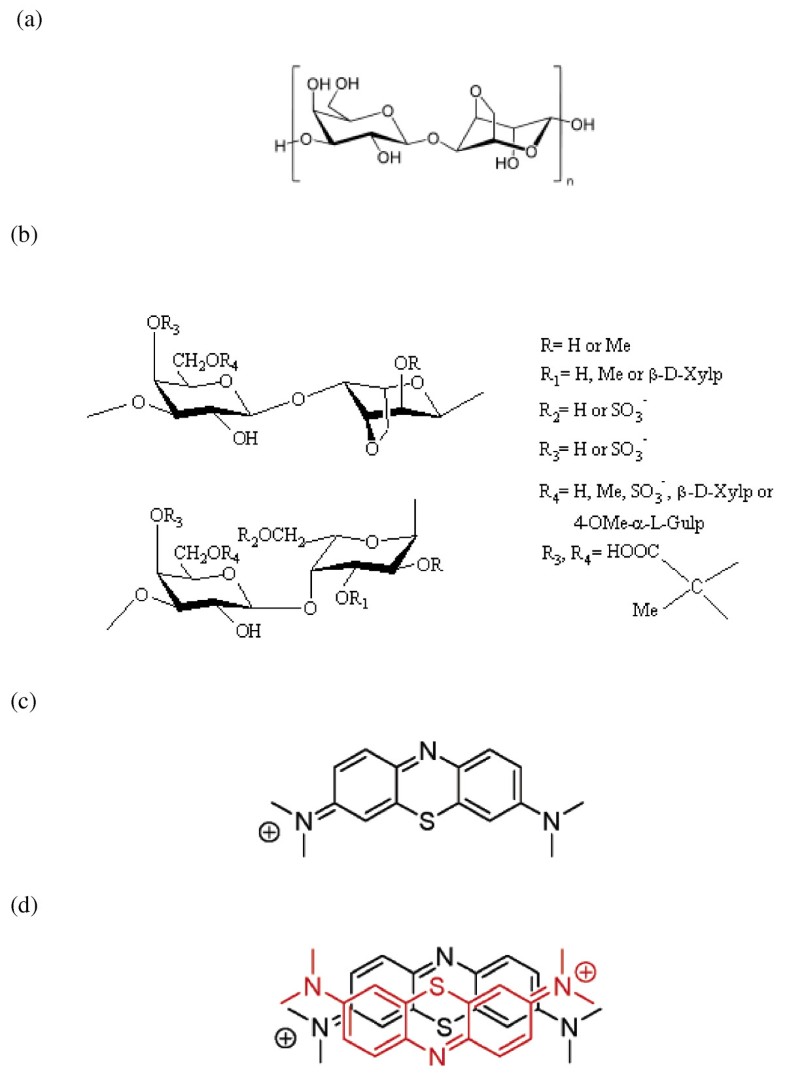 Methylene blue (C.I: Basic Blue 9) is one of the basic dyes [15], Figures 1(c) and 1(d).
2.2. Methods
Ten ml of MB solution of different initial concentrations was transferred to a series of 15-ml glass stoppered bottles, each containing 0.034 g of agar sample. The solutions were shaken at 120 rpm in a temperature controlled shaking water bath (Fater electronic Co., Persian Gulf model) at 308, 318 and 328 K within ± 0.1 K for 20 h to reach equilibrium under experimental conditions.
The initial concentrations of MB were in the range of 2 × 10-5-4 × 10-4 M. After adsorption, the contents of MB in the residual solutions were determined by spectrometry (UV-Vis 160, Shimadzu) at) at their λmax = 665 nm. Adsorption of MB on agarose was studied by above-mentioned method at 306 K. The agar and agrose FTIR spectra were determined using an infrared spectrophotometer with Fourier transformation (FTIR-8400 S, Shimadzu).
The relation between equilibrium adsorption capacity
q
e
(mg g
-1
) and dye equilibrium concentration
c
e
(M) has been studied by some equations. One of these equations is the Temkin isotherm [
16
] and is represented by
where c1 (mg g-1) is a measure of adsorption capacity and c2 is adsorption equilibrium constant (M-1).
The Langmuir equation [
17
] in linearized form is given as
where
K
is the Langmuir adsorption constant and
q
m
(mg g
-1
) is the maximum adsorption capacity of surface. The Dubinin-Radushkevich equation [
18
] is given by
where
B
D
is related to the free energy of adsorption per mole of adsorbate (mol
2
J
-2
) and
q
D
(mg g
-1
) is the maximum theoretical monolayer saturation capacity. The apparent energy of adsorption from Dubinin-Radushkevich isotherm,
E
, (J mol
-1
) that gives information about chemical and physical adsorption can be computed using the relationship
In this work, the results are studied by "
adsorption isotherm regional analysis model
" or abbreviated as ARIAN model [
19
]. This model is introduced for studying adsorption isotherms up to four regions. In ARIAN model which is explained briefly, it is assumed that depending on the used concentration range, different interactions may occur between adsorbate and adsorbent. The concentration range related to each kind of interactions is called a "
region
" and data of various regions are interpreted by different adsorption isotherms. In each region, the adsorbate concentration range that satisfies locally in an adsorption isotherm or small plateau, is called a "
section
". A region may include one or more sections. The sections would be symbolized by large English alphabets. Region 1 obeys Henry's law and its slope is approximately one, it means that adsorption increases linearly with concentration. Region 2 includes only formation of monolayer surface aggregates and can be studied by an appropriate isotherm. In region 3, new surface aggregates form. Data of region 3 are analyzed by the bilayer equation and its derived ones [
19
] and equilibrium constants of monolayer and bilayer adsorption of adsorbate molecules are obtained. The bilayer isotherm is given as [
19
]
where
q
mon
is the monolayer adsorption capacity and
K
sa
and
x
are the adsorption equilibrium constants of adsorbed molecules in surface aggregates and in the second layer, respectively. If adsorbed molecules adsorb mostly on the first layer, equation (
5
) can be written as
On the other hand, if the adsorption process is monolayer, equation (
5
) can be reduced to
where equation (7) is a Langmuir-type equation.
Region 4 is studied by the reverse desorption equation [19] and is as plateau or curve goes down.
3. Results and discussion
4. Conclusion
Adsorption isotherms of MB on agar in the presence of NaCl and ethanol were analyzed by ARIAN model. In the used concentration range of MB, it adsorbs as monomer and dimer on agar in sections 2A and 2B, respectively. Data obtained from IR spectroscopy show that MB interacts with -OH groups of agarose and agaropectin chains of agar.
Binding constants of MB to agar surface in the section 2A are greater than those of section 2B. Adsorption process in water and other solutions is exothermic.
Due to salting in, adsorption capacity of surface decreases with increase in NaCl and HCl concentration. With increase in NaCl concentration, MB deposits from solution.
Adsorption of MB on agar decreases with increasing weight percentage of ethanol in water-ethanol mixtures. This is mostly due to hydrogen bonding and hydrophobic interaction between ethanol molecules with MB which increases solubility of MB and thus decreases its qm, exp values in these solutions. The mean adsorption energy (E) values showed that binding of MB to agar surface is due to chemical adsorption. Kinetics of this interaction obeys from the pseudo-second-order and pore-diffusion models. Also kinetic data showed that in the beginning adsorption process, MB adsorbs rapidly on anionic agaropectin chains of agar and then slowly on its agarose chains.
Authors' Affiliations
(1)
Department of Chemistry, Faculty of Science, Lorestan University, Khoramabad, Iran