Research article
Open Access
A cobalt complex of a microbial arene oxidation product
Chemistry Central Journal
2011
5:80
Received: 19 October 2011
Accepted: 7 December 2011
Published: 7 December 2011
Keywords
Cobalt ComplexCyclohexadieneCyclohexadienylToluene DioxygenaseMethoxide Anion
Background
Diol acid 4 and its derivatives have been employed in several synthetic contexts. Widdowson was the first to establish the absolute configuration of 4 and employ it in [4+2] cycloadditions [18] and Mihovilovic subsequently reported tethered cycloadditions [19, 20]. Applications of 4 in carbohydrate chemistry have been reported by Parker [21] and by us [22]. Myers has reported the synthesis of a useful library of chirons from 4 [23] and their application in the total synthesis of tetracyclines [24, 25]. The Hudlický route to idesolide [26] and our route to grandifloracin [27] also employ 4 as a chiral pool starting material for total synthesis.
Results
Four compounds were considered as potential ligands for cobalt (Scheme
4
). Acetonide methyl ester
16
may be synthesised by two reported routes which differ in the order of events [
15
,
18
,
23
]. Formation of the methyl ester first gives
7
, the diol of which may then be protected to give
16
. Alternatively, formation of the acetonide gives
15
, which may then be readily esterified to
16
(Scheme
4
). Either route affords
16
in near-quantitative yield. We were able to crystallise
15
as its monohydrate and determine its molecular structure by single crystal x-ray diffraction (Figure
2
, Table
1
Additional file
1
).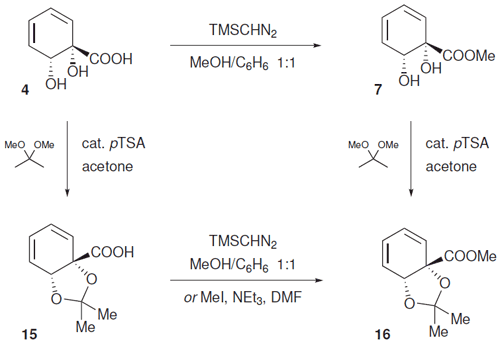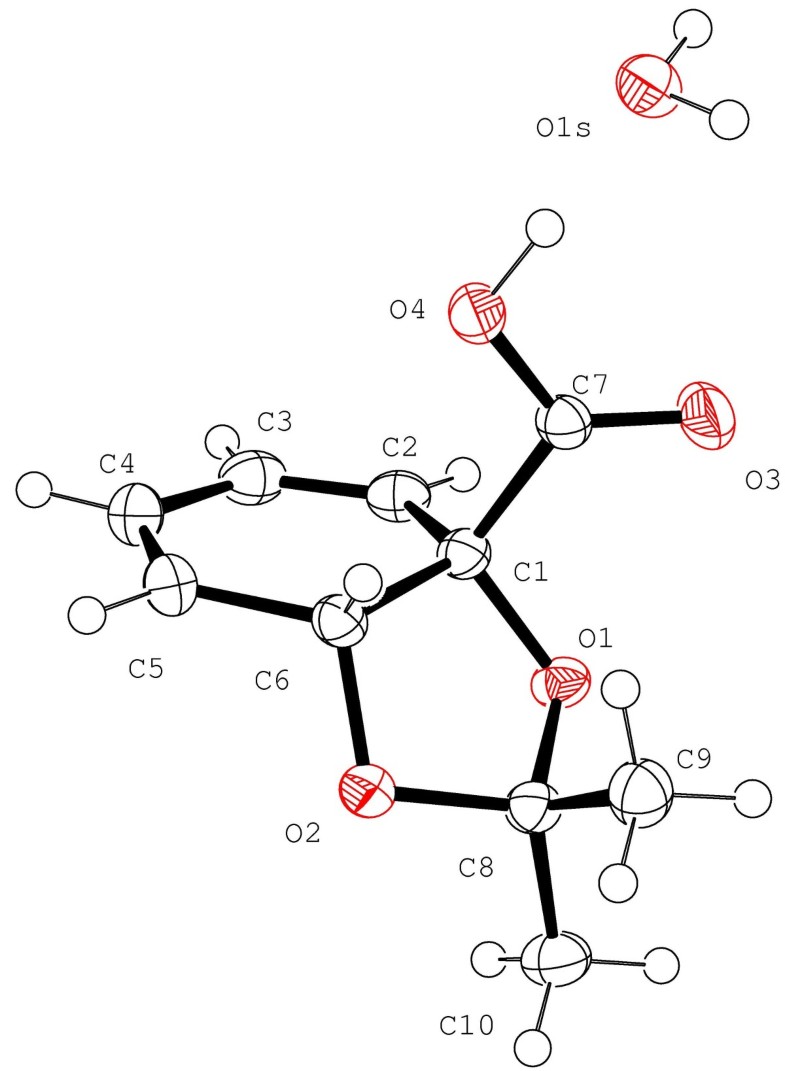 Table 1
Crystal data and structure refinement for compounds 15 and 18
Compound

15

18

CCDC Number

838051

838052

Empirical formula

C10H14O5

C16H19CoO4

Formula weight

214.21

334.24

Crystal system

Orthorhombic

Orthorhombic

Space group

P212121

P212121

a/Å

8.1060(1)

7.3050(1)

b/Å

10.241(3)

8.6650(1)

c/Å

12.952(4)

23.568(3)

α/°

90

90

β/°

90

90

γ/°

90

90

U/Å3

1075.19(5)

1491.80(3)

Z

4

4

D c /gcm-3

1.323

1.488

μ/mm-1

0.106

1.163

F(000)

456

696

Crystal size/mm

0.20 × 0.15 × 0.10

0.24 × 0.20 × 0.12

Theta min., max for data collection

3.98, 30.51

7.88, 30.53

Index ranges

-9 ≤ h ≤ 11;

-14 ≤ k ≤ 14;

-18 ≤ l ≤ 18

-10 ≤ h ≤ 10;

-12 ≤ k ≤ 12;

-31 ≤ l ≤ 33

Reflections collected

19801

27485

Independent reflections, Rint

3116, 0.0380

4488, 0.0474

Completeness

θ = 30.51°, 96.4%

θ = 30.53°, 97.5%

Max., min. transmission

0.9894, 0.9790

0.8731, 0.7678

Data/restraints/parameters

3116/0/151

4488/0/267

Goodness-of-fit on F2

1.031

1.203

Final R1, wR2 [I > 2σ(I)]

0.0322, 0.0712

0.0299, 0.0654

Final R1, wR2 (all data)

0.0419, 0.0754

0.0333, 0.0663

Absolute structure parameter [50]

0.1(7)

-0.007(12)

Largest diff. peak, hole/eÅ-3

0.185, -0.172

0.353, -0.268
Dienes 4, 7, 15 and 16 are all viable ligands for CpCo complex formation. Our primary focus was acetonide ester 16, for two reasons. Firstly, we had previously observed free acid 4 to form an intractable mixture when we attempted the synthesis of its iron tricarbonyl complex, with methyl esters proving more amenable to complexation. Secondly, we wished to ascertain whether the presence of the acetonide in 16 would favour complexation on the upper ligand face, in contrast to 8 [51]. Furthermore, it should be noted that diene rearrangements upon complexation have been described for analogous cobalt complexes; Vollhardt has proposed the intermediacy of η5 cyclohexadienyl cobalt complexes to account for the rearrangement of tethered amines [52] and enol ethers [53], further developing this chemistry to effect a concise total synthesis of strychnine [54, 55].
Our initial attempts at forming diene complexes involved CpCo(CO)
2
as a precursor, which was exposed to UV light in the presence of diene ligand, in order to effect photodissociation of the carbonyl ligands. This approach did not furnish any products, however, and an approach employing ClCo(PPh
3
)
3
and NaCp as precursors was similarly unsuccessful. We then turned to use of Jonas' reagent, CpCo(C
2
H
4
)
2
(
17
), which is able to undergo ligand exchange with dienes and loss of two molar equivalents of ethylene [
56
]. Reaction of
16
and
17
in toluene at room temperature afforded novel cobalt complex
18
, in which the metal was indeed complexed to the upper ligand face, but no alkene isomerisation had occurred (Scheme
5
). Crystallisation of
18
from hexane afforded crystals suitable for X-ray structure determination (Figure
3
, Table
1
).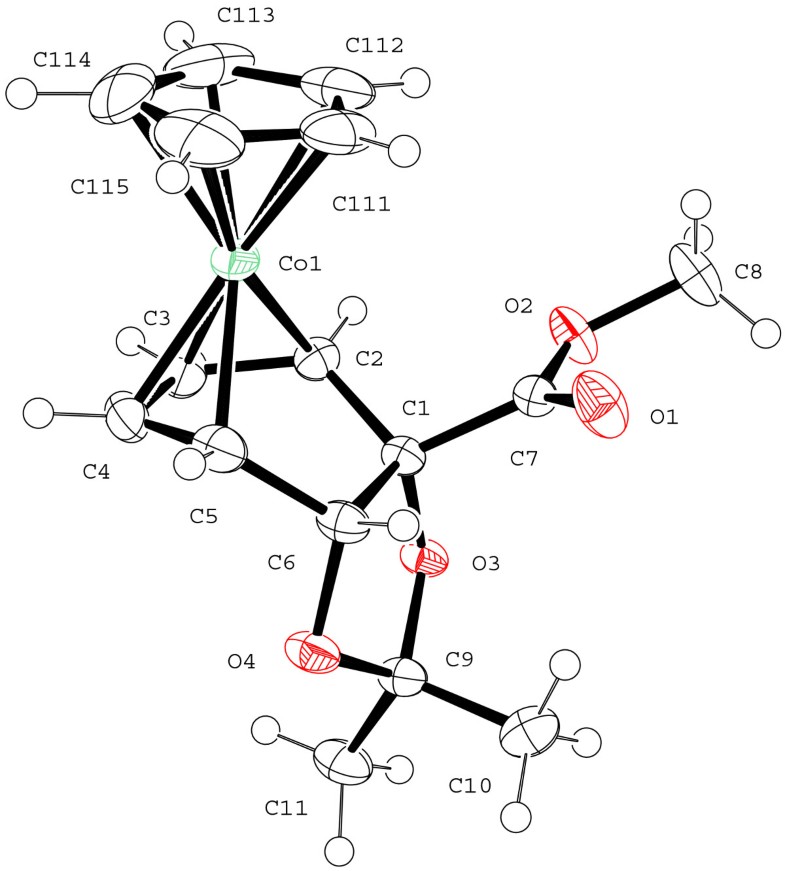 Discussion
With structures in hand for both uncomplexed and complexed dienes 15 and 18 we are able to compare the two. To our knowledge, this is the first time a direct comparison of a CpCo cyclohexadiene complex and an uncomplexed diene precursor has been made, since for other reported CpCo cyclohexadiene crystal structures, no structures of their precursors are available.
It is immediately evident that complexation to Co effects a major change in the conformation of the cyclohexadiene ring. Whereas the uncomplexed ligand 15 possesses a near-planar cyclohexadiene ring, in 18 this ring adopts a boat conformation. Specifically, the C2-C3-C4-C5 diene motif remains near-coplanar (dihedral angle of 2.7(3)° in 18 and -6.5(2)° in 15), but the two sp3 hybridised atoms (C1 and C6) are significantly out of plane in 18 (dihedral angles of 41.8(2)° for C1-C2-C3-C4 and 42.9(3)° for C3-C4-C5-C6 in 18, compared with 1.7(2)° and 4.0(2)° in 15). A consequence of this is that in complex 18 the lower face of the cyclohexadiene ring is subject to additional steric hindrance due to the acetonide endo methyl group. This is evidenced by the shorter distance between this carbon and C3 or C4 (18 has C3-C11 4.572(3) Å and C4-C11 4.709(3) Å, whereas in 15 the corresponding distances are 5.160(2) Å and 5.296(2) Å). The effect on Co complexation on the C-C bond order in the cyclohexadiene ring is also clearly visible. In uncomplexed 15, C2-C3 and C4-C5 are both 1.327(2) Å, whereas the formally single C3-C4 bond is appreciably longer at 1.463(2) Å. In contrast, in complex 18, bond lengths are 1.424(3) Å for C2-C3 and C3-C4 and 1.418(3) for C4-C5, i.e. equivalent within 3σ, as is precedented [47]. It should also be noted that in complex 18, the η5-cyclopentadienyl and η4-diene ligands are not coplanar. Rather, the angle between the C2-C5 and C111-C115 planes is 8.40°.
Conclusions
We have prepared the first organocobalt complex derived from a product of microbial arene dihydroxylation and characterised it by crystallographic and other means. We are currently investigating synthetic applications of this complex and our results will be reported in due course.
Experimental
Synthesis of (+)-η5-Cyclopentadienyl(η4-(3aS,4S,7aS)-methyl 2,2-dimethyl-3a,7a-dihydrobenzo[d][1, 3]dioxole-3a-carboxylate)cobalt(I) 18
Diene 16 (301 mg, 1.43 mmol, 1 equiv) was dissolved in dry, degassed toluene (10 mL) in a side-armed Schlenk that had been purged and refilled with argon three times. The resulting solution was added via cannula to η5-cyclopentadienylbis(ethylene)cobalt 17 (258 mg, 1.43 mmol, 1 equiv) and the mixture was stirred for 30 min at room temperature until the evolution of ethylene had ceased. The solvent was removed in vacuo and the solid residue was redissolved in a minimal amount of hexane and left to crystallise at -28°C for 48 h. Complex 18 was isolated as red-orange crystals (124 mg, 26%); m. pt. 118-120°C; [α]D +42 (c = 1, CH2Cl2); 1H-NMR (300 MHz, C6D6, Additional file 2) δ 5.44 (1H, d, J = 5.0 Hz, O-CH-), 5.09-5.04 (2H, m, -CH=CH-CH=CH-), 4.41 (5H, s, Cp-H), 3.53 (3H, s, O-CH3), 3.14 (1H, dd, J = 5.5, 1.0 Hz,=CH-C-COOCH3), 2.82 (1H, td, J = 5.0, 2.0 Hz, -O-CH-CH=), 1.42 (3H, s, C-CH3), 1.28 (3H, s, C-CH3) ppm; 13C-NMR (75 MHz, CDCl3, Additional file 2) δ 174.9, 113.9, 82.1, 80.8, 79.8, 74.6, 51.6, 48.9, 48.6, 27.1, 25.6 ppm; νmax (film) 2986, 2937, 1732, 1436, 1370, 1307, 1259, 1229, 1206, 1166, 1109, 1064, 1009, 888, 821, 762 cm-1; HRMS (+ve ESI-TOF) m/z calcd for (C15H20CoO4+H)+, 335.0688, found 335.0694. Found: C, 57.58; H, 5.76. C15H20CoO4 requires C, 57.49; H, 5.73%).
Methods
Reactions were carried out under an atmosphere of argon. Solvents were dried and degassed by passing through anhydrous alumina columns using an Innovative Technology Inc. PS-400-7 solvent purification system. All reagents were purchased from the Sigma-Aldrich Chemical Co. or Fisher Scientific Ltd. and were used without further purification. IR spectra were recorded on a Perkin-Elmer Spectrum 100 FT IR spectrometer with universal ATR sampling accessory, with absorbances quoted as ν in cm-1. NMR spectra were run on a Brüker Avance 300 instrument at 298 K. Mass spectra were recorded with a micrOTOF electrospray time-of-flight (ESI-TOF) mass spectrometer (Brüker Daltonik). Specific rotations were recorded on an Optical Activity AA-10 Automatic polarimeter with a path length of 1 dm. Concentrations (c) are quoted in g/100 mL.
Declarations
Acknowledgements
We thank Prosidion Ltd, EPSRC, CIKTN and the University of Bath for funding. We also thank Prof. A. G. Myers (Harvard) for a gift of R. eutrophus B9 cells.
Authors' Affiliations
(1)
Department of Chemistry, University of Bath, Bath, UK
(2)
Prosidion Limited, Windrush Court, Oxford, UK
Copyright
© van der Waals et al 2011