Research article

Open Access
Impact of fermentation, drying, roasting and Dutch processing on flavan-3-ol stereochemistry in cacao beans and cocoa ingredients
Chemistry Central Journal
2011
5:53
Received: 25 April 2011
Accepted: 14 September 2011
Published: 14 September 2011
Abstract
This paper reports a systematic study of the level of flavan-3-ol monomers during typical processing steps as cacao beans are dried, fermented and roasted and the results of Dutch-processing. Methods have been used that resolve the stereoisomers of epicatechin and catechin. In beans harvested from unripe and ripe cacao pods, we find only (-)-epicatechin and (+)-catechin with (-)-epicatechin being by far the predominant isomer. When beans are fermented there is a large loss of both (-)-epicatechin and (+)-catechin, but also the formation of (-)-catechin. We hypothesize that the heat of fermentation may, in part, be responsible for the formation of this enantiomer. When beans are progressively roasted at conditions described as low, medium and high roast conditions, there is a progressive loss of (-)-epicatechin and (+)-catechin and an increase in (-)-catechin with the higher roast levels. When natural and Dutch-processed cacao powders are analyzed, there is progressive loss of both (-)-epicatechin and (+)-catechin with lesser losses of (-)-catechin. We thus observe that in even lightly Dutch-processed powder, the level of (-)-catechin exceeds the level of (-)-epicatechin. The results indicate that much of the increase in the level of (-)-catechin observed during various processing steps may be the result of heat-related epimerization from (-)-epicatechin. These results are discussed with reference to the reported preferred order of absorption of (-)-epicatechin > (+)-catechin > (-)-catechin. These results are also discussed with respect to the balance that must be struck between the beneficial impact of fermentation and roasting on chocolate flavor and the healthful benefits of chocolate and cocoa powder that result in part from the flavan-3-ol monomers.
Keywords
CatechinEpicatechinFlavanolCocoa BeanDark Chocolate
Introduction
Dark chocolate and cocoa powders are associated with numerous health benefits, most notably to the improvement of factors impacting cardiovascular health. Evidence comes from epidemiological studies which associate decreased risk of stroke and cardiovascular disease with the long-term consumption of chocolate [1–3]. Further evidence comes from the notable improvements in endothelial function which lead to increased flow mediated dilation [4, 5] and increased flexibility of the vascular system, also known as augmentation [6, 7]. Studies also show that blood pressure decreases after short-term consumption of dark chocolate [8–10]. Additionally chocolate and/or cocoa have been shown to decrease platelet aggregation [11, 12] and decreases oxidation of low density lipoprotein [13]. All of these responses are associated with improved health in the overall vascular system. When it comes to the heart itself, dark chocolate consumption has been associated with increased dilation [14] and improved blood flow [15] to the left anterior descending coronary artery. These benefits have been summarized in recent review articles [16, 17].
The flavan-3-ols in chocolate and cocoa have been implicated in these cardiovascular benefits. Dark chocolates are high in flavan-3-ols [18, 19] and natural, non-Dutch processed cocoa powders are richer still in these compounds [20, 21]. Research indicates that the monomeric flavanols, and especially (-)-epicatechin, are at least partly responsible for these effects. Evidence is based on uptake and conjugation of epicatechin and catechin in the blood, with their levels peaking at about 1 to 2 hours post-consumption [22–24]. The levels of epicatechin in blood are also co-incident with the peak in vasodilation seen in brachial arteries as measured by flow-mediated dilation. Bioavailability of flavanols appears to be highest for the monomers, (-)-epicatechin and (+)-catechin, with little of the dimeric oligomers and none of the trimers and higher oligomers appearing in the blood stream [24]. Finally it has been shown that the absorption of (-)-epicatechin into the blood stream is greatest followed by (+)-catechin and then (-)-catechin [25].
It has long been known that heavy flavanol losses occur when cocoa beans are fermented [26–28]. Losses also occur during roasting [28], Dutch processing [20, 21] and baking with alkali-leavening agents [29]. Fresh cacao beans contain about 12.8 to 43.2 mg/g of (-)-epicatechin, depending on variety [28–31]. Fresh beans also contain about 20 to 30-times less (+)-catechin [31]. A recent paper comprehensively summarized the importance of fermentation, drying, roasting and Dutch processing on the levels of epicatechin and catechin in cacao beans and cocoa ingredients. This report found that epicatechin, compared to catechin, is as much as 30-times greater in fresh and dried cocoa beans, but as conventional processing occurs, there is a loss in epicatechin and at times an increase in catechin [31].
Two reports have shown that roasting or Dutch processing can result in the formation of a new stereoisomer, (-)-catechin, an enantiomer not found in fresh cacao beans [32, 33]. But the first report by Gotti et al. [32] only had limited quantitative data for unripe and ripe beans and the second report by Kofink et al. [33] only measured ratios of stereoisomers, not their absolute levels. These, and other reports [20, 31–34], speculate that the (-)-catechin is a product of epimerization coming from (-)-epicatechin. One paper did not measure the levels of the stereoisomers of either epicatechin or catechin, only measuring total epicatechin and total catechin [35]. However a recent report [34] concluded that (-)-epicatechin epimerizes to (+)-catechin after roasting and Dutch processing. Obviously there is need to quantify the levels of these flavan-3-ol stereoisomers after typical processing steps common to chocolate and cocoa powder manufacture. Additionally it is important to resolve the disparity in the literature regarding epimerization of (-)-epicatechin to either (-)-catechin or to (+)-catechin and to resolve this controversy in the literature.
This manuscript describes the first comprehensive study of the impact of fermentation, drying, roasting and alkali-(Dutch) processing of cacao beans and cocoa ingredients by measuring the absolute levels of stereoisomers of epicatechin and catechin. The methods sufficiently resolve the (+) and (-) isomers of epicatechin and catechin, enabling us to show that processing with heat and with alkali result in significant loss of both (-)-epicatechin and (+)-catechin as well as the de novo appearance of (-)-catechin, not found in fresh plant material, but formed in fermented as well as roasted and Dutch-processed cocoa beans and ingredients.
Materials and methods
Experimental
HPLC-grade standards of (-)-epicatechin, (-)-catechin and (+)-catechin hydrate were purchased from Sigma.
Preparation of the chocolate samples followed a procedure, which was modified from the method used by Donovan et al. in 2006 to observe the bioavailability in chocolate samples [25]. Powdered samples (2 g) were extracted with 3 × 4.5 mL hexanes and the residue was dried under an argon stream overnight. The defatted and dry solid was further extracted with 3 × 2.5 mL acetone:H2O:AcOH (70:28:2, v:v:v). The combined extracts were concentrated to approximately 2 mL under a stream of argon over 36 h. The solution was diluted to exactly 5 mL with a mixture of acetone:H2O:CH3CN (2:2:1, v:v:v).
The analysis was performed on a Shimadzu HPLC with a Astec Cyclobond I 2000 RSP, 5 μm, 250 × 4.6 mm column (Supelco Analytical). Two solvents with a gradient were used as mobile phase with a flow rate of 1 mL/min. Solvent A contained 50 mM aqueous NaH
2
PO
4
at a pH of 3.0 and solvent B contained 30 mM aqueous NaH
2
PO
4
at pH 3.0 in 80% acetonitrile. A linear gradient from 10.0 to 13.5% B over 45 min, increasing to 45% B at 70 min and 90% B at 72 min was applied. 4 μL of the samples were injected and a UV-Vis-detector at 214 nm was utilized for detection. Figure
1
provides an example chromatogram showing the separation of the various epicatechin and catechin sterioisomers while Figure
2
provides a chromatogram showing the stereoisomer separation on sample of roasted cocoa beans. Structures of the various isomers can be see in Figure
3
.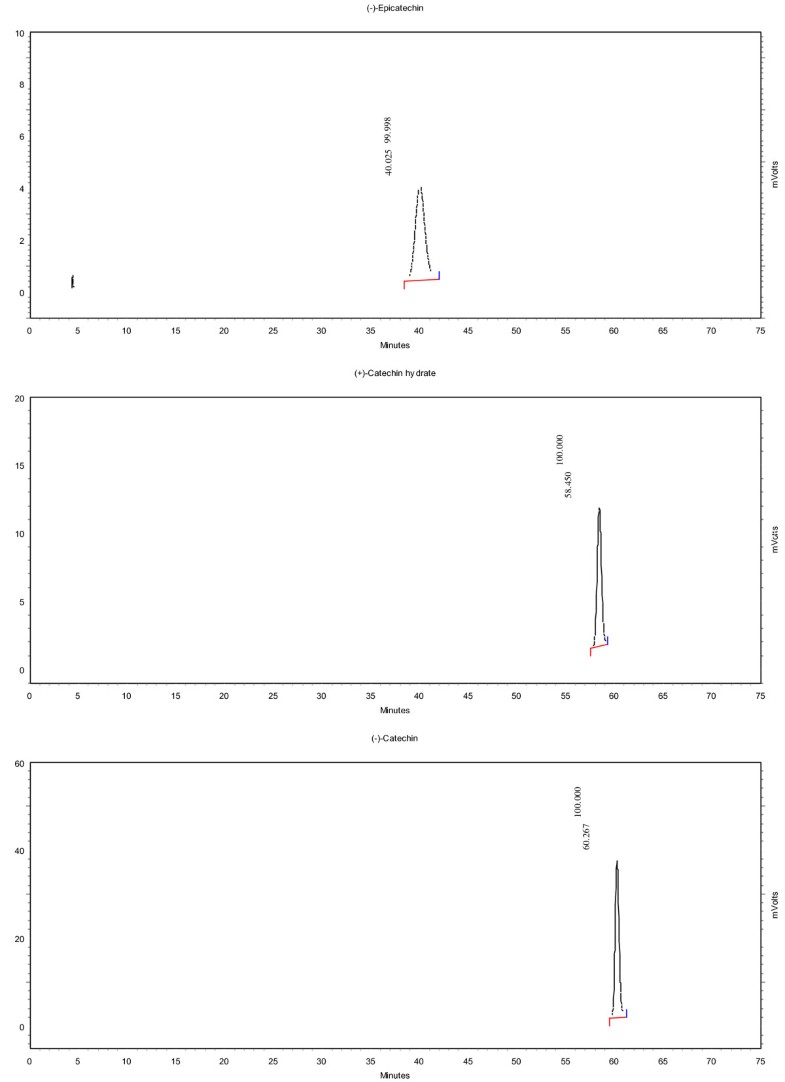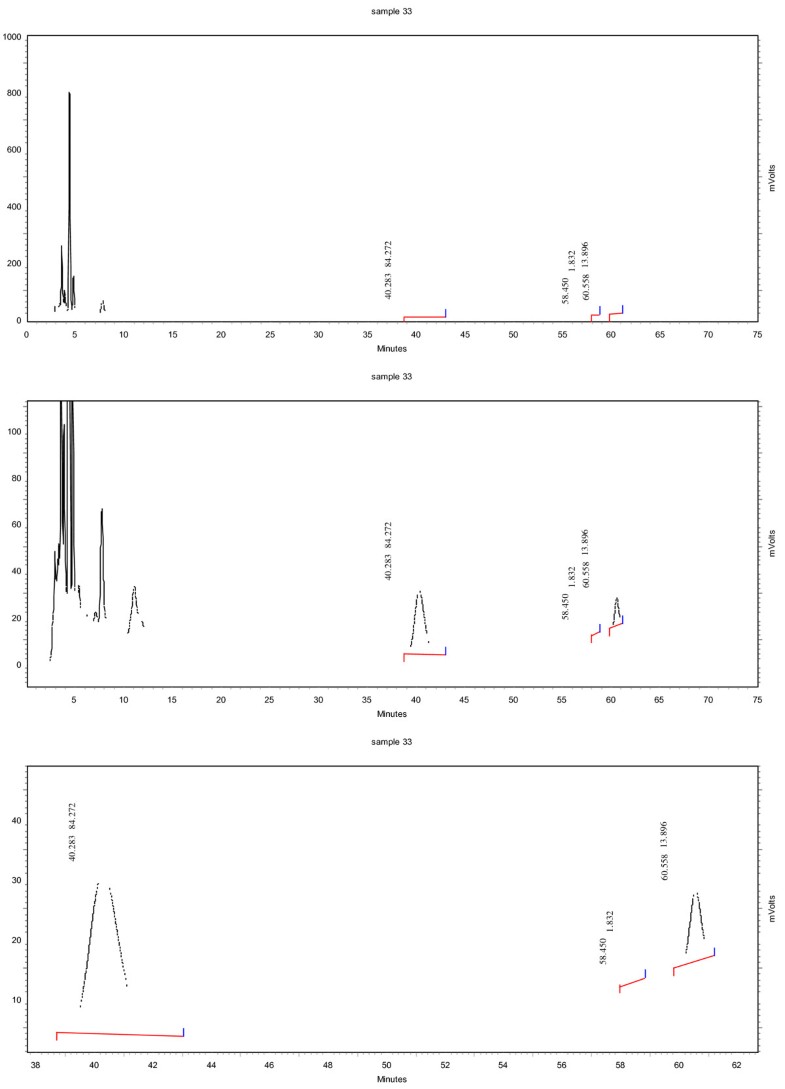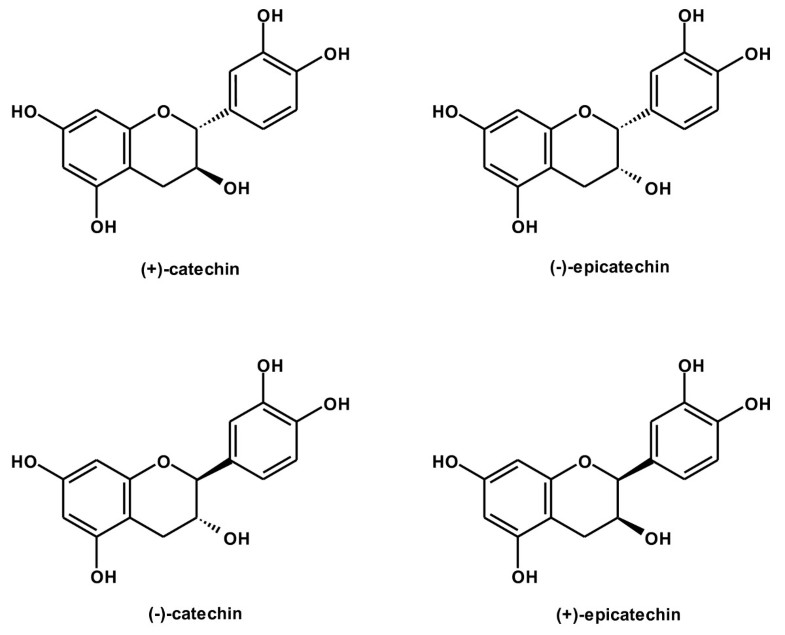 Samples
Fresh Beans
Fresh cacao pods, both unripe and ripe, of the Forestaro type were obtained from the U.S.D.A. Field Station, Mayaguez, Puerto Rico. Unripe pods were green and the pulp was a spongy white foam typical of unripe pods. Ripe pods were yellow and/or orange and the pulp was moist and watery, typical of ripe pods.
Dried Cacao Beans
Unfermented washed and dried beans, sometimes referred to as cacao lavado, were commercially obtained from AMSA in Mexico. Cacao beans with various degrees of fermentation from Sulawesi, Ivory Coast and Papua New Guinea (PNG) were commercially available, fair to average quality beans typical of the origin. Commercial beans are nominally ≤ 8% moisture.
Natural and Dutch-processed (alkalized) cocoa powders were obtained from J.B. Cocoa. Natural cocoa powder represents no Dutch processing with an average extractable pH of 5.76 while low, medium, and heavy Dutch processed samples were characterized by increasing pH values of 7.13, 7.36, and 7.92 respectively as described in Miller et al. 2008 [21].
Sample Preparation
Fresh Beans
Cacao beans from either unripe or ripe pods were removed within three days of harvest, hand dissected using a scalpel, and freed from the surrounding, foamy pulp (in the case of unripe beans) or watery pulp (in the case of ripe beans). The seed coat was cut away leaving the cotyledons, hypocotyl axis and root radicle. Beans from unripe and ripe pods were freeze-dried to moisture levels at or below 5%.
Roasted Beans
Commercial grade cacao beans from Ivory Coast were subjected to increasing degrees of roasting using a Blodget Oven. Three hundred grams (300 g) of shell-free cacao nibs were placed on wire mesh trays and roasted in the oven maintained at 163°C. Low, medium, and high roasted nibs were roasted at 13, 20, and 25 minutes respectively.
Methods
Degree of Fermentation
The degree of fermentation of cacao beans was evaluated by acidic methanol extraction and colorimetric determination using a ratio of 460/530 nm based on method of Gourieva and Tserevitinov [36]. The calculated fermentation index values of the three bean samples were: Mexican Lavado (0.5), Sulawesi (0.79), Ivory Coast (0.96), and PNG (1.38).
Declarations
Acknowledgements
The project was funded by the Hershey Center for Health & Nutrition
Authors' Affiliations
(1)
The Hershey Center for Health and Nutrition, The Hershey Company, Hershey, USA
(2)
Department of Chemistry and Biochemistry, Ohio University, Athens, USA