Research article

Open Access
Residual-QSAR. Implications for genotoxic carcinogenesis
Chemistry Central Journal
2011
5:29
Received: 27 April 2011
Accepted: 13 June 2011
Published: 13 June 2011
Abstract
Introduction
Both main types of carcinogenesis, genotoxic and epigenetic, were examined in the context of non-congenericity and similarity, respectively, for the structure of ligand molecules, emphasizing the role of quantitative structure-activity relationship ((Q)SAR) studies in accordance with OECD (Organization for Economic and Cooperation Development) regulations. The main purpose of this report involves electrophilic theory and the need for meaningful physicochemical parameters to describe genotoxicity by a general mechanism.
Residual-QSAR Method
The double or looping multiple linear correlation was examined by comparing the direct and residual structural information against the observed activity. A self-consistent equation of observed-computed activity was assumed to give maximum correlation efficiency for those situations in which the direct correlations gave non-significant statistical information. Alternatively, it was also suited to describe slow and apparently non-noticeable cancer phenomenology, with special application to non-congeneric molecules involved in genotoxic carcinogenesis.
Application and Discussions
The QSAR principles were systematically applied to a given pool of molecules with genotoxic activity in rats to elucidate their carcinogenic mechanisms. Once defined, the endpoint associated with ligand-DNA interaction was used to select variables that retained the main Hansch physicochemical parameters of hydrophobicity, polarizability and stericity, computed by the custom PM3 semiempirical quantum method. The trial and test sets of working molecules were established by implementing the normal Gaussian principle of activities that applies when the applicability domain is not restrained to the congeneric compounds, as in the present study. The application of the residual, self-consistent QSAR method and the factor (or average) method yielded results characterized by extremely high and low correlations, respectively, with the latter resembling the direct activity to parameter QSARs. Nevertheless, such contrasted correlations were further incorporated into the advanced statistical minimum paths principle, which selects the minimum hierarchy from Euclidean distances between all considered QSAR models for all combinations and considered molecular sets (i.e., school and validation). This ultimately led to a mechanistic picture based on the identified alpha, beta and gamma paths connecting structural indicators (i.e., the causes) to the global endpoint, with all included causes. The molecular mechanism preserved the self-consistent feature of the residual QSAR, with each descriptor appearing twice in the course of one cycle of ligand-DNA interaction through inter-and intra-cellular stages.
Conclusions
Both basal features of the residual-QSAR principle of self-consistency and suitability for non-congeneric molecules make it appropriate for conceptually assessing the mechanistic description of genotoxic carcinogenesis. Additionally, it could be extended to enriched physicochemical structural indices by considering the molecular fragments or structural alerts (or other molecular residues), providing more detailed maps of chemical-biological interactions and pathways.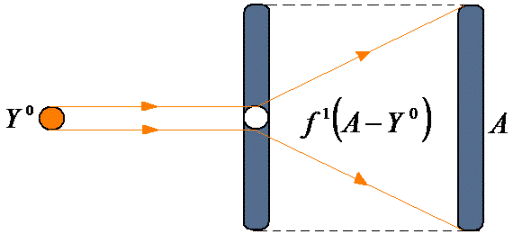 Keywords
QSAR ModelMinimum PathStatistical PathCompute ActivityQSAR Analysis
Introduction
It is widely recognized that cancer and carcinogenesis are the main challenges facing 21st Century medicinal chemistry [1, 2], particularly in the area of preventative toxicology [3–6] as it assumes an idealized toxicity against organisms and acts through a subtle, undiscovered molecular mechanism. The basic mechanism in cancer cell proliferation is through a variety of compounds, making it difficult to assess specific ligand-receptor interaction patterns [7, 8].
There is a reasonable basis for cancer apoptosis in the electrophilic theory of Miller and Miller [9, 10], which assumes a positively charged or polarized nature of the ligand (carcinogenic alkylating agents, originally). Currently, there is a more integrated and general view of genotoxic carcinogenicity [11] that is closely related to mutagenic phenomena through a covalent binding to DNA, followed by direct damage by means of a unified (or by reactive intermediates) electrophilic mechanism of action. In contrast, epigenetic carcinogenesis [12] activates through a variety of specific and different mechanisms that do not involve covalent binding to DNA but to more congeneric (or similar) molecules, with a specific (or local) mechanism of action for each particular set of compounds.
Even though epigenetic carcinogenesis has typically been treated with the structure-activity relationship (QSAR) principle of congenericity [13], the present report will focus on genotoxic carcinogenesis because of its chemical bonding at the DNA level. In addition, the statistical physicochemical combination analysis for a variety of toxicants produces a molecular mechanistic model of action with a comprehensive physicochemical interpretation.
With the ever-increasing costs of traditional animal testing and the large number of industrial chemicals that need toxicological evaluation, international programs like Europe's REACH (Registration, Evaluation and Authorization of Chemicals) expressly endorse in silico (computational) ecotoxicological studies as alternative approaches to reduce experimental hazard, especially when "testing does not appear necessary" [14]. This strategy is particularly useful in the first phases of validation for a new compound, before entering the industrial mainstream. This process primarily consists of preliminary screening based on models of literature and their extrapolations (Phase I), followed by the read-across, grouping and construction of new models employing the available commercial or non-commercial models, such as OncoLogic [15], HazardExpert [16], Derek [17], ToxTree [18], Multicase [19], and CAESAR [20, 21] (Phase II), and eventually concluding with in vitro or in vivo assays (Phase III).
Phases I and II are theoretical-computational and, when approached through statistical or multivariate methods, the OECD (Organization for Economic Cooperation and Development) principles for a QSAR study must include the following information [22, 23]: "(i) a defined endpoint, (ii) an unambiguous algorithm, (iii) a defined domain of applicability, (iv) appropriate measures of goodness-of-fit, robustness and predictivity, and (v) a mechanistic interpretation."
In this context, the goal of the present work was to advance a general QSAR modeling approach employing the residues of direct correlation with definite physico-chemical descriptors to a second (or looping) correlation with the residual QSAR method. This was then applied to a non-congeneric series of rat toxicants to discover a general mechanism for genotoxic carcinogenesis in accordance with OECD-QSAR principles.
Residual-QSAR Method
Assuming there is a structure-activity multi-linear correlation problem with the parameters and observed endpoint set as

, the standard QSAR corresponds to the ordinary regression equation producing the following computed activity [
24
]:
However, in carcinogenic modeling, it is difficult to find a proper set of structural parameters with significant correlation to the observed activity, especially when considering compounds having highly diverse molecular structures (i.e., being non-congeners) yet producing similar carcinogenic endpoints. Even by applying the available commercial or academic software to compute thousands of structural parameters and their non-linear combinations [25], the obtained significant correlation relies on structural parameters or combinations thereof with little physical or chemical meaning. This makes QSAR analysis an artifact outside of reality [26]. Such studies may not include the hydrophobic feature (LogP) within the correlation equation (Tarko L, Putz MV: On Quantitative Structure-Toxicity Relationships (QSTR) using High Chemical Diversity Molecules Group, submitted), which has less physico-chemical meaning, especially with respect to cellular toxicity.
In such circumstances, it is preferable to test the
induced influence
of a given set of structural parameters with established significance over the cancer genotoxicity correlation (Eq. (
1
)). Hypothetically, this shows the direct, scarce correlation with the observed activity. The
residual correlation
follows (Eq. (
2
)):
From this point forward, one may use the various residual-QSAR (res-QSAR) models to obtain the correlation equation of the computed activity in terms of the original structural parameters.
Application and Discussion
This application and analysis will parallel the OECD-QSAR principles discussed in the introduction. However, the OECD principles of QSAR modeling are not regarded as separate, but they are linked as much as the practical-computational context is unfolded.
(ii) The unambiguous algorithm is addressed by four stages:
(iii) The defined domain of applicability, although conceptually included in one of the above stages of the unambiguous algorithm framework, is customarily specified separately for clarity. However, because the present application focused on modeling genotoxic carcinogenesis, this principle is redundant because of its implicit non-congeneric approach features. As such, the molecules in Tables 1 and 2 span many organic classes and derivatives, including amides, amines, aromatic systems, lactones, nitrites, quinines, cyanides, urethanes, ketones, and cycloalkanes. The QSAR analysis and mechanistic model was, therefore, expected to have non-local character (i.e., not depending on the series of toxicants involved) susceptible of general behavior.
(iv) The validity and predictivity principle is considered to be one of the most important stages of QSAR analysis. Although internal and external validation statistical procedures exist, the former is often overestimated. This has been confirmed in situations when the external validation sets were well predicted, even with poor cross-validated performance [38]. As a general rule, external validation tests are considered the true standard to assess prediction in QSAR modeling. Focusing on the special case of genotoxicity, one must consider all residual QSAR models obtained within previous QSAR principles (i.e., the self-consistent and factor/averaged residual QSAR models of Table 4, in particular) while remembering that the last ones resemble the direct QSAR statistical performances. The external validation set is presented in Table 2 and was identified through the quasi-Gaussian shape of the Figure 2 inset. The testing set and associated statistical performances are reported in the last column of Table 4. These need to be interpreted in light of the searched mechanistic model, or the predictive power lies only in the range of the residual QSARs, with no real information contained therein. This will be realized by applying the final principle of the OECD-QSAR framework.
with l 1 ,...,l k ,...,l M representing the endpoint residual-QSAR regression models computed with 1, 2,..., M structural parameters, respectively.
All these paths were selected more than once from all of the computed residual-QSARs in Table 5. In addition, part of the alpha path is identified first, and the rest should fulfill the ergodicity rule invoked above at this level (i.e., characterizing the models' sequence not previously consumed).
More detailed mechanisms of action may describe genotoxic carcinogenesis if additional physicochemical information is considered, but the steps of analysis would be the same. Additional, detailed intermediate steps would need to be added, while preserving the mechanisms' self-consistency and cyclic character through the statistical paths. The electrophilic influence (through polarization) should also be included as a natural generalization of Millers' theory.
Conclusions
Cancer is often called "the disease of the 21st Century," and its phenomenology still resists conceptual clarifications, despite continuous laboratory and clinical efforts through trial-and-error attempts to design suitable drugs and vaccines against its various forms of action [43, 44]. The quantitative structure-activity relationship (QSAR) is recognized for the modeling and prediction of complex ligand-receptor interactions at bio-, eco-, or pharmacological levels, and can further our understanding of mutagenesis and carcinogenesis. In this context, the present work advanced a complementary form of QSAR under its residual version. It specifically applies to the modeling of genotoxic interactions, where toxicants covalently bind to DNA by a mechanism that involves an electrophilic stage (i.e., polarization). Residual QSAR methods have the following features:
Self-consistency (i.e., looping or cyclicity) of the computed activity that respects the observed one, with both contained in the same multilinear equation;

They are suited for non-congeneric series that display low-direct-correlation-models to almost all common physicochemical descriptors. Complementary high-correlation factors cause the residual QSAR to induce remaining effects that slowly grow over many cycles, producing cancer cells as an exacerbated apoptosis.
The presented application clearly illustrates these basic residual-QSAR properties, implemented in close agreement with the regulatory OECD principles on multi-regression models. It also advances the principle of normal activities in the screening stage of selecting the trial from the test sets of compounds. This is presumed to have more power than the consecrated QSAR dogma of congenericity, which is not applicable for genotoxic effects. The principle of minimum paths across the computed endpoints was reloaded at the statistical level of only correlation factors, leading to a complete ergodic-hierarchical framework that permits the identification of the structural dynamics triggering carcinogenesis. The structural causes entered a single cycle of inter-and intracellular interactions twice overall, resembling the self-consistency or looping specificity of the employed residual QSAR modeling. The present analysis may be naturally extended to include more structural descriptors to enrich the detailed interaction scheme of the toxicant-DNA binding and growing cancer cells. It may also consider the influence of molecular fragments, especially through structural alerts [45]. Such studies are currently in progress and will be the subject of forthcoming communications targeting a conceptual understanding of genotoxic carcinogenesis by means of QSAR modeling and its associated principles.
Declarations
Acknowledgements
Author thanks Romanian Ministry of Education and Research for supporting the present work through the CNCS-UEFISCDI (former CNCSIS-UEFISCSU) project < Quantification of The Chemical Bond within Orthogonal Spaces of Reactivity. Applications on Molecules of Bio-, Eco-and Pharmaco-Logical Interest>, Code PN II-RU-TE-2009-1 grant no. TE-16/2010-2011.
Authors' Affiliations
(1)
Laboratory of Computational and Structural Physical Chemistry, Chemistry Department, West University of Timişoara, Timişoara, Romania