Research article
Open Access
Hydrogen bond networks determine emergent mechanical and thermodynamic properties across a protein family
Chemistry Central Journal
2008
2:17
Received: 29 May 2008
Accepted: 12 August 2008
Published: 12 August 2008
Abstract
Background
Gram-negative bacteria use periplasmic-binding proteins (bPBP) to transport nutrients through the periplasm. Despite immense diversity within the recognized substrates, all members of the family share a common fold that includes two domains that are separated by a conserved hinge. The hinge allows the protein to cycle between open (apo) and closed (ligated) conformations. Conformational changes within the proteins depend on a complex interplay of mechanical and thermodynamic response, which is manifested as an increase in thermal stability and decrease of flexibility upon ligand binding.
Results
We use a distance constraint model (DCM) to quantify the give and take between thermodynamic stability and mechanical flexibility across the bPBP family. Quantitative stability/flexibility relationships (QSFR) are readily evaluated because the DCM links mechanical and thermodynamic properties. We have previously demonstrated that QSFR is moderately conserved across a mesophilic/thermophilic RNase H pair, whereas the observed variance indicated that different enthalpy-entropy mechanisms allow similar mechanical response at their respective melting temperatures. Our predictions of heat capacity and free energy show marked diversity across the bPBP family. While backbone flexibility metrics are mostly conserved, cooperativity correlation (long-range couplings) also demonstrate considerable amount of variation. Upon ligand removal, heat capacity, melting point, and mechanical rigidity are, as expected, lowered. Nevertheless, significant differences are found in molecular cooperativity correlations that can be explained by the detailed nature of the hydrogen bond network.
Conclusion
Non-trivial mechanical and thermodynamic variation across the family is explained by differences within the underlying H-bond networks. The mechanism is simple; variation within the H-bond networks result in altered mechanical linkage properties that directly affect intrinsic flexibility. Moreover, varying numbers of H-bonds and their strengths control the likelihood for energetic fluctuations as H-bonds break and reform, thus directly affecting thermodynamic properties. Consequently, these results demonstrate how unexpected large differences, especially within cooperativity correlation, emerge from subtle differences within the underlying H-bond network. This inference is consistent with well-known results that show allosteric response within a family generally varies significantly. Identifying the hydrogen bond network as a critical determining factor for these large variances may lead to new methods that can predict such effects.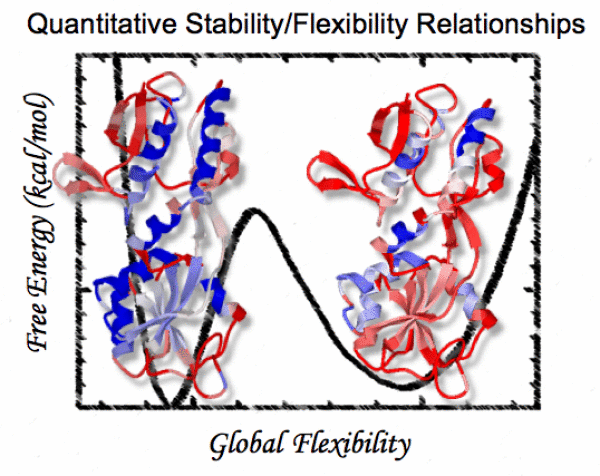 Keywords
Root Mean Square DeviationDistance ConstraintConstraint TopologyConformational EntropyFree Energy Landscape
Background
The ATP-Binding Cassette (ABC) transporting system is essential for uptake of specific nutrients by bacteria [1]. ABC transporters are usually made up of a soluble-binding protein, a transmembrane protein, and an ATP-binding protein. The soluble-binding protein, also known as bacterial periplasmic-binding protein (bPBP), resides in the periplasm of Gram-negative bacteria. It selectively binds small molecules (i.e., amino acids, inorganic phosphate, or sugars), and carries them to the transmembrane component. As the loaded bPBP docks to the transmembrane unit, its conformation changes such that the substrate can be transferred to the transmembrane protein, and the bPBP is functionally recycled [2].
A large number of resolved x-ray crystal structures indicate that bPBP is composed of two domains connected by a flexible polypeptide linker that allows the protein to cycle between open and closed conformations. At equilibrium, the apo structure fluctuates between both conformations. Introduction of ligand stabilizes the closed conformation and thus concomitantly shifts the equilibrium. The ubiquitous bPBP hinge-bending motion makes them attractive targets for many practical applications, including drug delivery [3] and biosensors [4]. They are attractive drug delivery agents because the equilibrium between open and closed is sensitive to local environment (i.e., pH, temperature, or presence of interacting enzymes). Thus, it is feasible to engineer bPBP to bind to a drug of interest and then release it when the complex reaches a desired cell or compartment where conventional drug delivery methods fail to reach [3]. The ligand-mediated hinge-bending motion in bPBPs can also be used to design fluorescent biosensors by covalently attaching fluorphore molecules so that fluorescence intensity and/or wavelength changes as a result of hinge-bending motion [4]. In this way, the high specificity of binding and ligand-mediated conformational changes in bPBPs can be exploited to monitor for the presence of a specific ligand.
A complete understanding of bPBP requires both mechanical and thermodynamic descriptions. Mechanical descriptions are necessary in order to detail changes in flexibility and mechanical couplings upon ligand binding, whereas thermodynamic descriptions are necessary to account for an ensemble of conformations associated with the apo and ligated states. Most computational methods focus only on one of the two phenomena. There are several common methods to explore protein thermodynamics (i.e., Monte Carlo sampling [5], a variety of Ising-like models [6, 7] such as COREX [8], and free energy decomposition schemes [9–11]). Unfortunately, these methods generally fail to reproduce experimental thermodynamic response (i.e., excess heat capacity profiles). In addition, while most of these methods do consider an ensemble of conformations, they lack descriptions of mechanical couplings between sites within the protein. On the other hand, mechanical models (i.e., FIRST [12] and Elastic Network Models (ENMs) [13]) do provide detailed flexibility information, yet they completely lack any thermodynamic considerations. In principle, all-atom molecular dynamics (MD) simulations could be used to predict any mechanical and thermodynamic property of a protein. However, in practice, MD is much too computationally expensive to explore the thermodynamic limit [14]. Consequently, Go-like models have been the mainstay approach that employs molecular dynamics simulation in conjunction with simplified molecular mechanics potentials tuned to the native state (or multiple states) [15, 16].
In this report, we employ a minimal Distance Constraint Model (mDCM) to investigate stability/flexibility relationships of four homologous bPBPs. We choose to use the mDCM among the available methods because; (i.) it uniquely synthesizes mechanical and thermodynamic descriptions, (ii.) its predictions compared to experiment have consistently achieved overall good agreement across a diverse population of proteins [18, 15, 17], and (iii.) it is a tractable modeling paradigm requiring just ~10 minutes of compute time for a 300 residue protein per thermodynamic condition.
Discussion
The QSFR results presented demonstrate considerable variability in both mechanical and thermodynamic descriptions of the bPBP family. This observed variability is explained by differences within the underlying H-bond networks. Most notably, variability of thermodynamic quantities correlate well to overall statistical characteristics of H-bond networks, which is consistent with the arguments made by Cooper [48]. Moreover, the predicted reduction of T m upon ligand binding for LAOBP and GBP are qualitatively consistent with the same effect that is experimentally observed for HBP. The observed differences in the thermodynamic response is not particularly unexpected, except, we were initially surprised by the low barrier height found in the free energy landscape for GBP. However, within the context of the mDCM predictions, the total H-bond energy is an excellent indicator for predicting C p max , and this in return correlates well with barrier height. In the context of this simple extensive H-bond network property (i.e. total energy) over the structures studied, the dramatic deviation from two-state behavior in GBP is not an exceptional case.
The predicted conservation of backbone flexibility is consistent with natural expectations. On the other hand, variability found within cooperativity correlation measures is, at first, somewhat surprising. In prior work we compared mesophilic and thermophilic RNase H orthologs, and the substantial differences in the cooperativity correlation plots (at their respective T m ) was contributed to different thermodynamic stability requirements of these two proteins. Nevertheless, after coarse-graining the flexibly correlated regions into contiguous stretches, we identified conserved features presumably needed to support common functional requirements of these two proteins. Our hypothesis that flexibility and rigidity properties of the native state would be conserved across proteins at their corresponding T m within the same family was inconclusive to that study. Starting this work, we maintained the hypothesis that the dominant features in the cooperativity correlations important for function would be markedly conserved. Although general features indicative of the overall fold are indeed conserved, it is the variation that most stands out. Although we can expand the number of proteins to analyze within a family, this report clearly shows that cooperativity correlations are very sensitive to the H-bond network, and the variance in these measures will be the dominate feature. Moreover, other recent results (unpublished) involving nine thioredoxin homologs, also conclude that variability in cooperativity correlation is significant, and sensitive to non-secondary structure elements within the H-bond network.
Clearly, the mDCM, by construction, must have some degree of sensitivity to the characteristics of the H-bond network due to the heavy emphasis it places on H-bonds and the properties of network rigidity. To address the relative importance of H-bond interactions, in ongoing work, we have modified the DCM to deemphasize the affects of native and disordered torsions, and demonstrated that the H-bond interactions within the mDCM account for the bulk of the properties characterizing the thermodynamic transition. It is quite remarkable that despite the simplicity of the mDCM, it captures the essential elements of protein thermodynamics and mechanical linkage mechanisms. However, consider what may happen when more complexity is modeled to explicitly account for solvent effects that include the hydrophobic effect (also work in progress). The likelihood that adding nonspecific interactions will decrease variance in mechanical response is remote. The hydrophobic interactions are of entropic nature related to transfer of water from the interior of a protein to aqueous solution. Based on this simple argument, and having observed no indication to the contrary in alternative model explorations, the H-bond network is expected to remain the key determinant for rigidity and flexibility properties of a protein. Keeping this in mind, we come full circle in understanding why the mDCM flexibility/rigidity predictions are robust despite a greater variance in predicted melting temperatures and other thermodynamic quantities. The nonspecific interactions will be important to modify and perturb protein thermodynamic stability, but the native H-bond network (as determined by X-ray crystallography) will be present in the exact same way as currently modeled in mDCM. We therefore take the view that the mDCM is capturing the most essential element for understanding cooperativity within proteins important for their function.
The H-bond network explains the dichotomy between conservation within backbone flexibility and the lack of conservation within cooperativity correlation. For the most part, pairwise differences within the H-bond networks occur within non-secondary structure (primarily sidechain) H-bonds, meaning that the secondary structure H-bonds are mostly conserved. The conservation within these secondary structure H-bonds is what leads to conserved flexibility along the backbone. Note that backbone flexibility is not exactly conserved; in fact there are many local differences within Fig. 8. These differences presumably arise due to the observed differences elsewhere and the long-range nature of network rigidity [12]. Furthermore, while the secondary structure H-bonds may be conserved within the contact map analysis, this does not mean their energies are equivalent, which also affects the flexibility predictions. Nevertheless, in spite of these nuanced effects, the qualitative conservation within backbone flexibility is a result of the conserved nature of the secondary structure H-bonds.
Compared to local secondary structure H-bonds, differences within sidechain-sidechain H-bonds are expected to result in key differences within the topology of the H-bond networks due to their ability to span across long stretches of sequence. Meaning, a change in just a handful of critically placed non-secondary structure H-bonds can drastically alter mechanical linkage properties. These changes would be most pronounced within the cooperativity correlation plots that explicitly rely on the linkage information. As with the variability within the thermodynamic quantities, the differences between the apo/ligated pairs is used to bolster the argument that the predicted differences are real. In both cases (LAOBP and GBP), the changes upon complex formation are consistent with intuition. Moreover, as we have discussed in previous works [19–22], cooperativity correlation can be interpreted in terms of allostery, and it is a well-known that allosteric response can vary significantly across a family [51–53].
While the arguments above do not prove that trends within the observed predictions are real, they do strongly suggest that this is the case. And, if certain predictions within the current mDCM remain suspect, the above results clearly indicate that future, more sophisticated DCMs should be able to accurately describe trends within mechanical and thermodynamic properties. The results presented here clearly demonstrate how subtle differences within the H-bond networks can lead to unexpected and pronounced complexity. These results are very exciting because it suggests that the paradigm of the DCM is effective in elucidating consequences of altered H-bond networks, for which the computation design of H-bond networks has precedence [54]. More generally, the results presented here suggest that monitoring QSFR will be important to protein design with targeted mechanical and thermodynamic properties, and should be feasible in the near future.
Abbreviations
ABC:

ATP-Binding Cassette
bPBP:

bacterial Periplasmic Binding Proteins
ENM:

Elastic Network Model
MD:

Molecular Dynamics
DCM:

Distance Constraint Model
QSFR:

Quantitative Stability/Flexibility Relationships
mDCM:

minimal Distance Constraint Model
DSC:

Differential Scanning Calorimetry
HBP:

Histidine Binding Protein
LAOBP:

Lysine/Arginine/Ornithine Binding Protein
GBP:

Glutamine Binding Protein
PhBP:

Phosphate Binding Protein
RMSD:

Root Mean Square Deviation
Declarations
Acknowledgements
We thank Dr. Jim Mottonen for proofreading this paper and for stimulating discussions of the results. Key to the DCM is the use of graph-rigidity algorithms. This algorithm is claimed in U.S. Patent Number 6,014,449, which has been assigned to the Board of Trustees Michigan State University. Used with permission. This work is supported by NIH grant R01 GM073082 to DJJ and DRL.
Authors' Affiliations
(1)
Department of Computer Science and Bioinformatics Research Center, University of North Carolina at Charlotte, Charlotte, USA
(2)
Physics and Astronomy Department, California State University at Northridge, Northridge, USA
(3)
Department of Physics and Optical Science, University of North Carolina at Charlotte, Charlotte, USA
Copyright
© Livesay et al 2008
This article is published under license to BioMed Central Ltd. This is an open access article distributed under the terms of the Creative Commons Attribution License (http://creativecommons.org/licenses/by/2.0), which permits unrestricted use, distribution, and reproduction in any medium, provided the original work is properly cited.