Fast 3D shape screening of large chemical databases through alignment-recycling
Chemistry Central Journal
2007
1:12
Received: 04 April 2007
Accepted: 06 June 2007
Published: 06 June 2007
Abstract
Background
Large chemical databases require fast, efficient, and simple ways of looking for similar structures. Although such tasks are now fairly well resolved for graph-based similarity queries, they remain an issue for 3D approaches, particularly for those based on 3D shape overlays. Inspired by a recent technique developed to compare molecular shapes, we designed a hybrid methodology, alignment-recycling, that enables efficient retrieval and alignment of structures with similar 3D shapes.
Results
Using a dataset of more than one million PubChem compounds of limited size (< 28 heavy atoms) and flexibility (< 6 rotatable bonds), we obtained a set of a few thousand diverse structures covering entirely the 3D shape space of the conformers of the dataset. Transformation matrices gathered from the overlays between these diverse structures and the 3D conformer dataset allowed us to drastically (100-fold) reduce the CPU time required for shape overlay. The alignment-recycling heuristic produces results consistent with de novo alignment calculation, with better than 80% hit list overlap on average.
Conclusion
Overlay-based 3D methods are computationally demanding when searching large databases. Alignment-recycling reduces the CPU time to perform shape similarity searches by breaking the alignment problem into three steps: selection of diverse shapes to describe the database shape-space; overlay of the database conformers to the diverse shapes; and non-optimized overlay of query and database conformers using common reference shapes. The precomputation, required by the first two steps, is a significant cost of the method; however, once performed, querying is two orders of magnitude faster. Extensions and variations of this methodology, for example, to handle more flexible and larger small-molecules are discussed.
Keywords
Shape SpaceReference ShapeDiverse ShapePubChem CompoundSingle Conformer
Background
Databases of chemical structures are a key component of chemical information infrastructures. Searching these databases requires specialized methods, for example, to find similar chemical structures.
There are many ways [
1
–
4
] to define "similarity" between chemical structures. Generally, chemical similarity is determined by comparison of "fingerprints" using the Tanimoto equation (
Eq. 1
). The fingerprints are often binary bit strings with each set bit, or pattern of set bits, representing the presence of a particular topological fragment in a molecule.
where
AB
is the count of common set bits and
A
and
B
are the count of set bits Similarity measures of this type make it possible to perform searches of chemical databases, containing millions of compounds, in a matter of seconds. While fast, these "2D similarity" methods tend to prefer compounds of similar structural class or topology as the query; however, "3D similarity" methods use geometric constraints and are valued for their ability to find compounds belonging to diverse chemical families [
5
] (Figure
1
).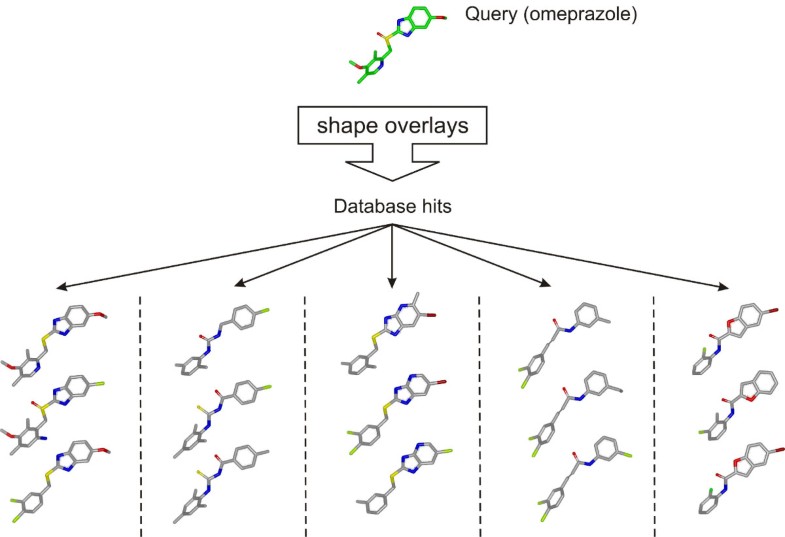 The computational cost of 3D methods, however, is dramatically greater than 2D methods, due to the relative complexity of generating, selecting, and comparing various 3D representations of chemical structures. The cost is particularly severe when the comparisons are done by structural overlay, when considering the additional step of determining an optimal 3D overlay. As such, some groups have focused, for example, on extending 2D methods for the discovery of topologically non-obvious similar compounds using reduced-graph approaches [6–8]. With the increase of available computer power, fast 3D structural overlay software, such as ROCS [9], has become attractive for large database screening.
ROCS performs rapid overlays of 3D chemical structures using atom-centered Gaussians to compute geometric overlap [
10
]. Similarity is measured with the shape Tanimoto equation (
Eq. 2
); unlike 2D, an estimate of molecular volume overlap is used, instead of bit counts.
where O AB is the volume overlap between conformer A and conformer B, O A is conformer A volume, and O B is conformer B volume
Several published applications of ROCS demonstrate its usefulness in practical medicinal chemistry projects [11–13]. ROCS can screen the dataset used in this work at the rate of ~1 800 conformers per second per (64-bit 3-GHz Intel dual core Xeon) processor. Although this is a remarkable speed for this kind of software, it can still take hours to perform a single search of a moderately sized 3D database containing millions of conformers.
Innovative overlay-based approaches [14, 15] have been created to avoid brute-force comparison between a query conformer and each and every conformer in a 3D database. One approach [15] involves finding a small "dictionary" of 3D structures that represent the overall diversity of possible 3D shapes. These diverse shapes are then used to create a binary "3D fingerprint" for each conformer in a database, with each set bit corresponding to a computed similarity above a predefined threshold between the diverse shape and the database conformer. This technique shifts the substantial 3D computational overhead into the initial selection of diverse shapes and the generation of the 3D fingerprint for all conformers in the database. For each 3D similarity query, the workflow now becomes identical to that of 2D binary fingerprint methods: compute the fingerprint for the query; loop over the database contents; and determine the bits in common for computation of Eq. 1. After a 3D fingerprint is designed and created, such an approach can significantly reduce the time to search moderately sized 3D databases, e.g., by shape similarity, from hours to minutes.
There are two major differences between the results from brute-force ROCS shape overlay comparison and the 3D shape fingerprint [15] similarity method. Firstly, the two methods use very different measures for the Tanimoto values and are not guaranteed to give similar results. Secondly, the 3D shape fingerprint similarity approach does not provide a 3D alignment with the query, thus making the results difficult to analyze or visualize. In this study, we attempt to modify an earlier 3D shape similarity approach [15] to mimic results provided by brute-force ROCS similarity searching, but at a fraction of the computational expense. A novel aspect of our method, which we call "alignment-recycling", comes from recycling the translational and rotational matrices resulting from the shape overlay during the initial selection of diverse shapes.
Discussion
The AR-0.73 method consistently reproduces ROCS results emphasizing that conformers with similar shapes tend to overlay to each other in a similar way. As such, overlay of two conformers, A and B, to a reference conformer, R, may generate an excellent approximation to the ideal alignment of conformers A and B by simply (re)using the alignments AR and BR. After finding a suitable set of reference shapes, the CPU cost to search for similar conformers across datasets of millions can be dramatically reduced. While efficient, the alignment-recycling method, AR-0.73, outlined in this work does have its limitations.
AR-0.73, in its current form, cannot be used for sub-shape comparison since global alignments are used. One can, however, readily imagine a subshape-based 3D fingerprint, much like dictionary-based 2D fingerprints. The implementation of such a method is beyond the scope of this work.
If a similar (enough) reference shape is not present when comparing two conformers, poor shape alignments may result, causing hits to be found by ROCS but missed by AR-0.73. If no reference shape is found to be in common, AR-0.73 cannot produce an alignment.
As the molecular size and flexibility increase, the number of required reference shapes is likely to increase dramatically to generate accurate shape overlays, which is probably the most important drawback of the AR-0.73 method. Reductions in the Design-Tanimoto can counter large increases in the number of reference shapes; however, in our experience, such a reduction in the Design-Tanimoto threshold, and concomitant reduction of the Transform-Tanimoto, can result in a reduction in the average quality of reproduction of the optimal overlay and an increased computational cost due to the consideration of additional conformers in alignment-recycling portion of the method. The overlay quality can be dramatically improved, in this situation, by slightly altering the methodology provided in this work to perform a post overlay optimization, using the near-optimal alignment-recycling overlay as a starting point for shape overlay optimization, providing substantial computational savings in the absence of such information. This proposed methodology extension may provide the means to apply aspects of the alignment-recycling method to larger and more flexible small molecules by eliminating the requirement that the recycled alignment reproduce the optimal alignment, thus allowing the Design-Tanimoto and Transform-Tanimoto thresholds to be (substantially) reduced.
Another drawback to AR-0.73 is that the primary computational expense is borne before any shape similarity searches are performed. For the fifteen million conformers used in this study, it took about four CPU years to compute the shape fingerprints using 64-bit 3-GHz Intel dual-core Xeon processors. Computational cost of the fingerprint generation is essentially recovered, however, after performing the same number of searches as there are reference shapes.
AR-0.73, while substantially reducing the CPU cost of shape similarity searching, adds concomitant demands on storing alignments to the reference shapes that must be available during the search. For the fifteen million conformer dataset, the (non-optimized) storage requirement for the fingerprints and rotational/translational information is 32 GB. If one is not careful, simultaneous access to this data can be a significant bottleneck.
If the AR-0.73 method is used with a dynamic database of conformers, additional computational costs can be envisioned. As new conformers are added, new reference shapes must be added dynamically whenever existing reference shapes cannot represent a new conformer. Addition of a new reference shape will require the precomputation step of comparing all existing database conformers to the new reference shape. After many new reference shapes are added (> 50% more of the initial total), a complete re-sampling of the reference shapes may be warranted to improve overall search performance through a reduction in the number of reference shapes. Also, for efficiency purposes, as conformers are deleted from the database, care must be taken to ignore reference shapes that no longer represent any database conformer to prevent unnecessary comparisons to a redundant reference shape.
With the above caveats in mind, the AR-0.73 method as described should be useful to speed the search of any 3D conformer dataset, regardless of size or flexibility. There should be no need to further modify the Transform-Tanimoto and Design-Tanimoto values of 0.73 and 0.75, respectively, to provide, e.g., complementary results to a ROCS search in the shape Tanimoto range of 0.75 – 1.0. The diverse reference shapes used in this work (see Additional files1 and 2) should be useful in helping create the initial reference shapes required to implement this method for arbitrary conformer databases. It is also reasonable to believe that the spirit of this methodology could be made to work using other shape searching packages besides ROCS.
Alterations to the AR-0.73 parameters, Transform-Tanimoto and Design-Tanimoto, may be made depending on the desired purpose. If one was only interested in use of this methodology as a shape search screen to dramatically reduce the number of conformers considered prior to shape overlay optimization and to provide reasonable starting points for overlay optimization, reduced values of the two parameters could be used, resulting in substantially fewer reference shapes and a significant reduction in the pre-computation cost. If one was only interested in reproduction of hit lists with shape Tanimoto values of 0.90 or greater, the Transform-Tanimoto could be increased closer to the Design-Tanimoto values, providing a further speed up in the shape search speed by reducing the number of conformers considered by alignment-recycling.
Overall, it appears clear that the AR-0.73 method, while an approximation to the optimal shape overlay, is very capable at routinely producing the vast majority of the ROCS results in a fraction of the CPU time.
Conclusion
One of the main advantages of 3D overlay is that it allows visualization of the superimposed compounds and a better understanding of their similarity. Unfortunately, at the scale of large databases containing millions or billions of conformers, 3D alignment-based similarity searches are reserved to only entities with substantial computing capabilities and modeling resources. Even for such entities, it would be a major breakthrough to get nearly all of the desired alignments in just a couple of minutes using only a single CPU node. The alignment-recycling method described in this work shows promise in dramatically improving the speed of shape similarity searches of large databases through pre-computation of a small subset of shape overlays. Although the pre-computation requires significant computing resources, it is within the reach of modern, yet modest, computer clusters. The pre-computed transformation matrices to obtain the alignments with the subset can be effectively recombined to generate new alignments. Hit lists comparable to the Gaussian shape overlay optimizer ROCS can be obtained 100-times faster with only a small loss in alignment quality for smaller and relatively inflexible molecules. Suggested extensions and modifications to this methodology may prove handy in making 3D similarity a more tractable tool for use on large conformer databases.
Declarations
Acknowledgements
The authors are thankful to Anthony Nicholls for constructive comments, Wolf-D. Ihlenfeldt who helped write CACTVS scripts, and OpenEye Scientific Software for intuitive insights and useful 3D tools. This research was supported by the Intramural Research Program of the National Institutes of Health, National Library of Medicine.
Authors' Affiliations
(1)
National Center for Biotechnology Information, National Library of Medicine, National Institutes of Health, Department of Health and Human Services, Bethesda, USA
Copyright
© Fontaine et al 2007
This article is published under license to BioMed Central Ltd. This is an Open Access article distributed under the terms of the Creative Commons Attribution License (http://creativecommons.org/licenses/by/2.0), which permits unrestricted use, distribution, and reproduction in any medium, provided the original work is properly cited.